'SoulCycle helped me find a part of myself that I had lost': Stephen Davalos's Soul Story
February 25, 2016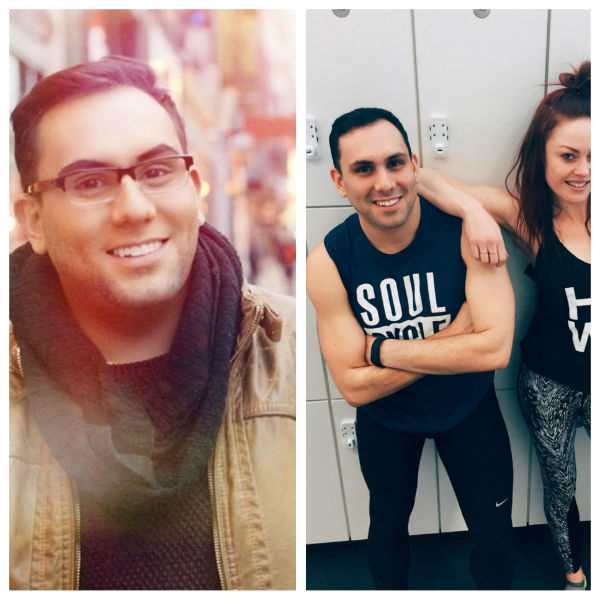 If the person I was a year ago walked past me today, I would not recognize him. Not only because of the physical changes that have taken place thanks to SoulCycle, but the internal ones as well. A year ago, I was unhappy, unhealthy and angry. SoulCycle came to
Chicago
just in time.
When the Old Town Studio was about to open in April of 2015, a friend told me to send in my resume for a front desk position. I had never heard of SoulCycle before. I sent my resume in, had a phone interview and a few weeks later, met with the studio manager of the first SoulCycle in the Midwest. The job was mine.
Fast-forward two months and I was clipping in to our first class as a studio -- a staff ride with
Anthony M
. As soon as class started, I understood what all the hype was about. For about a month, I had been explaining SoulCycle to curious friends as "a 45-minute full body workout done in the dark by candlelight. We ride to the beat of the music and our focus is long and lean." All of what I had been saying was true; I simply had not experienced it yet.
After a coworker and I had our butts handed to us in that first class, we resolved to take 30 classes in 30 days. On some days, I took two classes. On other days, I took three. I began to notice that something was changing within me while I was on the bike. I quickly became, "addicted, obsessed, unnaturally attached to my bike, high on my sweat and the hum of the wheel."
I had always been somewhat athletic. I ran track in high school, which was funny to watch I am sure – I'm roughly 5'8 and my race was the 300-meter hurdles. Nonetheless, there was an athletic part of my body and brain that had been dormant since 2010. As I began to ride more at SOUL, I quickly saw physical changes. In three weeks I lost 12 pounds. It did not feel like I was working out, though. It felt like I was going to hang out with my friends! I'd walk into the studio, grab my shoes, clip in and feel at home. I had not realized that when I accepted a position at the front desk of the Old Town studio that my SOUL journey was just beginning.
My "aha!" moment happened on May 11 at 5:45 AM on bike 4 in
Old Town
. As the last song started, I recognized the first bars of
"Little Lion Man"
by Mumford and Sons. Halfway through the song, I began to cry. Maybe because it was so early, maybe because my body felt like giving up, but I think it's because I realized that I am stronger than I thought. The studio had only been open for two months and I had already lost 20 pounds. I felt better, I had more energy, I was happier and I was healthier. People started to notice!
I had not been working toward any goal when I came to SOUL. I did not start taking classes because I wanted to lose weight. I took classes because it felt good. I felt like myself on the bike. The weight loss was an added bonus. Better than the physical changes were the internal changes, the ones that were not instantly visible. I started to walk taller, speak more clearly and with more authority. Most importantly, I started to take myself seriously. A few months after we opened, I met up with a friend I had not seen in awhile. Immediately, she noticed my weight loss, but she also commented on my demeanor. "Stephen!" she said. "You seem happier and more alive!" I was just excited about everything!
SoulCycle helped me find a part of myself that I had lost. SOUL came into my life at the most opportune time. The community I have found at SoulCycle is incomparable to anything else I've found outside of my family. Every time I clip in, I feel like I can do anything – that we, as a pack, can do anything. Whether we're climbing a tough hill in Anthony's class, crushing "around the world's" in
Aya's class
or doing tap back push-ups in
Kirsten's class
, we all do it together. At SoulCycle, the connections I've made with my co-workers, our instructors and our riders is like no other.
Whether I'm coming to SOUL to work a shift at the front desk or to clip in, I always leave feeling reenergized and rejuvenated. SoulCycle did not save my life, although I'm sure for a lot of people, it has. SoulCycle changed my perspective on life. Now I'm 30 pounds lighter and mentally more light and free than I've been in a long time. I'm so excited to see where I'll be a year from now. My SOUL journey is nowhere near finished.
Do you have a Soul Story to share? Email blog@soul-cycle.com! Want to ride at SOUL? Grab a series
HERE
then book a bike!
MORE FROM SOUL: