Soul Transformation: Wendy Kaszak
September 9, 2015
Shortly after giving birth to twin girls, WENDY KASZAK came to SoulCycle to get back in shape. But as she lost weight, she found strength, inspiration and confidence with every ride. Now this Short Hills rockstar shares her Soul Transformation…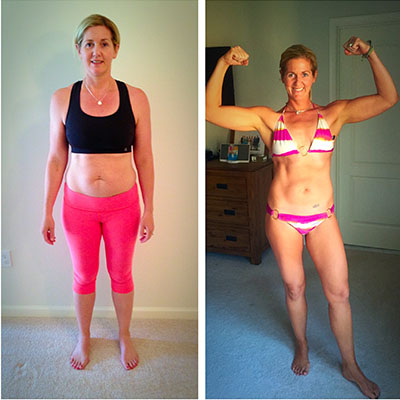 I started riding at SoulCycle Short Hills in December, nine months after giving birth to identical twin girls (who I refer to affectionately as BGs). My first class left me red faced for hours (SOUL glow?!?!) and admittedly, I was hooked from the get go. I loved the music, I loved the message, and most of all, I loved the me that walked out of the studio. I felt strong. I felt empowered. I felt energized. And naturally, I wanted more!
It was actually an old friend from high school whom I had not seen in decades that told me to book a bike with instructor Noa Shaw. When I walked into the studio for my first time in his class, I was skeptical. The music was loud, the song was "old," and I had to work hard to keep an open mind.
It didn't take long, though! My heart swelled the second his playlist included the song "Alive" by Pearl Jam, flooding me with memories of my childhood crush on Eddie Vedder. And when Noa said, "Dedicate this ride to someone who needs you to be strong for them," an image of my two daughters appeared in my mind's eye, and I put every ounce of everything I had into the ride for them and for our family. I'm pretty sure I shed a tear or two, too. Joyful ones!
And that's how my real Soul journey began. When riding a bike in the dark going nowhere made me emotional, I knew something transformational was possible.
From the comfort of bike 33 in the second row to the butterflies of bike 8 in the front row to my 15 minutes of fame on the podium, Noa always brought "game" to the room and made the perfect place for me to be present, to focus on the healing (AND FAT-BURNING) power of movement, and to let go of control! Those three things are my perfect trifecta for maximizing creativity, and I can't possibly be alone when I admit to the number of epiphanies I've had on a SoulCycle bike.
Noa will be so missed by his loyal tribe in Short Hills, and for his time, I will always be grateful. He helped create a legacy, and it's our job to keep it alive. The teacher matters. But what matters MOST is that the students show up.
Fitness, nutrition and self-development have been part of my lifestyle for many years. But twice weekly SoulCycle classes have ultimately helped me to take my body after babies to the next level. From an exercise perspective, things that worked before pregnancy, didn't work quite as well after. And dealing with diastasis recti (separated abdominal muscles) made me think my pre-preggo flat belly might be gone for good.
So what works? Focused time in the gym, thoughtful choices in the kitchen and a commitment to NEVER GIVE UP on the bike or on the journey! I know so many women who are mothers and are in the best shape of their lives. They look amazing, and they feel amazing. And as soon as I knew I too would become a mom, I desired to be a "fit" one. #fitmomliving is my M.O. — it's about being healthy, being balanced and being a positive role model for my BGs.
My SoulCycle journey has been an important piece to the puzzle… it has been about letting go of control, pushing past limits, challenging myself to be even better, and keeping faith that when I do the work, I make space for magic to happen. Tapping it back, hitting the corners, sprinting it out, rocking out with crunches and burning through the weight series along with fueling my body with high quality nutrition and choosing happy are my not-so-secret weapons. And they are anyone's for the taking!
At SoulCycle, I discovered that the leader I'd been looking for was inside me all along.
Do you have a Soul Transformation to share? Email blog@soul-cycle.com! Grab a series HERE and book a bike! Questions or comments? Email blog@soul-cycle.com!
MORE FROM SOUL