Soul Transformation: Shira Siry
September 23, 2015
After losing her husband suddenly, SHIRA SIRY struggled to find a routine that fulfilled her emotionally and physically. When she began riding at SoulCycle, she discovered a community that motivated her to move forward and shed 100 pounds. She shares her Soul Transformation...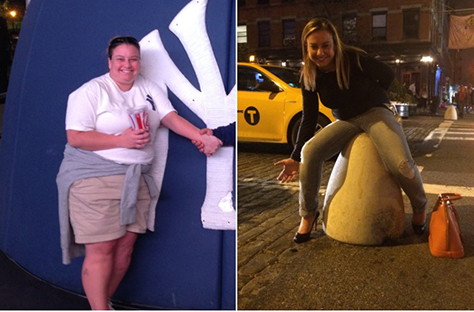 I started riding at SoulCycle in May 2014, a little less than a year after my husband Mike suddenly passed away at age 49. We met on May 12, 2011 and instantly connected, and got married on May 12, 2012. Sadly, we were only married for a year and a month.
Although I had always played sports and been athletic, between sitting at a desk, working long hours and being married to a chef, it was easy to gain weight. I personally believed my weight was a lost cause and that it would be virtually impossible at age 40 to get in shape.
In April 2014, one of my closest friends suggested that I join her at the gym in the early morning before work. At first I was hesitant — I didn't really know what to do at the gym, nor did I want people "looking" at me. To top it all off, I'm not really a morning person.
But after some gentle and caring persuasion, I agreed. And although I pushed myself to go every morning, I realized that the regular gym routine was just not for me. I needed something more.
I had taken one or two SoulCycle classes years ago with my husband, and decided to try it out again. However, walking into the unknown alone was much different, and upon entering the studio at East 83rd Street, I almost immediately turned around and left. As I was about to walk out, the manager Melinda looked at me and said "Hi! Is this your first ride? I'll help you set up your bike."
Once I was on the bike — music blasting in the dark studio — I knew I was going to be hooked. What I didn't know at the time is that SOUL would become my lifestyle, and I would soon be riding upwards of 10 times a week.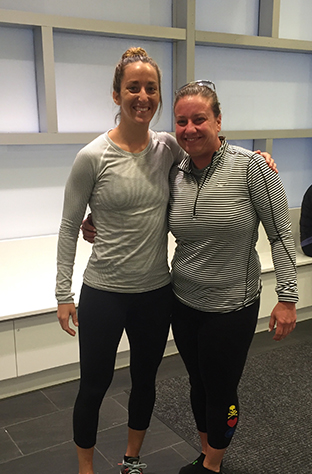 Shira Siry (right) with instructor Sam
The welcoming atmosphere and staff and instructors was exactly what I needed. The fun music, dark room and community of people have kept me from feeling alone. I've made true friends in the SOUL community, and there is an amazing staff and instructors who actually care, which has kept me coming back time and again.
For months when I first started clipping in, I would only ride in the back row corner – bike 69 or 70 — and I would follow around my favorite instructors. After some persuasion from Nick S., I slowly crept up from the back corner to the front row. A little more than a year later, I have to ride in the front row. And although I'm (still) not a morning person, I can almost always be found at the 6:00 AM rooster classes every week day, with Sam or Gunner leading the pack.
Since I started going to SoulCycle, I have lost over 100 pounds. But the physical changes aren't the way SOUL has impacted me.
After Mike passed away and I began to find myself again, I decided I wanted to do something positive and influence just one person to be just a little bit stronger, a little bit better. SOUL has helped me provide positive influence to many people, from friends to strangers I've met in passing. I have even convinced more than 15 of those people to become regular riders. (I'm like an unofficial "SOUL Recruiter.")
Riding at SoulCycle has given me so many wonderful memories. On the second anniversary of my husband's passing, I took one of my best friends (who came into the city to be with me) to a 6:00 AM ride with Gunner — one of the most amazing instructors at Soul.
Gunner was aware that day might be particularly tough for me. When I walked into SOUL that morning, she came over to me, asked me if I was ok and gave me a hug. During the ride, she suggested that riders in class dedicate their morning ride to someone in their lives who might need some extra love and support — Gunner then dedicated her ride to me. This thoughtful act gave me the extra strength I needed to get through a tough day.
Since I've started riding at SOUL, I have so much more confidence than I've ever had in my life. It has given me friendships, support and positive changes that I can take with me into all aspects of life.
Have a Soul Transformation to share? Email blog@soul-cycle.com! Want to ride? Grab a series HERE and book a bike!
MORE FROM SOUL