Soul Transformation: Scott Stern
November 3, 2015
After struggling through his first ride, SCOTT STERN never thought he'd clip in again at SoulCycle. But nearly three years later, he's still tapping it back — and he's 54 pounds lighter. This Roslyn rockstar shares his inspiring Soul Transformation…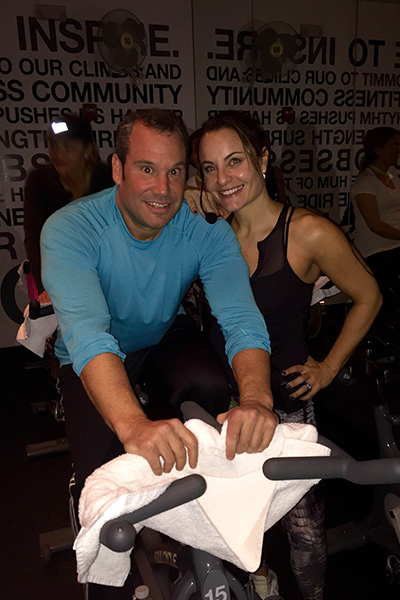 First let me say, I am probably the least likely person you would expect to become addicted to SoulCycle. I was in the military, I ride a Harley, I love to lift weights and I felt that doing a cardio workout was the equivalent to corporal punishment. Oh, and before I forget, I turn 50 in a couple of months but none of this really mattered because here is my story:
It's pretty amazing that you never realize how bad your weight gain is until one of your buddies sends you a picture with the caption "whale on a boat." Luckily I am having the last laugh: I have lost 54 pounds, thanks to SoulCycle. If not for SoulCycle Roslyn and instructors Rachel, Mark, Sabine and Julie Dermer (pictured above with Scott), none of this would have been possible.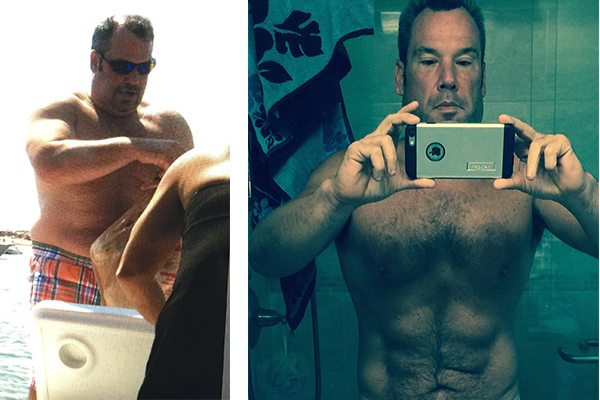 I still remember my first class with Julie like it was yesterday. I recall thinking I was going to die during the ride and not being able to walk for the week after. I never thought I'd go back for a second class but something inside pushed me to take another class with Julie. And then another and another and before I knew it, I was going five to seven times a week and doubling three of those days. Of course, I would see the same people taking the same classes with me. We would look at each other and think, "Wow, that was brutal! No more." But we would all be back the next day or day after to do it all over again.
I am coming up on three years at SoulCycle and I still have never missed a class nor have I ever been disappointed. Every class possesses the same intensity and passion that keeps me coming back. I could never thank Julie D., Mark, Rachel and Sabine enough.
I also would like to give a big thanks to the entire Roslyn staff. They truly are amazing! Whether it's 6:00 in the morning or 7:30 at night, when you walk through the doors, you immediately feel such a positive vibe. It amazes me every time.
Several weeks ago, it was my daughter Alexis's 16th birthday. Julie created a playlist that not only a 16-year-old would love but all the other riders as well. The top moment during the class occurred when Julie had Alexis come up and ride the instructor bike. My daughter is a nationally-ranked, level 10 gymnast, who competes in front of thousands of people. But getting up on the podium was a brand new challenge that made Alexis beyond nervous and set the tone for an unforgettable birthday. Alexis is still talking about that ride. I could never thank Julie and the entire Roslyn staff enough for making my daughter's day so special!
Last but not least, I have to mention my fellow classmates. The support and good wishes that I have heard from other members over the years have been incredible. Losing weight maybe a personal goal so, in my opinion, until you decide to lose it for yourself and no one else, chances are slim you will achieve success.
For me, my success started by taking my first SoulCycle class. Your first class forces you to put your ego aside (actually it was my third class when the 13 year-old sitting next to me, barely breaking a sweat, destroyed what little ego I had left from the first class). I knew after my first class it was time to look in the mirror and quit fooling myself. Losing weight is never easy and believe me, my weight loss would not have been possible without the support and encouragement I received from the entire SoulCycle community. Thank you!
Do you have a Soul Transformation to share? Email blog@soul-cycle.com! Want to ride at SOUL? Grab a series HERE and book a bike!
MORE FROM SOUL