Soul Transformation: Sal Sabella
January 26, 2015
Before he started leading the pack at SoulCycle, instructor SAL SABELLA weighed 230 pounds and felt discouraged about getting in shape. Now more than 50 pounds lighter, he opens up about what inspired him to change — and how it impacted his strength and confidence...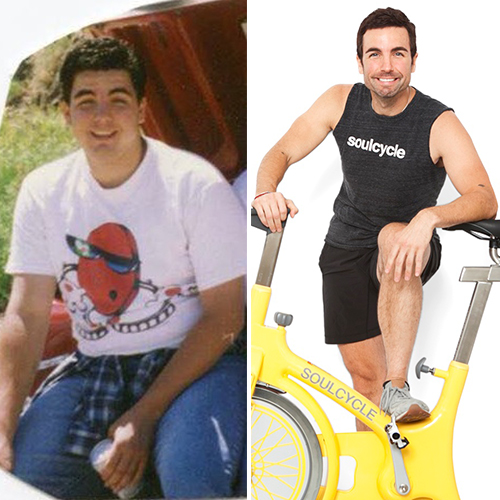 I grew up a heavy kid, had to wear "husky" jeans, and was always the jolly type. However, especially during my teenage years, I would lie in bed wishing to skinny/fit/in shape. I wished for many years, but I would just lay in bed "wishing" to be skinny. What I realize now, looking back, that wishing to be skinny wasn't enough. I needed to want it so badly that I would not accept any excuses to not achieve it.
Enter Centennial Singers, the University of Wyoming's premiere Musical Theatre touring group....I'm serious. That was it. I wanted to be in this group so badly, I could taste it...pun absolutely intended. I had seen them perform when I was a junior and performed at my school. From the moment the lights when up on stage and they started singing and dancing, I was mesmerized. There was my goal! I knew it! I wanted it!
Fast forward to spring of my senior year and I had driven the two and a half hours to audition for Centennial Singers. I made it past the singing portion. I survived the dancing portion. Now, it was time for the interview portion with the director. This was it. I knew I was in. I could just feel it! He sat me down and said....sidebar: remember how I told you I grew up a husky kid? Well, at this point in my awkward teenage life I was gracing the scale with about 230 pounds of musical theater-loving dreams. I always had about a 42 inch waist…
So he sits me down and says, "Sal, you're really talented. You've got a great voice and you move really well. But the reality is, we reuse our costumes each year and we can only take in or let out the costumes so much. At your current weight and waist measurements, we wouldn't have costumes to fit you. If you got into the group, would you be willing to lose the weight?"
When I heard him mention my weight, my heart sank. Because now it wasn't only I who knew that I needed to lose weight, but now it seemed the whole world was aware. However, my desire for wanting to be in the group overpowered any shame I might have been feeling at the moment and, with complete sincerity and confidence, I said, "Yes, I will lose the weight." He then followed up with, "We'll need you to get down to at least a 36-inch waist for the current costumes we have." I said "okay," shook his hand, and walked out of that audition with strongest sense of purpose I'd ever had.
That summer before my freshman year of college, I joined my local YMCA. I started off by taking step aerobics class and then I would lift weights. Also, sometimes, if I was feeling especially motivated, I'd run out on the dirt country roads in the late afternoons. I was a man on a mission. I was definitely more aware of what I was eating, but it hadn't changed drastically. What had changed drastically was my activity level. By the time I started my freshman year, I had lost about 25 to 30 pounds and 5 to 6 inches.
That singular situation is what shifted the tide of my weight loss and fitness journey. Ever since then, I have been conscious of my activity level and nutrition. There are days, weeks, years that I do better and then there are the times when it seems I've forgotten all of learned. However, I know I can never go back to where I was. I have definitely made that commitment to myself. I deserve to love myself unconditionally and I know that it starts internally which then affects me externally.
My friend Miles Johnson first brought me to SoulCycle. I had been living in a LA for a year, having taken a hiatus from NYC. I was working in a restaurant, soaking up the sun, hiking and waiting for my next big thing to appear. That's when Miles called and told me that SoulCycle was opening up its first West Coast studio in West Hollywood. I asked, "What's SoulCycle?" Somehow in my 12 years of living off and on in NYC, I never had heard of SoulCycle. Anyway, he told me to just go interview for a front desk position. "You'll love them. They'll love you. Go!" he told me.
So I went. I loved them and they loved me. I began working at the front desk and was so excited to be part of this new venture. SoulCycle can move fast and I'm not just talking about class. After three weeks working at the front desk, there was shuffling in management and they asked me to join the management team. I happily said, "Yes!"
My first ride at SoulCycle was with the amazing Roarke Walker and Angela Davis. They team taught a ride in the pop-up next to the West Hollywood studio which was still being built. All the bikes were wheeled in to this industrial space and the energy was electric! I had never taken an indoor cycling class in my life, but I soon realized that this was not an indoor cycling class, this was something completely different. The music, the movement, and the inspiration! After class, I felt incredible. I had just had my booty kicked and loved every minute of it. When I got home and looked at my body in the mirror. My body had already started to see the benefits of that kind of extreme sweat.
Working and riding at SoulCycle, I loved it! I was being challenged daily, feeling super-productive and super-helpful with helping expand SoulCycle and make it a huge success in Los Angeles. However, like most busy, hardworking people, I had a difficult time disconnecting from work. Even when I was home or on vacation, I was working. But one of the most amazing things about a SoulCycle class is NO CELLPHONES IN CLASS! Problem solved! If I'm in a class, I'm completely unplugged. Off the grid. And it feels amazing! I get to focus on me, get lost in the workout, in the music, and in the inspirational words that the instructor is providing. I also found, thanks to instructor inspiration, that if I believed in my strength in that room, I would believe in my strength outside of the room. So, SoulCycle really transformed my life, my mind and my body in so many beneficial ways.
As a manager, I was taking about five to six classes a week. I was really starting to become a strong rider. My first love has always been music. It makes me dance, it makes me cry, it makes me relax. I've always felt a desire to help people, to encourage them and help them feel better about themselves. I also love community and the amazing feeling of a united effort. Here I was working at a place where music was such an integral part of class, where it was helping people to feel and become better versions of themselves (including myself), and where it was all about community and a group effort toward a goal. So, basically, it felt like a perfect fit for my life and my mission. The opportunity presented itself to audition and I seized it with both hands, both legs, and a tap back.
SoulCycle helped go from an inactive, couch potato, potato chip-eating lifestyle to an active, running, lifting, eating better lifestyle. The answer is simple, we just have to be willing to commit to the simplicity.
When they say a six pack starts in the kitchen, they aren't kidding. Nutrition paired with an active lifestyle are the winning combination. I've generally kept the active lifestyle in check. However, because of an on-the-go schedule I haven't had the easiest time making nutrition a priority. When I'm on-the-go, it's easy for me to go with the easiest, usually not as healthy, option, like a sandwich, burrito, slice of pizza, etc.
But when I realized that there is always a salad option or way to reduce the extra carb situation, I started to see how I could balance the two realities. For instance, I LOVE Mexican food. So, instead of a burrito, I can have the salad, put in all of the same fixins, minus the rice and minus the flour tortilla. I get all of the flavor and kick without the carb overload.
Since getting into shape my confidence has definitely improved. When people start noticing your transformation and sometimes even say you're attractive, that feels great. It does take some time to rewire your thinking, however. Some of us have spent years telling ourselves "I am unattractive," or "someone won't love me or want to be with me because I am not skinny." So when we start to see the physical changes, that's just the first step. Then we have to start replacing the old thoughts with "I've always been attractive. I've always been worthy of love. Just now, other people are noticing it too." And once you know that you've always been worthy and deserving of love and acceptance, the inner transformation happens, which really kicks your positive energy into high gear. That positive energy is an attractive energy and brings you so many good things into your life. Feeling good within is the key.
Catch classes with Sal at SoulCycle Chestnut Hill! Questions or comments? Email blog@soul-cycle.com!