Soul Transformation: Mireya D'Angelo
April 21, 2014
After suffering the loss of her father last year, Soul instructor MIREYA D'ANGELO experienced a sadness that impacted her body as well as her emotions. Making some changes to her diet and workouts helped her heal and shed 15 pounds. Mireya shares her SOUL Transformation…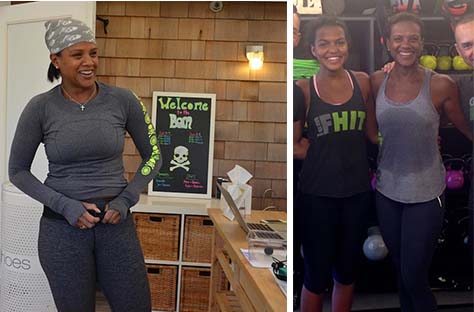 Mireya (left, last May) and now with her daughter Sofia.
I lost my dad suddenly and unexpectedly last January to complications after surgery for a mass in his stomach, which turned out to be Stage 1 gall bladder cancer. Besides the emotional sadness that came with dealing with his death, I started to see a physical change in my body since my body was reacting to the shock, anguish and grief I was going through while trying to maintain my composure for my family especially my daughter Sofia and my mother.
Add to the mix the fact that I was turning 50 in December and my body was just wacky. I went to my doctor and had a thorough blood check and it showed that my thyroid level was off (so medication had to be adjusted); my testosterone level was off (which happens to men and women as they get older and trauma makes the onset faster); and I was low in Vitamin D and C.
My doctors suggested I see a nutritionist and add variety to my workout, specifically weight training. I found an amazing nutritionist through fellow Soul instructor Daniel Wiener named Andrea Platzman.
Andrea is big on exercise and planning your meals, rather than counting calories. She believes you should understand what the caloric values are and knowing your trigger foods and times and how to deal with them. She also had me cut down on my wine intake. I refused to cease my intake since I enjoy my wine; she was down with that and all good. But I have increased my water consumption. I have a glass before each meal and end up with seven to eight glasses per day.
The timing of my meals is key. I have breakfast by 8 a.m. Breakfast used to be a slice of whole wheat bread with almond butter or peanut butter with jam, but now I have a Paleo meal smoothie/almond milk smoothie, two eggs scrambled or egg whites with side of guacamole or avocado. Or if it's an early class, I have half a Clif bar or Kind bar.
Now I eat every two to three hours with snacks that are 100 to 150 calories (green juice, chia bar, etc.), and I've become aware of serving sizes and caloric equivalents. For example, if I'm having a smoothie for lunch I'll have it with half a banana with no agave and add kale. Some smoothies have the same amount of calories as a turkey sandwich on whole wheat with lettuce, tomato, mayo on one side of bread and a cup of broth soup!
Speaking of soup, I eat more soups for dinner or lunch or as appetizers when I'm out since they fill me up. And I choose my grain intake carefully since 1 grain = 1 glass of wine and a bit more so I cut down on bread but still enjoy it.
My nutritionist also suggested that I started doing some interval workouts at a studio called The Fhitting Room, where the workouts perfectly complement my SoulCycle rides. Also, doing classes there with someone like String makes it beyond fun. I also started swimming once a week. And I adjusted some things at Soul: I changed my settings, raising the handlebars (stress off my back) and raising seat (less work on my legs).
Since October, by adjusting my riding in my classes, being conscious about what, when and how I eat and drink and adding complementary workouts, I feel 100 percent better. My hormone levels have balanced out, I have so much more energy and I've lost weight. Yep, 15 pounds. But more importantly I've lost approximately 10 percent body fat. It's me but just shrink-wrapped.
With summer coming, and folks rushing to get in shape, it's a good idea to see your doctor, get your levels checked and have an overall checkup. It could make a big difference!
Do you have a SOUL Transformation to share? Email blog@soul-cycle.com!