Soul Transformation: Laura Keenan
August 25, 2015
After kicking off a successful weight loss journey, LAURA KEENAN hit a stubborn plateau. Her sister invited her to SoulCycle last December — and tapping it back with the pack has helped her lose 140 pounds. "I am more proud than ever," the Chestnut Hill rockstar shares in her Soul Transformation…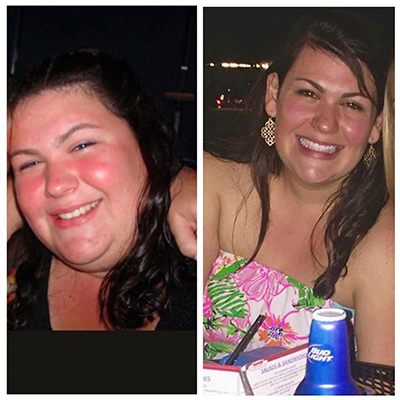 If you were to tell me two years ago that I would have ever been to a cycling class, I probably would have laughed in your face. Two years and 140 pounds later, SoulCycle has become a huge part of my life, as well as my exercise routine.
I have been overweight my entire life. A bad combination of lack of exercise and caloric intake had gotten me to the point that I barely even recognized myself. I was extremely unhealthy, but more importantly I was unhappy and needed a change. From that point forward I started focusing on losing weight the good old-fashioned way, through diet and exercise. I had lost around 80 pounds before adding SoulCycle to my workout routine.
As I mentioned, I probably would've laughed if someone told me that I would start going to a cycling class. I never liked biking to begin with and I never thought that I would be able to keep up with the rest of the class. But after losing 80 pounds, I realized I was hitting a plateau and I needed something to add to my workout to get over it.
At the suggestion of my sister, an avid SoulCyclist, I decided to give it a shot. It was tough to begin with, because of the shape I was in when I started, but from my first SoulCycle ride, I knew I was hooked. Not only was SoulCycle a change of pace in my workout, but there is a sense of community that I like, which also helps to push you and inspires you to reach your goals.
Thanks to going out on a whim and trying my first SoulCycle class, I have been able to break my plateau and lose 60 more pounds since I started riding, totaling my weight loss at 140 pounds thus far. I can honestly say that SoulCycle has helped me reach this goal.
Through riding with the pack, I have been able to become more confident in myself and also have the push that I need to continue with my personal weight loss goals. I am now a weekly SoulCyclist at Chestnut Hill, and I honestly never thought I would be able to say that. I am more proud than ever!
Do you have a Soul Transformation to share? Email blog@soul-cycle.com! To get a series and book a bike, click HERE!
MORE FROM SOUL