Soul Transformation: Katie Strauss
August 11, 2015
Though KATIE STRAUSS struggled to lose weight for years, she never found a workout that kept her motivated. But once she started tapping it back at SOUL, she discovered an exercise she loved that helped her de-stress — and shed 50 pounds. Katie shares her Soul Transformation…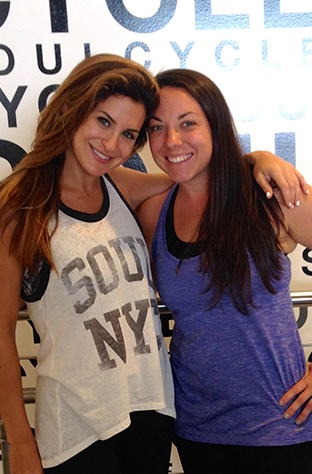 Katie (right) with instructor KC Sklar
This time last year I was enjoying summer and gearing up to be a bridesmaid in my childhood best friend Alie's wedding. I went dress shopping with her and the rest of the bridesmaids, and ended up ordering a dress in size 18.
I told myself I would try again to lose weight before the wedding and have the dress altered but it just didn't happen and in October, I hit my highest weight: 185 pounds. For years I tried and failed to lose weight, always setting out with big goals and strong ambitions but each time falling back into my old ways.
I heard about SoulCycle a lot before I took my first class. A few of my friends had been taking classes for some time but I never joined despite them asking me often. I had it in my mind that I had to first lose weight and get into shape before I could consider riding at SoulCycle. I was afraid of being judged, when in reality, I was just judging myself.
My best friend DeAnna, who works as a life and health coach, had been riding at Soul for about a year. One night in January she called me and said, "There's an open bike in the class right by me tomorrow morning — you should call and book it!" I made up some kind of excuse like I was fighting a cold or something, and her response was, "It will ALWAYS be something, whether a cold or a bad mood, you just have to DO it, SoulCycle will support you!" So I called and booked the bike right behind her in a Saturday morning class with Jaws.
I'll never forget the moment that I clipped in: It was equal parts terrifying and exhilarating. During class, I remember watching everyone around me wondering how on earth they could keep up and move that fast! I left that first class thinking that it was crazy hard, though I absolutely loved the music and the vibe of the riders.
Two weeks went by and DeAnna invited me again to join her, this time, in Nina's class. After that I knew that I wanted to keep coming back. We started going to Eve's class on Fridays in Union Square every week. It became a ritual for us and it was a great way to transition from the work week to the weekend as well as have time to connect as friends among our busy NYC lives. Still, I stayed in the back, thinking that the "front row" was some kind of club that I wasn't welcome in or even ready to be a part of.
In February, after about a month of going once a week, I was on my way to my weekly Friday class with Eve and ran into subway trouble. I was late and ran to the studio, panting and out of breath. I barely made it into class on time, and because of that, I was all over the place and couldn't seem to connect to the ride. But then after we did the arms series, Eve played "Take Ü There" by Jack Ü and suddenly, I had MY moment. The candles were blown out, the music was turned up so loud, and although I couldn't see anyone, the energy of the riders around me built me back up beat by beat. When I left that class, I remember thinking, "Ok, this is it. SoulCycle is mine."
After that, I decided to make SoulCycle a bigger part of my week. I penciled in two classes a week and started riding at 6:00 AM in SOHO with KC, which means a 5:00 AM wake-up call — and I am NOT a morning person. I work as a nanny in New Jersey, so I could ride at 6:00 AM in SOHO, then drive through the Holland Tunnel and be at work in 25 minutes.
Soon two classes a week weren't enough so I started riding three to four times a week. I canceled my gym membership that I wasn't using and decided that if I was investing in SoulCycle, I need to also invest in my body and diet as well! I simply tweaked what I was already doing, cut back the junk, added in some healthy swaps, and overall just tried to eat much cleaner. To me though, what really felt different this time, was that I had found an exercise I really loved and was not only committed to, but I WANTED to do.
Working as a nanny, I do a lot of giving to others. I absolutely love my job, though because of that, I continuously put my own needs aside and was constantly running on empty. SoulCycle had become a time for me to disconnect and focus on myself, and in turn, I had even more to give without feeling depleted.
In early May, I noticed that most of my clothes were loose. I had not weighed myself in a while so I jumped on the scale — I was 30 pounds down. I was so excited that I posted about it on Instagram… and that night in class, KC, who had seen my post, called me out. Her exact words escape me now, but I will never forget the feeling they gave me. I left class that night emotional and proud of myself and felt so supported. It was just the motivation I needed to keep working hard.
A few weeks ago, I hit the 50-pound weight-loss mark. I have had to donate almost every piece of clothing I owned and buy new ones in much smaller sizes. And while that is amazing, to me, the MOST amazing part of this journey has been the lesson of how important it is to make time for myself. As New Yorkers, we all function at such a high level all of the time. Having the opportunity to disconnect, put my phone in the locker and unplug is something I now crave.
Katie before SoulCycle... and after!
As a result, I am sleeping better, I feel happier and more vibrant, and my friends have noticed that I am more fun and available. I hop into photos and don't think twice, and when I see them afterward, I don't cringe. I am finally happy with what I see. I have become more outgoing and I don't have so many self-conscious qualms that haunted me for years.
It's been incredible to ride with DeAnna, and I'll never forget the first Soul Survivor class that we finally rode next to each other… in the front row. Did I mention I RIDE IN THE FRONT ROW??! Not only is it the accountability that she has given me — like when we book an early class and wake up and need a little motivation — but it's been so much fun to ride together and to feel the love and support of my best friend right next to me.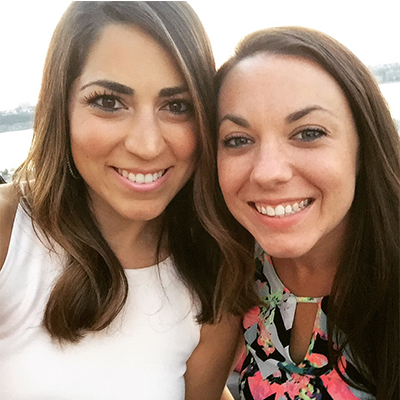 Katie with her friend DeAnna (left)
I've also become friends with KC, who has made a huge impact on this journey. She has been there through each of my milestones, ups and downs, and favorite rides. One that stands out is actually from this week — it had been a particularly difficult day at work and I was exhausted. The lights went down, the music began and the room started moving in sync. During the ride KC said, "There is support in this room. There is love in this room. There is strength in this room. There is friendship in this room." That stuck with me throughout the entire class. The support of KC as well as the riders around me was just what I needed to reconnect to myself, and the feeling was incredible. She was right: ALL of that was there in that room and it has never felt stronger. The community of SoulCycle is truly an amazing one.
When I first started riding, I was hearing the quote "Get out of your own way" a lot, both from instructors and randomly on social media. I felt like it was just speaking to me, getting me to the mental place I needed to be in to commit to myself. To this day, I still feel like its MY mantra.
The coolest part about this whole transformation is that trying to lose the weight wasn't really the underlying plan. It was more about the fact that I found something that I loved, that happened to be a killer workout, but also allowed me that space to unwind, decompress, and connect to myself. Once I started losing the weight, I realized how badly I both needed to lose it — and wanted to.
Looking back on photos from last year and weddings I was in last fall, it's still a wakeup call to me. Looking back really allows me to see how far falling in love with SoulCycle has gotten me! I once overheard a rider coming out of class say, "I found myself in that dark ass room." I can wholeheartedly say, the exact same thing happened to me.
Do you have a Soul Transformation to share? Email blog@soul-cycle.com!