Soul Transformation: Joey Litz
July 14, 2015
JOEY LITZ hesitated when his friends suggested SoulCycle as a way to get out of his fitness rut. But after one class, he began feeling more motivated and energized. Eight months later and 40 pounds lighter, this NYC rockstar shares his Soul Transformation…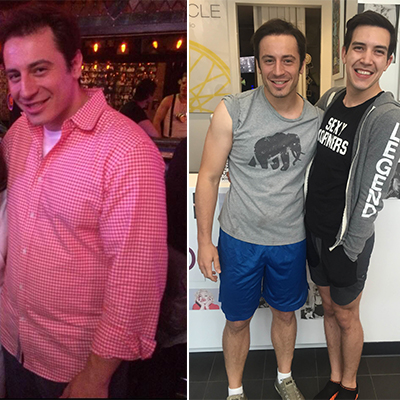 Joey before SoulCycle... and after, with instructor Ryan Pignatiello at SoulCycle West 77th
About eight months ago, I was in a slump. In the past I have always been a runner but the weather in NYC was really bad this past winter. I would say that laziness got the best of me. It's not unusual for me to fluctuate a couple of pounds here or there. As the winter went on, I realized that I had basically stopped working out and overall just had a weighed down feeling. Less energy, clothes not fitting, my mind was just not in a good place.
As I expressed my concerns to some of my friends, they invited me to come to SoulCycle. I had lived on the West side for a couple years and always saw the big yellow wheeled building and I was curious.
At first I was very hesitant, thinking it would be too hard and wondering how I could justify paying 30 plus dollars for an indoor cycling class. My friends just encouraged me to try it and see. "If you don't like it, you didn't lose anything," they said.
I can still remember my first class like it was yesterday. Lori A. was my instructor and I obviously sat in the back row while the more seasoned cyclers were in the front. I have to be honest: Walking into the studio for the first time was very intimidating. I never was someone who went to the gym so I guess I wasn't used to all the people who were in great shape while iI was just getting started on a bike.
When the lights went out and Lori started to do her own thing, I was feeling it. I loved that it wasn't just sitting on a bike for 45 minutes. You're up and down and then the weights were such a surprise. I loved it. I am also a little bit competitive so I said to myself, "I want to look like the person in the front, who can do tap backs and push ups on their bike without looking like someone who probably is less coordinated than a monkey."
I think one of the best parts of Soul is that even though every class is similar, no two instructors are alike. Soon I found the instructors that I meshed well with: Ryan P. and his #Ryride which never fails to make the 45 minutes fly by as if on a dance off show. I also love Emily L. whose music is a little throwback and her climbs can make anyone feel that they're going to the top of Everest.
I think that no one really enjoys having to work out but when you have something like SoulCycle where you are actually looking forward to clipping in, it's just amazing. Needless to say I'm hooked and when it comes to the money, I have found that not having a gym membership is fine. I do a lot of traveling for work so I'm so pleased that there is always a Soul near by and I can always get my fix. Yes, I have lost 40 pounds but I think it's more important that I found a way to stay in shape and keep healthy doing something that I actually enjoy.
Over the last few months, I can honestly say when I need to de-stress, I just want to go to SoulCycle. That might sound cliche but it's the truth. There something about walking out of the studio in a drenched T-shirt every time that you feel like, "Yeah, I just did this." It has motivated me to stay on track with eating — I can just breathe easier after. I also noticed a huge shift in my energy after going to classes on a regular basis.
Ryan P. is for sure my favorite instructor and I have to say the first time I did a push-up clap, I was hooked. I was like, "this is my move." I love it and I also love that when I first started there is not a chance in hell that I could have done that. So in a way it's like a little bit of a celebration of how far I've come. And who doesn't like a good clap? I'm also a sucker for doing sexy corners and even though it's the signature SoulCycle move, I LOVE a tap back.
We had a Beyonce vs. Destiny's Child ride and during the song after the weights, which is like the "Find your Soul" song, one of the employees who works at the desk came in and sang "Listen" Live. It was amazing. And I also just felt like, "Wow, I'm really clearing my mind right now and this is an experience unlike any other."
On a lighter note, I live with three other guys and they have seen the transformation I made. So one of my roommates who is actually in good shape wanted to come to a class. On the way, I was trying to give him some pointers like, "If they say turn it up and you can't then don't. The first time is hard." He's like, "I'll be fine," acting all macho. After 10 minutes, he was in the saddle and after class he was like, "that is HARD!" And I said, "I know! Isn't it great?"
Although I have been weighing myself throughout this journey, it is more satisfying that my clothes fit again. I get such a great feeling that I'm wearing things I haven't worn in years. I feel proud of what I have accomplished. I also want to say that I'm thankful that there's a place like SoulCycle. At times we can sound a bit fanatical but I think it's true what is going on there. You are getting an amazing workout while clearing your mind. What could be better? I'm so happy I clipped in for that first time and I have never looked back!
Do you have a Soul Transformation to share? Email blog@soul-cycle.com!