Soul Transformation: Greg Morra
February 26, 2015
GREG MORRA wanted to change his life. So with extraordinary dedication, incredible hard work, and a whole lot of tap backs with Trammell, he's shed more than 150 pounds and 22 inches from his waist while becoming happier and healthier. This inspiring rockstar shares his Soul Transformation…
Greg before his weight-loss journey (left) and with instructor Trammell Logan at Soul Bronxville this week
About 15 months ago, I weighed well over 370 pounds. At 6-foot-1, I was "fitting" into a snug size 56-inch waisted pants. I was out of control, my diet was horrible and my motivation to change was nonexistent. I wasn't even 22 yet and here I was cutting it shorter bite by bite.
But one day I decided to change. I truly wasn't happy with the person I was, and I knew something good or bad had to happen. Either I'd lose weight and start taking care of myself or I would eat myself into an inevitably early grave. It was truly a matter of life and death.
So I consciously decided that if I had to be a statistic in the fight against obesity, which I already was, I would at least be a positive one. Let me be someone who changed their ways, their habits, and their life. I started working out and eating healthy, and I made a complete and total 180 all across the boards.
I got rid of all carbs, starch, and red meats. Bye, bye, sodium and dairy, too. Good old grilled chicken and salmon became my best friends, as well as every veggie and fruit I could find in the produce section. And in the exercise department, I decided to play it straightforward but intense. I stuck to cardio mostly but I did a lot of it.
I consistently and constantly upped my cardio day-by-day, week-by-week, month-by-month.
My neighbor, Brandon Russo, is an employee at SoulCycle, and whenever I saw him, he would say that I should come with him before his shift at the Bronxville studio, and try a ride. "There's nothing like it," he'd say.
So one day, toward the end of the summer and after numerous failed attempts, I was finally able to make it down to meet him for a ride and it was nothing like I expected. It was amazing.
My first class was a Bronxville morning class with Trammell, and it was awesome. Truly a one-of-a-kind experience. A funny story from my first ride is that, well, I always work out in sweatshirts no matter what so I remember right before I walked into the class a Soul staffer saw me and warned me I should probably take off my sweatshirt. And I responded, "Oh thank you, I would but I like to get a good sweat on when I work out." She then laughed and assured me to trust her that I'd get more than enough in without wearing it, and oh was she right!
It was hands down one of the best workouts I have ever done. Trammell couldn't have been more inviting, inspiring and motivating. From the moment I clipped in, I could instantly tell that this wasn't just a normal 45-minute cardio session. This was high-intensity interval training meets choreographed dancing meets therapy all in one.
I left the class feeling ten times better than I did prior to walking in to it... Whenever I explain SoulCycle to people I always tell them that I can break down everything to you, minute by minute, song by song, etc. but you really won't know what I'm talking about until you actually do it. It is one of those things you have to experience first-hand to really get how unique it is.
SoulCycle has impacted me in huge ways, and not just physically. Mentally I feel better after a ride, every single time. I feel like I'm less anxious and less stressed than I was when I walked into the class; you just really feel so much more at ease and relaxed.
As for weight loss, it has helped me out tremendously. Since I started my weight loss journey, I went on to lose more than 100 pounds in six months and at least another 50 or so since then, and have gone down 22 pant sizes as well.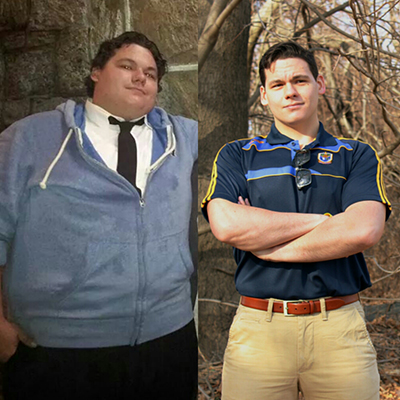 This is why SoulCycle came into my life at such a perfect time. It was right around the time that I was trying to cut more fat and shed the harder-to-lose fat areas and subsequently lean up while putting on muscle.
I first started noticing the changes right away — from my very first class. I really feel great after every ride; I feel stronger and more at ease leaving the class, like a giant weight has been lifted.
And through my strides at SoulCycle, I am definitely making progress. I can see definition, and I can see fat burning off, plus SoulCycle is great for me since it is so flexible. I can do Soul in the morning if I want and then I can do additional weight training later at night or vice versa if I like.
Through my journey at Soul, I've learned a lot. A few of the many important things I've learned is that resistance, whether physical or mental, is only something to be pushed through. It will only get in the way if we allow it too; we really are so much stronger than we tend to give ourselves credit for. We should never settle for the easy way out, if we can push ourselves harder then let's push harder. We should reach our limit and then go farther. And to throw it back to my first class I have to quote Trammell in saying, "We always finish anything we start."
Now I am wearing a size 34 waist and am wearing a size medium shirt. I have no recollection of ever wearing a medium in my life, and now I am wearing only mediums? I can actually buy jeans in stores, and I have options too! Options! I have options! Woo!
At the end of the day, I am much happier now than I was this time last year. I might not be where I want to be just yet in terms of fitness, desired weight or even life in general — I still have a lot of things to work on (as do we all, I'm sure). But I assure you that I am slowly and surely getting there, day-by-day, step-by-step, and smile-by-smile.
Do you have a Soul Transformation to share? Email blog@soul-cycle.com!