Soul Transformation: Charley Lanter
September 2, 2015
"This could be my place," rockstar rider CHARLEY LANTER recalled thinking during his first ride. Now, four years later, he's shed 85 pounds and six pants sizes but more importantly he's found strength and confidence as part of the pack. Charley shares his Soul Transformation…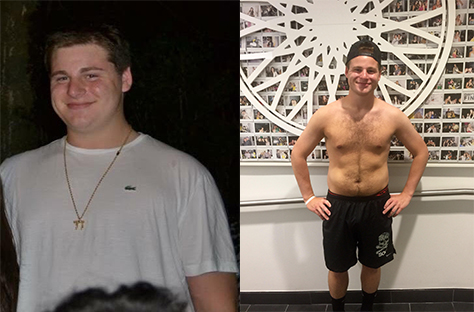 Noon on Monday: the most stressful moment of the week. Each and every week, as the clock strikes 11:50 AM, I race to the computer, hop onto the SoulCycle website, head to my bookmarks, try — and sometimes fail — to secure a seat on a stationary bike, in a dark and candlelit room that has changed my life.
Just about four years and 85 pounds ago, I took a seat in my first class at SoulCycle in Roslyn. I clipped in and rocked out with Elianna. For the first time in my life, I felt free — uninhibited, safe, secure. "This could be my place," I thought.
This past year was remarkably difficult for me. After completing my freshman year of college at the University of Wisconsin-Madison, my family and I decided it would be best to take a year off from school to discover and align my goals for a successful and happy future. As my friends and classmates all went off to their respective universities, I was filled with regret. I questioned my decision to stay home, I questioned the internship I had been awarded, I questioned my family, and I questioned myself. I welled up with sadness, depression, anxiety and apprehension. This year that was designed to be an optimistic beginning to a bright future felt dark and wrong — except for Stacey Griffith and the community that surrounded me at SoulCycle.
As I became more of a regular at the East 83rd Street studio, I began to forge relationships with my fellow Stacey-obsessed riders. It's a unique feeling, riding with the same people over and over and over again. It's like we're all in this together, on the same team. Everyone has their issues, but those 45 minutes on a bike that goes nowhere, profoundly connects people of all different backgrounds, faiths, professions, ages, and even stages in life.
This past year, our team at E83 has battled cancer, shed hundreds of pounds, changed careers, sold bestselling books, celebrated birthdays, mourned death, won awards, donated to charity, overcame depression, and so much more. This team of individuals from all over New York City, Long Island, Connecticut, and New Jersey pulled me out of my funk, and brought me to the light, helping me to see happiness, find freedom, and compassionately give others all my heart.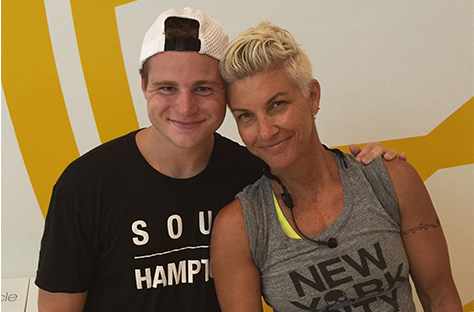 Charley (right) with instructor Stacey Griffith
I would not be the person I am would it not be for the incredible community SoulCycle has given me, led by our tremendous role model — and I'm so blessed to say, my mentor and friend — Stacey. Her relentlessly optimistic and determined approach has cured me of my sadness, shrunk my waistline, and kicked 85 pounds off my body. Two t-shirt and six pant sizes later, I relish every opportunity I have to see my new "family" riding.
Although I live about an hour and a half from 83rd, I ride there about three times a week. My team keeps me responsible, engaged, committed, and focused to being in "the best shape of my life (as Stacey puts it)," both physically and mentally. I am so thankful that SoulCycle exists, and for everything that Stacey (and Charlee and Ayana) and this entire company has done for me and my life.
President Franklin Roosevelt once said, "When you reach the end of your rope, tie a knot in it and hang on." As I reach the end of this year, and the end, for now, of my time at E83, I look toward my own future, and am so thankful to "hang on" and admire all that I have learned, achieved, and overcome, because I found myself while riding a stationary bike in a dark and candlelit room.
Have a Soul Transformation to share? Email blog@soul-cycle.com! To get a series and book a bike, click HERE!
MORE FROM SOUL