Soul Transformation: Ashley Marchetta
May 20, 2015
Since she started tapping it back last summer, ASHLEY MARCHETTA has shed 72 pounds while gaining strength and confidence. "Because of the personal transformation I have experienced through SoulCycle, I am able to approach challenges in life with clarity and optimism," she says. Here's her story…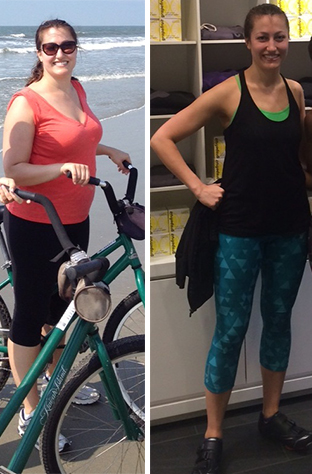 Ashley before she began riding at SoulCycle… and after!
During the summer of 2014, the stress of work, travel, and life in general finally caught up to me. I was out of shape physically and mentally and had a hard time seeing the glass as half-full. In an obvious state of frustration, I decided wearing Spanx everyday all summer must cease and desist ASAP. I needed to make big changes to take back control of my personal happiness. My friends, who rode regularly at SoulCycle, would tell me how uplifted they felt afterward — that it wasn't just a workout, but serious mental conditioning. SoulCycle seemed like an efficient, two birds/one stone opportunity, so after much apprehension, I booked my first bike in the back row.
My intention for that the first ride was simply to keep my legs moving the entire class. I went solo, nervous I would embarrass myself if I couldn't keep up. It didn't help that I was on a bike between a very pregnant woman and a 70 year-old man, neither of whom missed a beat for 45 minutes. I spent some quality time in the saddle, while I let the music encourage me to keep pedaling. Getting emotional at one point mid-class, I realized that I had a lot of work to do if I was going to achieve my goals, but felt that SoulCycle was exactly where I was meant to be.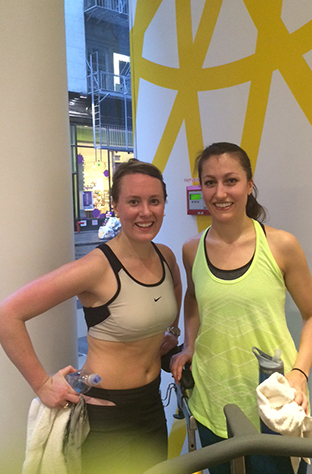 Ashley (right) at 19TH Street with friend Julie Crandell, who "inspired me to take my first class at Soul!" says Ashley.
After that first ride, I felt both inspired and scared. Achieving the results I wanted would take serious commitment. I resolved to apply the discipline I learned from years of formal ballet training to keep me on track. The fact that my feet were locked into the pedals meant serious stability for old foot and ankle injuries, so this was a routine I could stick with. I set small goals along the way, such as working up to heavier hand weights, more resistance, and riding in the front row. The best advice I received, that continues to keep me on track, is to never skip a Monday workout. It sets me up for positive momentum and good decisions the rest of the week — no excuses!
At Soul DC with friend Sara Jordan
I commit to riding three to four times a week, including a frequent Soul Warrior or Soul Challenge ride, something I never could have imagined surviving just one year ago. Weekday rooster rides have become my favorite time of day, to the complete shock of those who know the number of alarms I set each morning. Combined with a healthy-eating overhaul, I have lost 72 pounds. While the physical benefits are readily apparent, the change in perspective has paid the highest dividends, giving me a new lens through which to view my own personal strength.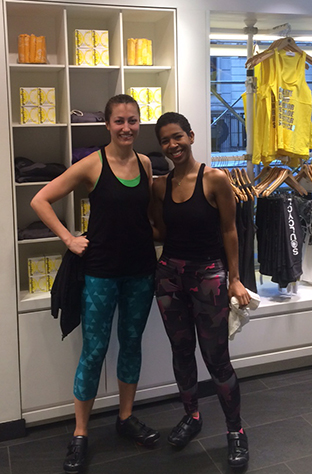 Ashley with her friend, Jordan Curry, at Soul East 63rd St.
Olivia closes every ride with her mantra, "May you live your life like you ride your bike," which continues to fuel me long after class. Because of the personal transformation I have experienced through SoulCycle, I am able to approach challenges in life with clarity and optimism. Thank you so much to Olivia for your inspiration, Emily T. for your positivity, Stevie for your perspective, and Tomas for always having the perfect playlist. I cannot thank you all enough - you are my rockstars!
Do you have a Soul Transformation to share? Email blog@soul-cycle.com!