Soul Story: Cara Salvatore
November 18, 2015
Riding at SoulCycle helped CARA SALVATORE shed 40 pounds and gain the courage to start a fitness initiative for her fellow students. Now she shares her Soul Story…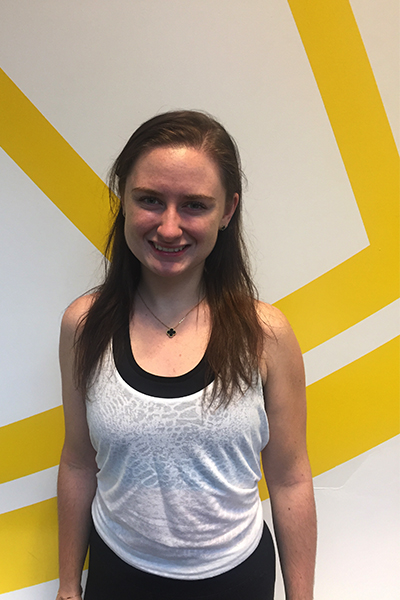 What first brought you to SoulCycle?
I tried my first SoulCycle class the summer after my freshman year of college. I had gained a lot of weight my freshman year and developed poor eating and exercise habits. Most of my meals were from student club meetings and Seamless, and most hangouts with friends centered on eating. As my body changed, my motivation and goals took a serious hit as well. I was not having the college experience I'd wanted and found myself in a serious rut – unhappy, but at the time unwilling to do anything to change it.
By spring semester I began noticing the changes in my body and the toll they were taking on who I was as a person. I decided to try a personal trainer, but had no success because I dreaded every session – it was all about the end result, without any enjoyment of the journey. Going into the summer, I cancelled my trainer and decided there had to be a better way. When I came home for the summer and noticed that SoulCycle had opened a few minutes from my parents' home in Long Island, I signed up for a class.
How was your first ride?
I was definitely nervous as the front row riders set up and warmed up on their bikes. Everyone looked very sure of himself or herself, something I hadn't felt that in a long time. This nervousness went away after the first ride, but the subsequent rides were still very challenging. When I started, I never thought I'd get to a point where I could keep pace an entire class, or attend more than one class a day. (Now I can keep pace and go twice in one day and five times in one week — TurnItUp20: 2015).
Despite feeling like I was behind the curve, I always felt encouraged, especially when the instructors welcomed the other first time riders in the room. Unlike my previous exercise experiences, I had so much fun at SoulCycle that I wanted to work harder to be able to participate more. Rather than dread the journey, I knew I'd have even more fun if I could keep up, dance harder, and have fun with it. These feelings motivated me to keep going.
How did you feel afterward?
Although those first rides were killer, they made me feel so much more alive than I'd felt in months. I remember leaving my first class thinking my instructor was so effective (motivational, fun, strategic, kind, inspiring), surely this was a special case. Then I tried other instructors and realized that high-caliber instruction is the norm, not the exception, at SoulCycle. The pulsating top 40 music, sexy dance moves, and high-energy environment got me hooked.
After those first rides, I began feeling proud of my workouts. Rather than feel ashamed that I needed to lose weight, I felt like I was part of something really cool that I could actually talk about. I also felt a lot more confident about myself, which helped me regain some of the drive to succeed professionally that I'd lost. I wasn't going to give that up.
How has SoulCycle impacted you?
Soul put my life back on track. It helped me transform the dreams I'd had in high school into the realities I'm faced with today. SoulCycle was a major player in my journey to lose 40 pounds this past year. As I shed that weight, more of the real me came out again. I gained the courage to end negative relationships, open up to new friends who'd support and inspire me, and more actively pursue the opportunities I wanted for myself such as a career in TV Analytics.
After getting certified in Nielsen Audience Measurement and interning at Nielsen Summer 2015, I'm making plans to backpack Europe studying different media practices this winter break (I'm an Italian minor and what to practice my speaking skills), as well as searching for internships in scheduling/research in Los Angeles for Summer 2016. I have much more confidence than ever before to network with professionals in my field and open up to people.
You've got a busy schedule. How do you fit in Soul?
The feeling I get from each SoulCycle class helps me prioritize fitness in ways I've never done before. Now instead of unwinding from a rough day at school with Netflix and pizza, I can't wait to tap it back to "Back to Back" or "Hotline Bling" at Soul NoHo. Exercise is the best sort of "me" time because it's fun time that's also mentally and physically stimulating.
And it's inspired you to start a new initiative?
Yes I am starting a First Timers Club. I'm presented with an amazing opportunity to combine all of my passions and put all of these mind, body, and soul improvements to good use. Because SoulCycle helped me stop sitting on the couch all day, this past summer I also got certified as a New York Cares Team Leader. I'm hoping to organize club events that involve volunteering at New York Cares in fitness-oriented ways with children or senior citizens. This allows me to give back to the city that I love in a way I'm extremely passionate about. Plus, the club gives me an outlet to share these impactful experiences with others.
Tell us about the First Timers Club.
The First Timers Club (FTC) seeks to promote fraternity and fitness among New Yorkers with no strings attached, and within the context of exploring New York City through exercise. FTC aims to create a buzz around unconventional exercise throughout the city and provide a support group for members to engage in these exercise classes without fear of embarrassment their "first time." After trying a class with our support group, FTC hopes "first timers" will have the confidence to go back on their own to their favorite classes, or even with friends they meet through the FTC community. "First timers" will come back to FTC to continue exploring new classes and neighborhoods.
What do you want to accomplish with FTC?
FTC welcomes and encourages NYU students of all backgrounds and levels of physical fitness to join; however, we expect that the club will develop a largely female member pool based on observations that fitness classes usually attract predominantly female exercisers. We have something to offer all students, though, because its focus is improved physical and mental health and well-being for its members. FTC will help students take better advantage of the vibrant city and place members on the path toward living more well-balanced lives. Everyone can benefit from new friends, exciting field trips, and an awesome workout.
What do you hope future members will find in FTC?
For me, the process of finding the right workout wasn't easy, and at times it was even scary, but in the end it was worth it. Regular exercise helped me embrace my passions, find my motivation, and approach life with a new degree of confidence and optimism. The First Timers Club wants all of its members to reach this a-ha moment, and to become even better versions of themselves through self-exploration. Diverse class offerings in scattered New York City neighborhoods aid in this process of self-exploration as people learn what they like and dislike while cultivating lasting memories along the way.
FTC is not just about the class — it's about the journey and the community. We want to be there for our "first-timers" to support and encourage them on their individual journeys, because "twenty years from now you will be more disappointed by the things you didn't do than by the ones you did (H. Jackson Brown)." This is the only NYU club designed to help students sample eccentric, affordable exercise classes off campus. We hope to be able to plan events twice a month.
How will FTC kick off?
The First Timers Club was just approved to progress with the New Club Development process, and our first NYU-affiliated events will likely begin spring semester. The goal of FTC, however, is to welcome people of all ages and backgrounds beyond NYU students. For this broader group, our events will begin hopefully in the next two months. NYU students will likely attend events for free or at a more discounted rate once the club development process is complete, while the incentive for non-NYU students will be the community experience, as we will be able to offer them fewer price reductions. You can check us out on Instagram as @First_Timers_Club and Facebook as "First Timers Club NYC" for more information on event listings and updates!
Do you have any favorite rides?
A few months ago when I was home and rode at SoulCycle Roslyn, the instructor shared her favorite quote with us. It goes, "Keep life simple, but never easy." I think this message holds so much value and find myself thinking about it at least a few times a day. As a student in a competitive undergrad program also facing the typical trials and tribulations of the college social scene, while interning and planning for the future, simple can start to seem miles and miles from my reality. I by no means want to give it all up and stay in bed all day, but as this instructor said, you can have simple without easy. SoulCycle helps me simplify my life by creating balance. It also helps me take a moment to keep everything in perspective.
Have a Soul Story to share? Email blog@soul-cycle.com! Want to ride? Grab a series HERE and book a bike!
MORE FROM SOUL