Rich's Soul Journey
July 9, 2015
Before instructor RICH MARTINO began leading the pack, he weighed more than 300 pounds and avoided working out. Now he opens up about how tapping it back transformed his life...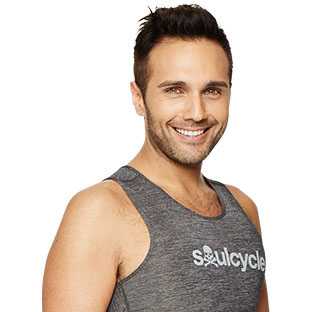 What first brought you to SoulCycle?
I had heard so much about SoulCycle from my dear friend Jen Namoff. Jen was – and still is – a frequent rider. One night she and I and a few friends met for drinks and she brought along her friend, Roarke. As we all began chatting the evening away, Roarke mentioned that he was a Soul instructor. I must have asked him a thousand questions, and before I knew it I was creating an online account on my phone.
Amazing. So what was your first class like?
My first class was a SURVIVOR, and think I actually may have seen the pearly gates. I remember hearing that a Survivor class was an hour versus 45 minutes and thinking, "no sweat (dragging my friend, Sean), let's do it!"
How did it go?
Well, SWEAT is actually what happened. I remember throughout the class thinking, "How are they doing this?" There I was, at the 72nd Street studio, pedaling my legs and trying to remember to breathe. You can imagine my horror when Roarke called out, "now grab your weights!" (WEIGHTS?? What weights?!) When class ended, both Sean and I walked home VERY slowly. Although at the time, it felt like a near death experience, I couldn't wait to get home and sign up for my next class.
So what kept you coming back?
It was addicting! Having battled obesity most of my life, I'd never felt an addiction to anything that was good for me. There was something about this form of exercise that I really connected with. I always hated going to the gym, and although I did tend to enjoy group fitness and classes more, there always seemed to be an air of competition in the room that wasn't really for me. I also never felt accountable to show up.
How was SoulCycle different?
The Soul community was not only welcoming, but also made me feel as though I was doing the pack a disservice by bailing at the last minute, and I certainly do not like to disappoint. I started to try out different instructors, and it became fascinating for me to watch everyone's own personalized take on the brand. No two classes were ever identical, yet it was so clear that they were all SoulCycle.
And what inspired you to become an instructor?
It wasn't so much the "what," but rather, the "who" that inspired me to become an instructor. In two words, "Janet Fitzgerald." Janet and I also met through Jen. In the summer of 2014, we spent some time together in East Hampton. Janet taught back-to-back classes four days in a row, and Jen and I committed to riding all of them. Yes, the math is correct – eight classes in four days ON VACATION! Our workout was completed before 10:30 am and we were able to enjoy the rest of the day however we wanted to.
Wow.
Upon my return home, I continued riding with Janet as much as I could throughout the fall and winter. I had even trained for (and ran) the NYC marathon in 2014, and managed to be on a bike at 8:30 AM, ready to go, no matter how l had run the day before, or how sore I may have been. To my own surprise, I somehow managed to get to class the day after the marathon.
What? You rode the day after running 26.2 miles?
Yes. For the first time in my life, something other than binge eating was a requirement in my day, and I was listening. I thought about teaching, but of course I came up with every excuse imaginable to talk myself out of it. "You're not a good enough rider. You're not fit enough. You'd never be able to lead a class and not be gasping for air," and on and on. But you know what's not sexy? Self-deprecation! This inner voice in me was not going away, no matter how many excuses I came up with.
What turned your mindset around?
Finally, on New Year's Eve, when I was climbing into bed at 12:40 AM so as to be up and ready for a 90-minute reSOULution ride the next morning, it was very clear to me what my resolution was going to be. Shortly after that ride, I broached the subject of leading the pack with Janet, and was met with positivity and enthusiasm that I'd never experienced. I was a good enough rider, and I was fit enough and I was… You get the picture. One tiny gesture that we may not even realize we've made can completely change someone's life! Thank you, Janet! (and Jen, and Roarke!)
How is leading the pack different from being a rider?
Now, I am essentially in control of the experience from entry to exit. As a rider, I needed to show up, clip in, be a competent member of the pack, be inspired by other riders and the instructor, hopefully inspire a rider or two to push harder, stretch and unclip. As the instructor, the experience starts well before I clip in. So many factors come into play: Where is the class? What time is the class? How am I feeling? What do I have to say and share? (And that's just to make the playlist…)
A LOT of prep!
Once I get to the studio, it becomes about meeting new people, greeting old friends, making sure the entry music is inviting and speaks to who I am. Once we are all clipped in, the ride becomes the given. The experience becomes about motivating the pack and taking them on a journey from start to finish that they will carry with them throughout their day. It's about making sure the room is comfortable, and that every person leaves the room motivated to keep going. It's about relating the music, movement and choreography to real life things, and goals, and unifying the pack so they actually root for one another.
What is your biggest motivation?
If one single rider in my class leaves feeling that they accomplished even just an inkling more than they thought they could, I would run to the top of a mountain, Julie Andrews-style.
What inspires you?
There are always new riders that come up to me in class to tell me they're nervous and that they're in the back row, and to not call them out. What is so inspiring to me is being able to actually watch their expression change when they realize that they can do it! Even in the few classes that I've taught, there's always been someone starting off with "I can't," to which I will always reply, "go at your own pace and have fun!"
Good advice!
To watch that person that just 10 minutes ago told me that they can't jog out of the saddle actually jog out of the saddle (and smile while doing it) makes it all worth while. Whether you tell yourself you can, or you tell yourself you can't… you're right. I mentioned that I battled obesity my entire life. To have been inspired by SoulCycle to become an instructor – and actually make it to the podium – pushes me to have that effect on someone else's life.
How did you get healthy?
I think I probably tried everything, from fad diets to food delivery service, and so on. My ride down from my top weight was definitely that of a roller coaster with many plateaus. Fortunately there weren't many significant trips back up on the journey.
Did you change how you ate?
Yes, and most recently, I reset and started eating clean, and paid a lot more attention to what I really wanted versus what I felt I needed. That, coupled with a newfound "I can do it" attitude, made the pounds started shedding. As much as it may sound cliché to credit the final stages of my personal progress to SoulCycle, as I moved from the back row to the front row and really paid attention to proper form, my body transformed. If this former 300+ pound guy can now lead the pack, anyone can accomplish anything.
Do you have advice for others trying to make a transformation?
Strength does not come from what you can do. Strength comes from overcoming the things you once thought you couldn't. Scars aren't there to remind you that you were hurt; they're there to remind you that you survived. Keep on pushing!
Catch classes with Rich at West 77th Street, West 92nd Street and Rye Brook! Questions or comments? Email blog@soul-cycle.com!