From Skeptic to SOUL Obsessed: Sam Leifer's Story
January 18, 2016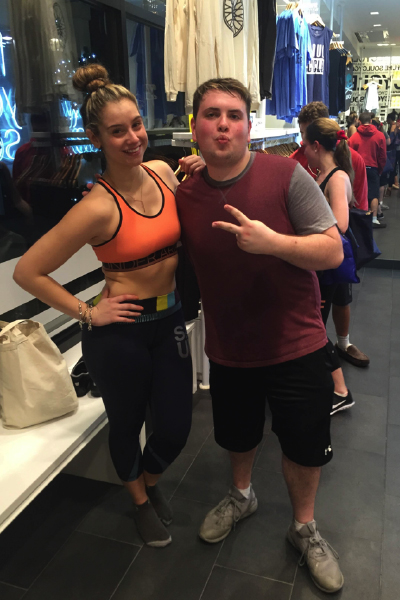 My Soul Story started last April, when my sister came home from hanging out with a friend in New York City raving about an exercise class she had taken on the Upper East Side. That class was SoulCycle, and when she found out that they had studios on Long Island, she began to relentlessly nag me to come and take class with her. I had my reservations about group fitness classes, and that coupled with her persistence made me swear off going.
Fast-forward to August, when a combination of stress, life problems and closet eating lead to anxiety and weight gain. I finally cracked, and begrudgingly joined my sister for Jade's 4:15 class at
WDBY
.
I didn't know what I was getting myself into; all I knew was that I didn't want to be there. And, much to my embarrassment now, I made it obvious. I was downright rude to the front desk staff and to Jade. (I have since made amends to everyone involved. Love ya, Ashley!)
Despite my complete lack of enthusiasm, I got a cycling high in the studio that I couldn't get rid of. For the first time in a long time, I felt really proud of myself. I returned to WDBY, clipping in for
Jade's class
again… and again… and again… losing weight along the way!
As of January, I've done about 70 rides and tried various instructors. Throughout my journey, I have found a community of instructors who care about their riders, both inside and outside the studio. I have found a place where I belong. I love the pack mentality, where I can clip in and follow strong leaders. I have found a space to relax, become a more spiritual and level person and dig into my feelings. SoulCycle has become a second home to me where I know that I matter and will be treated as a valued rider. This is something I have not found in any other major fitness center.
Thank you, Mom and Maddy — you were right in telling me to come. Thank you, Ashley, for having the patience to deal with me while setting me up for my first class. Thank you Amy, Daisy, Sara, Joe, Melanie, Alicia, Krista, Kelly, Diana and Jesse — y'all are the best studio staff possible! Thank you Sabine, Casi, Grace, Austin, Noah and Justine — I always love riding with y'all, it's always a fun time. And finally, thank you, Jade, for starting me on this healthy addiction, for being an inspiration every time and for allowing me to discover parts of myself I didn't know existed.
Do you have a Soul Story to share? Email blog@soul-cycle.com! Want to ride at SOUL? To book a bike, grab a series HERE then book a bike!
MORE FROM SOUL