Are You Ready for a #WarriorWeekend?
August 27, 2015
Labor Day is right around the corner, and we're squeezing in one more opportunity to challenge ourselves before #summerofSOUL comes to a close! So what better way to celebrate three months of warm weather and great memories than clipping in with your fellow rockstars for a little extra strength and a whole lotta motivation…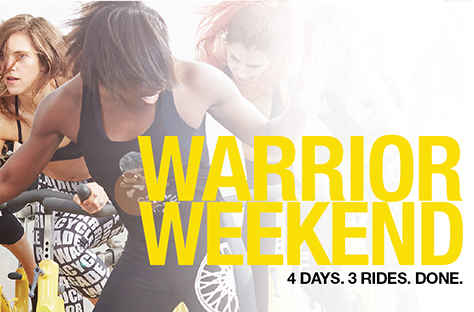 Calling all Weekend Warriors! Starting tomorrow, ride three times* at any SOUL studio within four days, and we'll send a custom SoulCycle WARRIOR trucker hat your way!
How does it work? Easy. Book three bikes for classes between Friday (8/28) and Monday (8/31), and tap it back three separate times to the latest beats with your favorite instructors. That's it!
Next week, SOUL will reach out personally with all the details on where to pick up your well-deserved swag before the cold air blows in.
Looking to sweeten the deal? Share your rides on social media with the hashtag #WarriorWeekend for a chance to be featured on SoulCycle's Instagram!
*Paid rides only, complimentary rides not included within promotion
**90-Minutes rides count as TWO classes
Questions or comments? Email blog@soul-cycle.com!