50 Pounds Lighter And More Confident Than Ever: KATHERINE ELY'S SOUL Transformation
April 19, 2016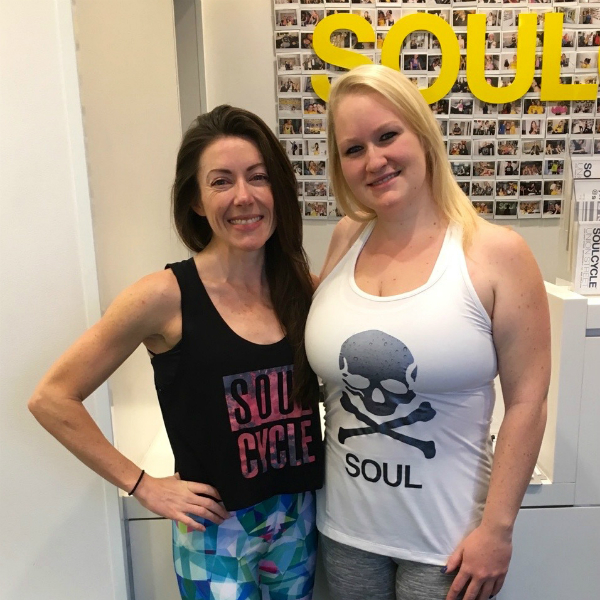 When it comes to exercise, I'm like that person you go on a surprisingly awesome blind date with who never calls you again: I lust for something new and greet it with positive energy, but despite every good intention, I inevitably give each exercise fad the slow fade. As a serial dater of gyms, barre classes and half-hearted circuit training routines, I'm proud of my commitment to SoulCycle. Let me explain.
If you were to look at my résumé, you would see that I'm a caretaker for a senior with Multiple Sclerosis, a crisis counselor at a shelter and advocacy center for victims of domestic violence and a soon-to-be graduate school student. What you don't see on paper is that I'm a builder of deep relationships, a protector of those I care about and work with and a passionate lover of all things art and music-related. Despite all this, inside, I'm still searching for how to define myself.
For much of my life, my health, weight and desire to be an active person took a backseat to helping others. I longed for the confidence of knowing that, given any physical or mental challenge, my body could persevere. Despite the fact that I've been disconnected from exercise, I have had the good fortune of being a genuinely happy person, surrounded by love and support from friends and family. Yet, something was missing.
At an apex of work and relationship stress, I found myself facing the question that plagues many twenty-somethings: "What do I want to do with my life?" I found myself in a phase of tough transition. Having long contemplated graduate school, I lacked the motivation and confidence to apply. SoulCycle ignited my commitment to making that dream a reality.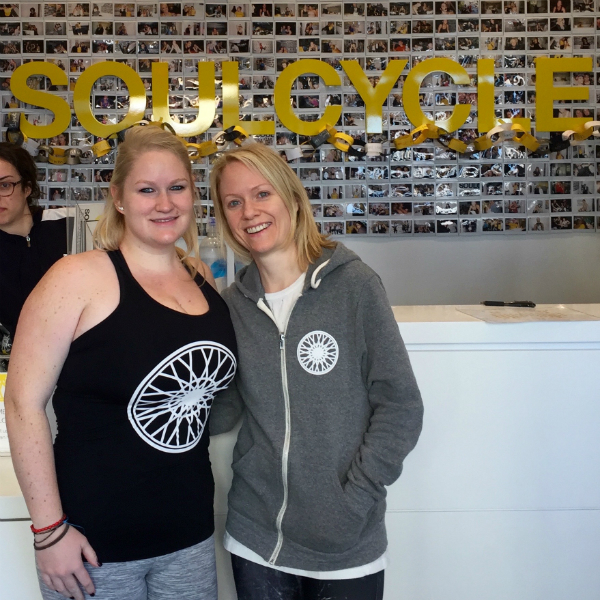 Katherine with sister Jennifer Mellet (right), who inspired her to start riding at SOUL
My SOUL journey began in spring 2015 when my mom and I dared one another to try our first class with
Natalie
at the
Union Street studio
in San Francisco. It took a full year of reassurance from my sister, an avid rider in New York, to convince us that we would not only survive, but that we'd love the music, before we finally decided to show up for class.
We were petrified, but we booked bikes. As my smart sister suspected, I was hooked pretty instantly. I connected with the SOUL community—staff, instructors, and riders alike—who show support rather than foster competition. Words like "renegade" and "rockstar," printed on the studio wall, fuel me. I am mesmerized by the music and the dark, candlelit ride that is a daily worry eraser and my gift to myself.
Oh, and the amazing SOUL clothing line doesn't hurt, either.
As I became a regular rider, I found an instructor who inspires me and has become invested in my SOUL journey.
Lindy
is tiny, radiant and cheerful, and her workout is not to be taken lightly. In the short time I have been riding with her, she has participated in the Boston Marathon, the Nike Women's Half Marathon San Francisco and a Ragnar Relay. Along with her kind words of encouragement, her interest in my progress and her positive and motivating personality, Lindy's commitment to serious athleticism draws me to her classes. That and our shared love of Outkast.
It has been almost a year since I embarked on what my friends lovingly make fun of me for calling "my journey." During my time as a rider at SoulCycle, I have lost 50 pounds and my confidence in how my body looks, feels, and functions has increased tremendously. In caring for myself, I have become happier in my work and relationships, and I've noticed a significant change in the response I receive from others as I put positivity and hard work into my universe.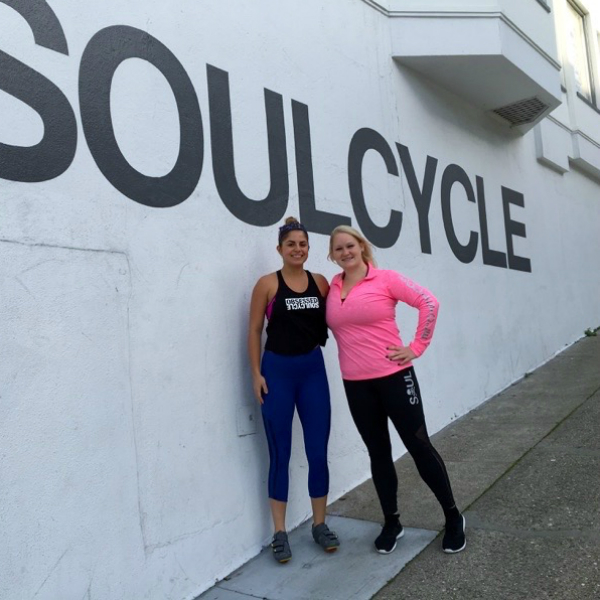 Katherine with lifelong friend and fellow rider Nicole Haydari
The support I've experienced on my journey has been unwavering and has kept me steadfast. I look forward to seeing staff members and riding with friends from inside and outside the SOUL community alike. I have had the unique opportunity to share a common love of SOUL with a dear friend and fellow rider in NYC, Kathryn Van Sickle. Paired randomly as freshmen college roommates, we have remained extremely close and support each other from afar as we ride on a similar path to self-change.
I have a hard choice ahead of me as I decide whether to pursue graduate school in my beloved Bay Area or start a new adventure in NYC. Luckily, both places offer amazing opportunities and SoulCycle studios! Whatever lies ahead, I find both an exciting challenge and peace in knowing that my journey is not over. Although my bike never physically moves, riding at SOUL has taken me through miles of progress for both my mind and body.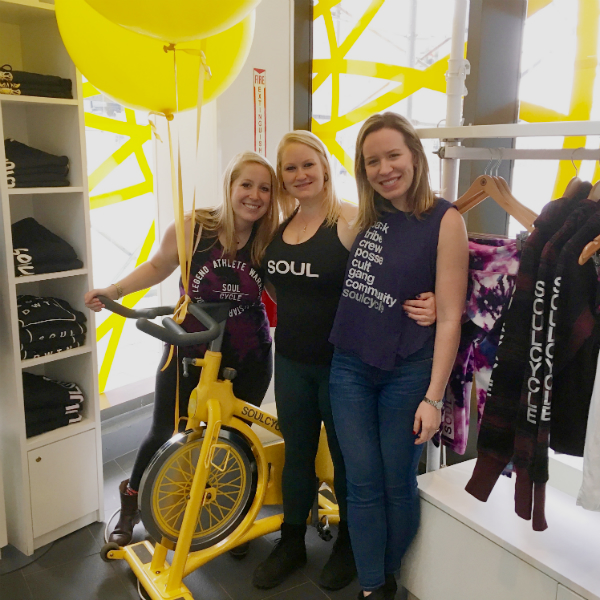 Do you have a Soul Story to share? Email blog@soul-cycle.com! Want to ride at SOUL? Grab a series HERE then book a bike!
MORE FROM SOUL