The Truth About Processed Foods
August 24, 2016
owadays, it seems like almost every diet recommends cutting out processed foods to reach optimal health. But what does "processed" even mean, and can we ever really cut these foods out? We spoke with Registered Dietician and Certified Strength and Conditioning Specialist ALISSA RUMSEY, MS, RD, CSCS, to find out how much processing on our plate is too much and to learn what ingredients should make us wary.
PROCESSED FOODS, EXPLAINED
It turns out that there are several variations of processed foods — those that are minimally processed, processed and ultra-processed.
MINIMALLY PROCESSED FOODS
"Minimally processed foods are those with no change in nutrient value, like vegetables, fruit and whole grains," Rumsey said. Something as simple as freezing fruit equates to minimal processing, but ultimately is nothing to fret about.
ULTRA-PROCESSED FOODS
Ultra-processed foods, though, are the biggest offenders to our healthy lifestyles. They differ from the median, run-of-the-mill processed foods such cheese or simple breads, especially because they are so high in sugar content. They include soft drinks, frozen pizza, packaged baked goods, certain cereals and instant soups or noodles.
Furthermore, ultra-processed foods contain excess saturated fat and sodium, making them even higher in caloric value and lower in nutrients, fiber and antioxidants.
"The other problem is that ultra-processed foods are designed to appeal to our taste buds, and can often lead us to crave more," Rumsey explained. "These foods are ones that can be eaten mindlessly, making it easy to overeat them without even realizing how much you are having."
STAY BALANCED
The next time you are checking labels at the grocery store, search for short ingredients lists with real food. Stay away (as best you can) from food products that have any form of added sugar as one of their first ingredients.
But being wary of processed foods doesn't mean you need to pull a 180 and cut out everything. "Any diet in which you don't allow yourself even small amounts of your favorite foods is generally not sustainable in the long term," Rumsey said. That's right — indulging in some kettle chips or a Twinkie now and then won't throw your long-term health for a loop, as long as it's in moderation.
In fact, the diets that firmly limit the foods you can consume often require you to cut out minimally processed foods too, so Rumsey doesn't really recommend them. It turns out that less isn't always more.
GO FOR WHOLE
Overall, Rumsey suggests focusing on real, whole foods throughout your day. "Stock your pantry, fridge and freezer with staple foods that are quick and easy to make," she said. This includes keeping frozen veggies on hand to add to your dinner, frozen fruit to toss into a breakfast smoothie and bags of nuts, dried fruit or roasted edamame to snack on.
Rumsey also recommends being mindful of your snacking choices throughout the day. For example, grab an apple and a handful of almonds for a midday boost of energy instead of a granola bar or a bag of chips.
"Plan ahead and pack snacks to take with you so you aren't at the mercy of what is available at the convenience store," Rumsey said. "Ultra-processed foods should make up just a small part of your diet, so try to eat them no more than three to four times per week."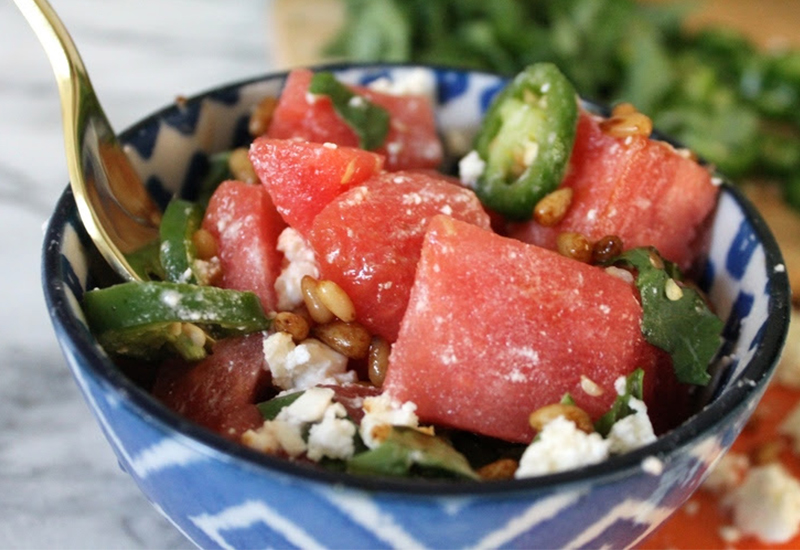 Looking for a healthy meal? Check out
instructor PAULA MARKEY's
watermelon salad recipe
HERE
and enjoy the last bit of #summerofSOUL on your plate before autumn hits.
Questions or comments? Email SOULlife@soul-cycle.com! Want to ride? Grab a series HERE and book a bike!