The Genius Way SoulCycle is Transforming Wedding Registries
November 10, 2016
ttention brides-and-grooms-to-be (or friends and family of the happy couple!): SoulCycle classes and our signature yellow bike are now available on Zola wedding registry! (So awesome, right?! Insert confetti throwing and happy dance moves here.) To celebrate our new partnership, Zola's CEO, SHAN-LYN MA, shares why she loves clipping in at SOUL, what inspired her to create Zola, and why couples who sweat together are stronger together…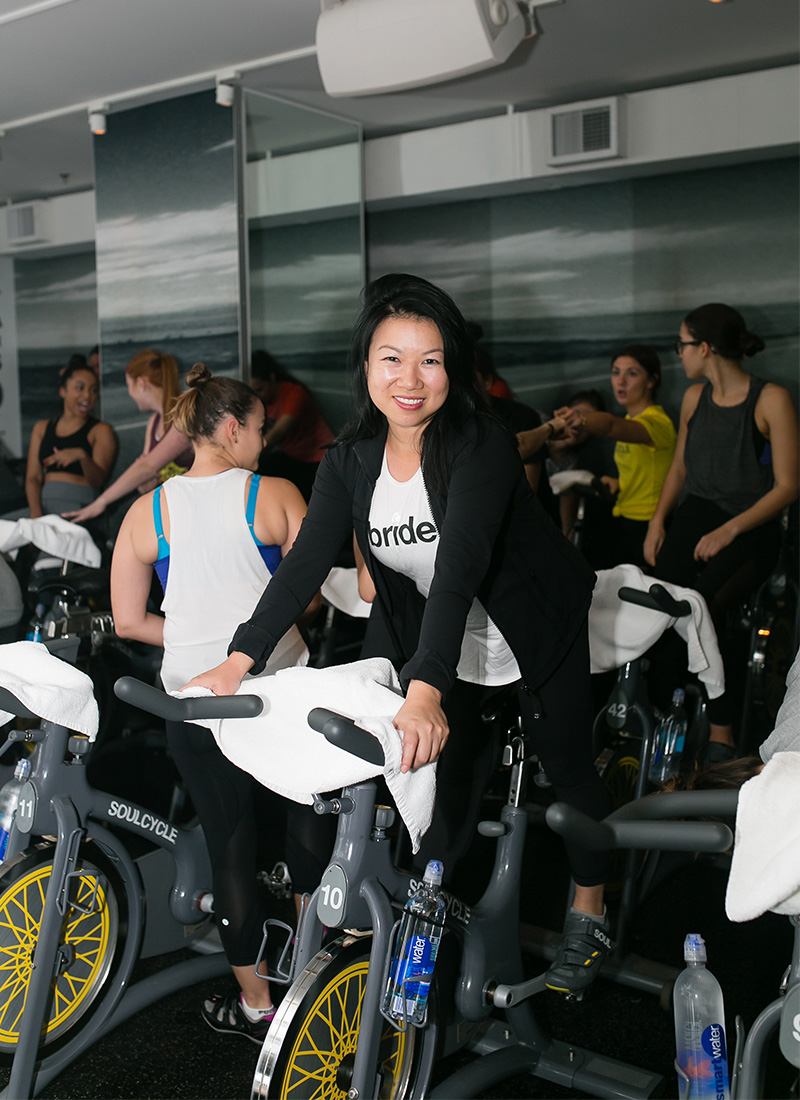 Shan, what was your inspiration for founding Zola?
I was going to a lot of the weddings of my close friends, and seeing their registries left me uninspired—they were impersonal and lacked gift options that reflected their tastes. My co-founder Nobu Nakaguchi and I brainstormed how we could bring everything today's couples are passionate about—home decor, adventurous experience and cash—all to one place. When we shared our ideas and designs with brides-to-be, we were blown away by the response. They all asked us how quickly they could use our wedding registry. We realized we needed to build it quickly so our friends could use it that year! Three years later, we are the fastest growing wedding registry in the country.
We're thrilled that couples can now register for SoulCycle classes on Zola! We understand you're a big rider yourself—how did you first hear about SoulCycle?
Five years ago, one of my closest friends was engaged and was going to SoulCycle every day to get in shape for her wedding. She took me to a class and told me it was the best workout, so I joined her and quickly became addicted! Signing up for Jolie's Union Square class on Mondays at 12:00 PM became my weekly ritual.
Tell us about your first ride.
My friend likes us to ride in the front row together, so she booked me a bike in the front row for my first time. It was embarrassing because I didn't know what was going on, and at the time I wasn't as coordinated as I am now. It was challenging but it's also what got me hooked! Now I always ride front row!
This summer, you were involved in a car accident. How did SOUL factor into your recovery process?
In the days following the accident I couldn't really move or walk, but I would fantasize about what it would be like to get back on a bike. When I started physical therapy, I asked my therapist how quickly I could go back to SoulCycle, because I knew that would be my biggest milestone. SoulCycle has helped me get back the strength in my core, and it has also helped me improve my breathing. After the accident I had a partially collapsed lung and my physical therapist told me that riding would be a great way to get my breathing back to capacity because it demands strong lungs. Now when I'm in class I feel so lucky to be there and I will never take that feeling for granted.
Any other impact SoulCycle has had on you?
SOUL is my big stress reliever. It is always a part of my weekend because it helps me relax after a busy week, and I love the 7:00 AM Monday morning class because it gets me fired up for the week ahead. Physically, it has made me stronger, more fit and more confident.
What's the best way to get your S.O. to get hooked on SoulCycle so you can share the power of a ride together?
Put your significant other before yourself…arrive extra early and walk your friend or partner through the whole process from getting their shoes on to asking somebody in yellow to set up his or her bike. My other tip is that your first class is no joke and it will be hard. No matter what, go back, and then go back again! If anybody tries to tell you that indoor cycling* is easy remind them that SoulCycle is a full body workout.
Which word in the mantra—Athlete, Legend, Warrior, Renegade or Rockstar—best describes you and why?
Rockstar. Being a rockstar to me is all about leading your team, inspiring others to do great work and motivating people to be a part of something bigger than themselves. It also means always being at the top of the game, even in the face of challenges or obstacles. As the CEO of Zola, my goal is to inspire others and help the community around me become rockstars as well!
Questions or comments? Email SOULlife@soul-cycle.com! Want to ride? Score a series HERE and book a bike!