SOUL Transformation: Noa Shaw
August 8, 2014
wo and half years ago, I walked into SoulCycle West Hollywood at 300 pounds, feeling like i wanted to die. For me to come full circle (or cycle!) is an incredible moment for me.

I had tried SOUL once in NYC, but when it opened in WEHO, I came across opening day totally by accident. I have been very close with Stacey Griffith for many years (I consider her my little sister!). Long story short, I went out to buy a pair of underwear at H&M that day and ended up altering the course of my life!
My first ride was a mixture of shame and sadness at what I had allowed my body and life to become, but at the very edge of my consciousness was a glimmer of hope. I hung on to that glimmer with all I had. I was a former athlete and Stacey's words kept ringing in my head: "If you are on this room, you are an athlete!" It's a common refrain in my classes every day.
A few weeks before my first ride, my doctor sarcastically said he had great news: "You won't feel a thing when you die," he said. "Your heart attack will be so massive and sudden that you'll be dead before you hit the ground!" I have been a fighter and I never quit. I decided that even if I was going to die, I was quite literally going to die trying. I was just not ready to give up!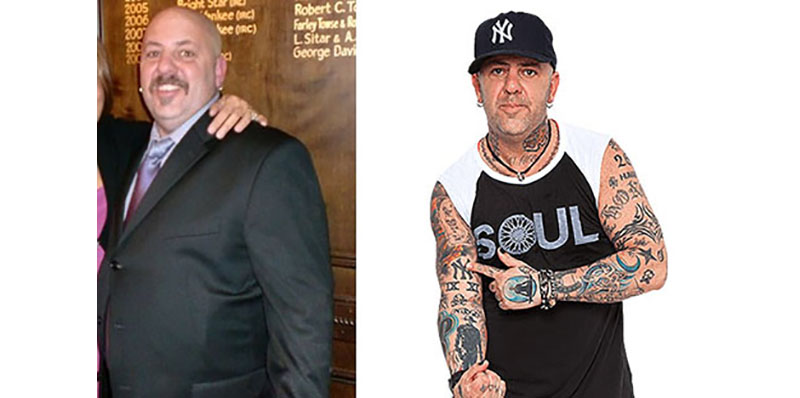 Since that day, the impact SOUL has had on me is immeasurable. I have lost more than 100 pounds and my blood pressure is down. I am no longer a walking time bomb physically. Emotionally, I feel like I have been freed from the bondage of being my former self. It's always the small things... when I was at my heaviest I could not reach my feet to put on a pair of shoes. All my shoes were slip-ons. Every morning when I put on my shoes, I am reminded of how far I have come.
The universe decided that I would become an instructor. I met
Janet
for a drink after class one night and out of the blue she suggested I audition. Becoming a fitness professional was only one step in my mind away from becoming an astronaut.... I was the fat guy! Whose life was this!? It was a touchstone moment that I will never forget and I will always be grateful to Janet for seeing something in me I could never see in myself.
At the time of this transformation, I was working as a drug and alcohol counselor at a rehab. I was constantly working with others to help them change their lives. Now it was my turn. The opportunity to then take my experience and share it from the podium seemed amazing.
My original plan was to come to NYC, train and teach for a year and then return to L.A. When I got back, I realized it was time to come home for good. My family needed me. I had been gone for many years with only the biannual visit. That meant I never got to have my return to L.A. .
My eternal gratitude goes to Julie and Elizabeth for taking a chance on me. I'm not a handsome and perfectly fit 20-something year-old guy. I'm an old dog that did actually learn some new tricks. But my passion for helping others change their lives and being given the opportunity to do that is phenomenal. I was told by a very wise man that gratitude is an action. I express my gratitude by showing up for every class I teach with a heart full of love, a couple of words to make you smile, a ton of encouragement and a playlist that will make your soul smile.
They say, "Religion may be for those afraid of Hell but spirituality is for those of us who have been there..." SoulCycle is my spirituality.
Do you have a SOUL Story to share? Email SOULlife@soul-cycle.com! Want to ride at SOUL? Grab a series HERE then book a bike!