Soul Transformation: Jenny Leon
August 18, 2015
"Soul has made me into an athlete — something I never thought possible," says JENNY LEON, who has dropped 50 pounds and four sizes since she first started tapping it back. Now she shares her inspiring Soul Transformation…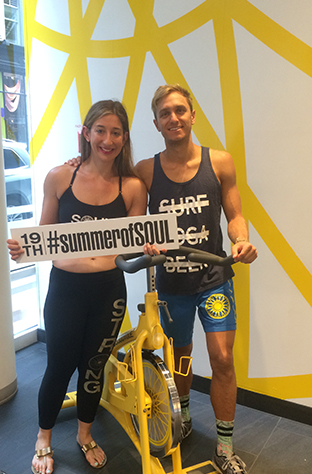 Jenny with instructor Mantas Zvinas as Soul 19th Street
When I moved to NYC from Toronto, Canada in September 2012, I decided I would take a SoulCycle class my first week in the city — people had told me it was good and I wanted to develop good habits and shed some weight right from the start in my new city. I was determined to look my best, as I started my career as a lawyer in NYC.
I had always been into working out, but had found it difficult to stick to a routine. I also have a lateral meniscus tear that never healed correctly, so cycling was a good option for me.
My first class (with Marvin at Union Square), I was terrible. I couldn't even clip into the bike for the first two songs and forget unclipping — I don't think I could do that until at least the winter. But I LOVED it — loved the music and, as opposed to other indoor cycling classes, which I had also tried, this was fun not just hard. But you were definitely getting a good workout, as I always left the class drenched.
During my first few months at work (a definite transition period for me), I would get up early to SoulCycle because I liked it. I knew that had this been another workout, I would have quit, but the music and the dancing just put me in a good mood all day. When my alarm went off in the morning after a late night at work, I jumped out of bed, excited for Soul. And I always left the class eager to book another - not just to be skinny, but because I loved it. I would even do the moves to entertain my friends when we were out at night.
These were in the days before there were studios everywhere, so I often had to commute from Murray Hill to the East 83rd Street studio in the morning, but it was totally worth the extra few minutes of lost sleep every time because I felt so good after.
I had always been uncoordinated, so it took me awhile to catch on. Before I even really understood what I was doing, I saw a change in my arms, which started to look more muscular, I felt I had flatter abs and the most significant difference was in my butt (but that is also partly attributable to other aspects of my move to NYC, the transition to a 4th floor walk-up).
SoulCycle kept me sane through a stressful job and a bad relationship. It kept me positive and made me feel I was always achieving something. There were times when things were really hectic at work and I'd still duck out to go to a Soul class, always feeling glad I did. Some of the instructors, like Amanda M., knew I was always on call and would ask me if things were ok if I had to duck out of class to answer an email.
SoulCycle became like a home away from home during my first few solitary months in NYC — a place that always felt familiar, my happy place where I could destress. I began to learn the neighborhoods in the city by the different Soul locations opening up and I developed relationships with fellow riders and instructors alike - it was always nice to know if I went to a certain class that I'd see a familiar face and they'd ask me how I was doing. (I've even gone to Soul in other cities while traveling and felt that same great rush of the familiar. Recently, during a 24-hour layover in LA, I did back-to-back classes).
As the months passed, I became a stronger rider and my coordination improved. This allowed me to try other exercise classes that I never would have thought I could do, although I always kept a special place for Soul. There were times when I've rode eight to nine times per week. There are times when I've drank less on New Year's Eve to enjoy the back-to-back 90 minute SoulChallenge rides. I remember riding on Christmas morning when I had no family in NYC and thinking that I was so happy to be there - allowing me to forget my loneliness. All in all, Soul has made me into an athlete — something I never thought possible.
About a year ago, I decided it did not make sense to engage in so much working out without also focusing on my nutrition. I felt so good because I worked out so much and wanted my appearance to match — not only being athletic, but thin. I also wanted to put healthy fuel in my body for my classes, so I could feel less gross when I worked out. I (mostly) cut out gluten, refined sugar and dairy and the weight just dropped off. I lost 50 pounds, going from a size 12 to a size 4. Most importantly, I have kept the weight off for a year — something I've never been able to do in the past. I have Soul to thank for this — as this is where I developed the motivation and healthy habits to do this.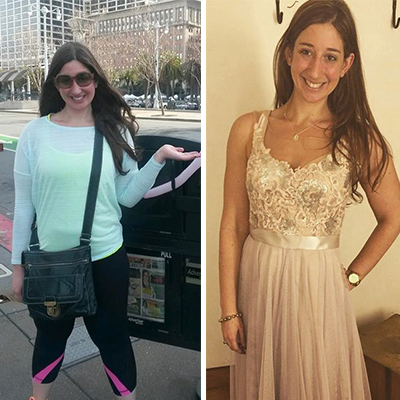 I now own more Soul gear than I care to admit, including pants, tops, millions of sports bras and socks (from when I forget them at home and have to purchase them) and even the grey, yellow and black lace thongs that Soul used to sell.
Now when I see some of the instructors (even those I have never talked to) like Isabel, Emily T., Amanda M., Tomas, Madison and others who I've spent so much time with over the past three years, I just wonder if they even know that I view them as old friends — if they remember from when I started as an uncoordinated, breathless girl in the back row, but always happy, motivated and singing aloud — and as people who have helped me on a journey to become fit and happy and a better version of me, as I made my transition into the New Yorker I always wanted to be.
Do you have a Soul Transformation to share? Email blog@soul-cycle.com!
MORE FROM SOUL