The Real Deal on Pink Himalayan Salt
August 18, 2017
ike those inspirational Pinterest graphics say, salt is the cure for anything, whether it's sweat, tears, or the sea. Now, it's easier than ever to get your zen on through salt, no full-body sob required.
Enter Himalayan salt, an up-and-comer in the wellness world that's actually been around for millions of years, and used as medicine for thousands.
Alexandra Janelli, owner and founder of Modrn Salt, a therapeutic salt room in NYC's Modrn Sanctuary wellness center, said that though the mineral is coming into mainstream vogue now, its ancient roots run deep.
"The amazing thing about Himalayan salt is, as you sit in here in a salt room, this salt is over 200 million years old," she said. "It has been untouched by human hands until it was mined out of the earth. Over 200 million years ago, the primordial ocean dried up and what was left was the salt and all its minerals, the 84 trace minerals that you'll find in our bodies as well. These deposits of salt were left, but then volcanic, tectonic stuff happened and all of that got overlaid."
The resulting hollowed-out caves, complete with wild pink shards of salt hanging from the ceilings and rough-textured walls, were turned into spas when the anti-inflammatory and soothing properties of the salt were discovered. The practice has spread, and artificial salt caves are becoming more common.
Modrn Salt's salt room, which can be booked for yoga classes, meditative sessions, or just regular chill time, boasts 10,000 pounds of pink salt in the bricks covering the walls and the fine pebble-like salt covering the floor beneath the room's papasan chairs. A halotherapy generator heats the salt and blasts microparticles of salt into the room's air. The negative ions in the salt attach to free radicals in your body for a detoxifying experience.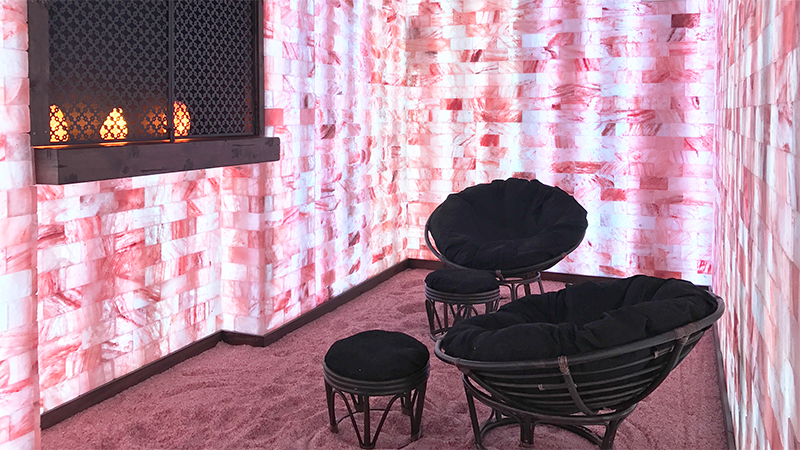 "So you're going to breathe in the salt. If you have a sinus infection, it's going to help clear you out; if you have skin conditions, the loose salt will begin to fall on your skin," Janelli said. "Thirty minutes in the salt room is like spending three days at the beach. It's antibacterial, it's antifungal, it's antiseptic — that's why they always tell you if you're hurt, go in the salt water, because it's got amazing healing properties."
If you can't make it to a salt room for a chill sesh, you can still reap the benefits of salt in your life. Himalayan salt lamps are easy to find for sale, from a bowling ball-size glowing contraption to a tiny orb that can plug into the USB port of your laptop. The glow is soothing and the light heats the salt, which releases the negative ions Janelli mentioned and zens out your environment for maximum focus.
You can also totally submerge yourself in salt and feel benefits. Janelli recommends about three pounds of salt soak for a regular-sized bath, dissolved into 98.5-degree water to soothe sore muscles after a hard workout or long day and to detox and clarify skin. And it's relaxing, to boot: "You're going to be so relaxed it's probably going to be the best night's sleep in your life," Janelli said.
No bath? No problem. When included as a main ingredient in soap or a scrub, Himalayan salt exfoliates and clarifies skin, and the steam of the shower helps to heat it up for you to breathe it in.
You can even drink it. Janelli touts Sole water as a daily detox, a half-teaspoon or full teaspoon a day. It detoxes, de-bloats, and can act as a diuretic, among other benefits.
Of course, before embarking on any wellness experience, you should consult your doctor and make sure it's right for you — salt therapies are no different. No matter what form you choose, you might find that Himalayan salt has relaxing and detoxing benefits.
"Does it work for everyone? No. For the people who find it does help them, wonderful," Janelli said. "If it didn't work on some level, I don't think you'd see them popping up so much. And even if it's a placebo, is there any harm in a placebo? Why not do it among 10,000 pounds of prehistoric salt?"
Feeling inspired to ride? Grab a series HERE
.