Arianna Huffington Talks to SOUL!
March 31, 2015
oulCycle Corporate just got a special visit from ARIANNA HUFFINGTON, chair, president, and editor-in-chief of the Huffington Post Media Group and author of fourteen books. Before Thrive with Arianna Huffington, an online course she'll lead at Oprah.com, kicks off May 3rd, she chatted with us about where she finds inspiration, how she works out and what advice she'd give her 21-year-old self…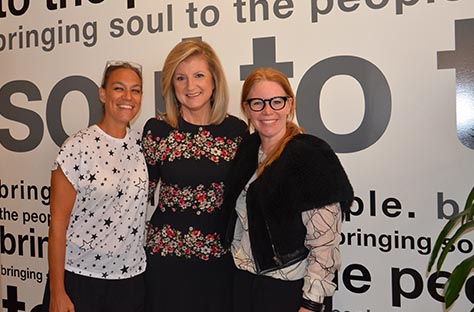 In your latest book, Thrive, you talk about the Third Metric of measuring happiness. Why did you choose its four pillars — well-being, wisdom, wonder and giving — as the keys to living a fulfilled life?
It grew directly out of my own painful wakeup call, on April 6, 2007. The first thing I remember that morning is finding myself lying on the floor of my home office in a pool of blood. I had collapsed from exhaustion and lack of sleep. On my way down, my head had hit the corner of my desk, cutting my eye and breaking my cheekbone. In the next few days, I learned that doctors' waiting rooms are good places to think. As I was going from MRI to CAT scan to echocardiogram to find out what was wrong with me, I had time — finally — to ask myself the sorts of questions that have been asked by philosophers throughout the ages. To the Greeks, it was "what is a good life?"
Our definition of success right now is based almost solely on money and power. In fact, success, money and power have practically become synonymous. And so to succeed, we lead lives of overwork, sleep-deprivation and burnout. It's no longer sustainable: not for individuals, companies, societies or our planet.
To live the lives we truly want and deserve, and not just the lives we settle for, we need a Third Metric, a third measure of success that goes beyond the two metrics of money and power, and consists of four pillars: well-being, wisdom, wonder, and giving.
Where do you find inspiration?
I've found a great deal of inspiration in the work of writers and thinkers who have laid the scientific foundation for so much of the conversation about mindfulness and its benefits: Richard Davidson, professor of psychiatry at the University of Wisconsin; Mark Williams, professor of clinical psychology at Oxford; Jon Kabat-Zinn, founding director of the Stress Reduction Clinic and the Center for Mindfulness at the University of Massachusetts Medical School; and Adam Grant, professor of management at the Wharton School and author of Give and Take.
What's the best advice you've ever been given?
One of my mother's favorite sayings, which embodied the philosophy of her life, was "Don't Miss the Moment."
And what's been your proudest moment?
I've had many proud moments as a mother, but one that stands out was my older daughter Christina deciding to go public with her drug addiction. I felt like it was her story and her life— and, therefore, her decision if and when to talk about it. I was so proud of her when she decided to write about her struggle.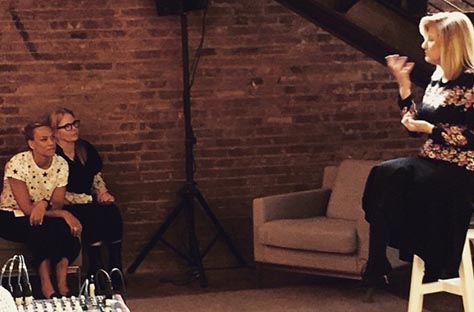 Arianna speaking at SoulCycle Corporate
Who are your heroes?
My mother, my sister Agapi and my daughters.
In Thrive you talk about how you practice daily meditation. What other ways do you destress?
It begins the night before, with a good night's sleep — which, for me, means 7 to 8 hours. And a big part of my morning ritual is about what I don't do: when I wake up, I don't start the day by looking at my smartphone. Instead, once I'm awake, I take a minute to breathe deeply, be grateful, and set my intention for the day. I also practice yoga most mornings. And I breathe! The connection that conscious breathing gives me is something I can return to hundreds of times during the day in an instant. A conscious focus on breathing helps me introduce pauses into my daily life, brings me back into the moment, and helps me transcend upsets and setbacks.
What advice would you tell your 21-year-old self?
I would have told myself that there would be no trade-off between living a well-rounded life and my ability to do good work. I'd have said, "Arianna, your performance will actually improve if you can commit to not only working hard, but also unplugging, recharging and renewing yourself." That would have saved me a lot of unnecessary stress, burnout and exhaustion.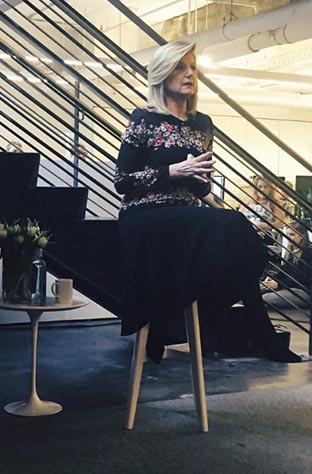 What's your favorite book you've ever read?
When I was at Cambridge, I read Benjamin Disraeli's novel Sybil, a wake-up call about England becoming two nations. In its day, Sybil was a sensation and propelled fundamental social reforms. Reading it gave me an appreciation for writers who are able to use storytelling to put flesh and blood on statistics — writers who use their gifts and their passion to appeal to our capacity for empathy, to touch hearts, to change minds, and to have an impact on our world.
What is your favorite way to exercise?
Walking! When I was living in Los Angeles, I discovered that I came up with many of my best ideas while I was hiking. And whenever I could, I would schedule hikes instead of sit-down meetings, with both my friends and HuffPost editors.
Which person (dead or alive) would you most like to meet and why?
Benjamin Disraeli would be near the top of the list, given my love for Sybil and my belief in the power of books to have real and lasting impact.
CLICK HERE
for more info or to sign up for THRIVE WITH ARIANNA HUFFINGTON, an exclusive online course on Oprah.com, based on her best-selling book, Thrive. Beginning May 3, 2015, the course will be lead by Arianna, who will share practical steps to help you move from a life fueled by anxiety and burnout to one of feeling more whole and complete. The course will also include more than 40 lesson videos with Arianna and special guest teachers such as NBA superstar Kobe Bryant on sleep and meditation and Sean Achor on happiness as well as tracking tools to track sleep and activities and monitor your progress throughout the course.
Questions or comments? Email blog@soul-cycle.com!