Meet the Athletes Behind our August Shoot
August 2, 2016
efore they led the pack at SoulCycle, these 10 rockstars excelled as athletes. Now they share how they got their start in their sport, where they found inspiration, who their heroes are and more…

SANTRON FREEMAN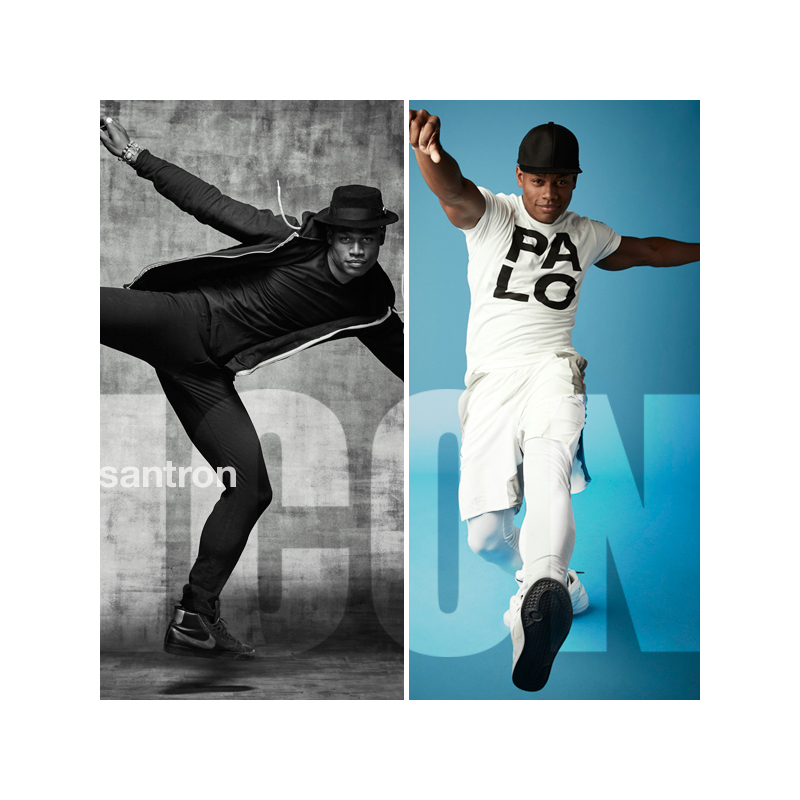 When did you start dancing and what inspired you to start?

I started my professional career as a dancer at age 24 in 2010. I sat in my Grandmother Mabel's chair beside her bed, watching some people dance with Madonna on an awards show on TV and said to her, "I am tired of sitting here while I see people do what I want to do." So I trained for two months in Durham, North Carolina and then left for New York City. After a month, I had my dance debut at the Victoria's Secret Fashion Show as a featured dancer on the "Wild Things" segment of the show.
Why dance?
Dance was the medium through which I first learned to fight my battles in life. I chose dance over self-destruction.
Who are your dance heroes?
My huge inspirations are powerful artists such as Michael Jackson and Beyoncé. They inspire me among many other greats. I was saddened by Michael's passing the year before I made the clear decision to pursue this form of expression. Strangely enough, Beyoncé became my very first artist to work with a few months after my debut on the Victoria's Secret Fashion Show. It was life-changing.
What athletes do you look up to?
Athletes that I look up to even today are Muhammad Ali, Ray Lewis, Serena Williams and SoulCycle's own Angela Davis, because they are both talented and warriors of light, and that is inspiring!
How has dance influenced how you lead the pack?
Dance has taught me to connect without words from my core. It's my purpose. When I can lead the pack without words, with what appears to be just my physical movement, there is a connection that happens in the room. When we find our center through movement, we connect to the fire within.
AKIN AKMAN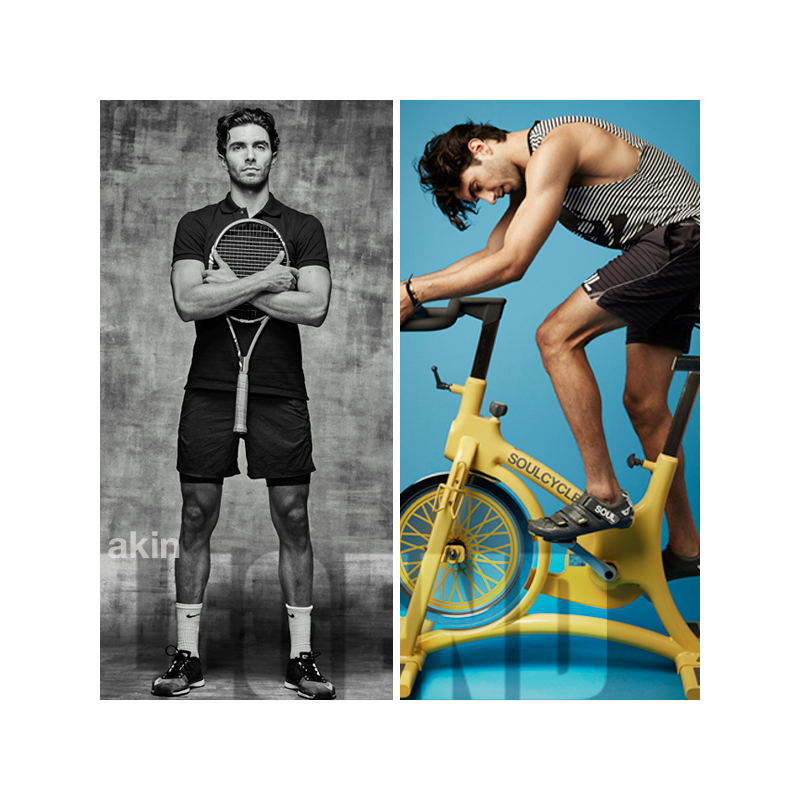 When did you start playing tennis and what inspired you to start?
I started when I was 5 and at 7, I moved to Florida to train with Nick Bollettieri at IMG Academy. My parents inspired me to play. I fell in love with the sport instantly.
Who are your tennis heroes?
I love Pete Sampras and Andre Agassi, but was mainly team Sampras.
Which athletes do you look up to today?
I look up to Roger Federer and I love Rafael Nadal.
How has tennis influenced how you lead the pack?
Tennis has influenced my entire life. It's my foundation, from my work ethic to my passion to my ability to train as hard as I do. I'm able to understand the human body in ways no one else does. I am so aware of my body and am able to read into others' athletic abilities, which enables me to pinpoint what I can do to inspire them to get the change they seek. I'm great at nutrition... the list is literally endless. Fitness is not just physical; it's mental, it's emotional, it's spiritual, it's my life. I love it.
JAIDUS MONDESIR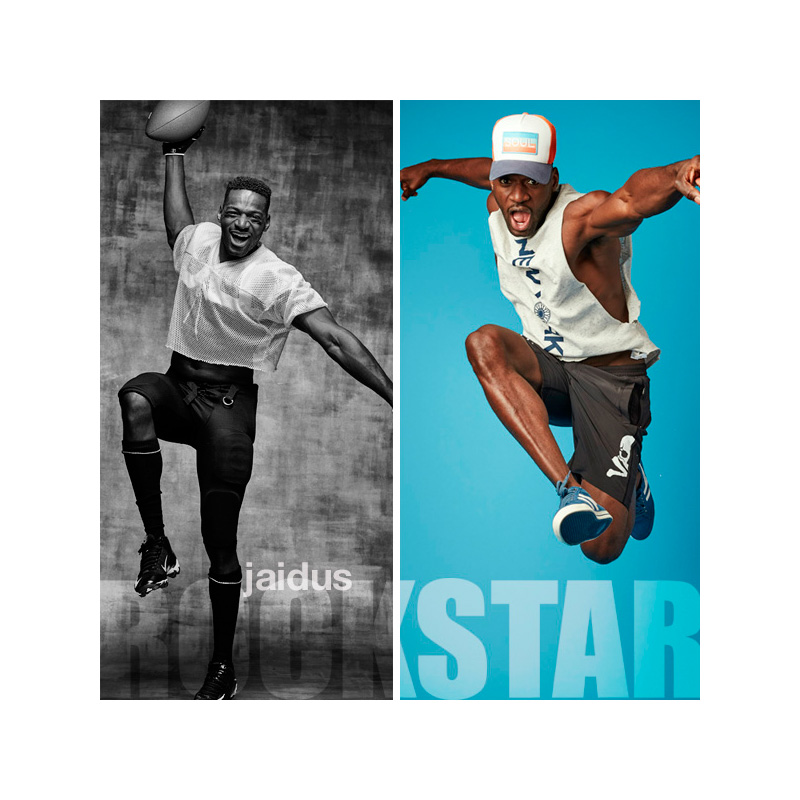 When did you start playing football and what inspired you to start?

I started playing football in high school because all of my best friends were playing and I didn't wanna get left out! I was on the swim team and wrestling team at the time. I wanted to try something new, so I figured, why not?
Who is your football hero?
I remember Dan Marino being one of my first football heroes! Growing up in South Florida, he was the face of the Miami Dolphins and was an amazing quarterback!
Which athletes do you look up to today?
Michael Jordan, Muhammad Ali and Serena Williams are probably my favorite athletes of all time. Kobe Bryant as well. Kobe because I watched his career flourish from beginning to end. His intensity, competitiveness and work ethic are unmatched!
How has football influenced how you lead the pack?
Football has a major effect on how I lead the pack because I consider every rider in that room to be an athlete and for 45 minutes, I'm just the team captain. Football and most team sports are based on the premise that "you're only as strong as your weakest player," and I believe that when I teach a class. In my room, I hold everyone accountable and expect everyone to work hard. Every single person in our pack matters. We push, sprint and climb not only for ourselves, but for each other. There is strength in numbers and I really believe that that is the kind of atmosphere of camaraderie that enables us to be better. Sports are all about hard work, dedication and overcoming challenges, and that's what my classes are all about.
AMANDA KAMM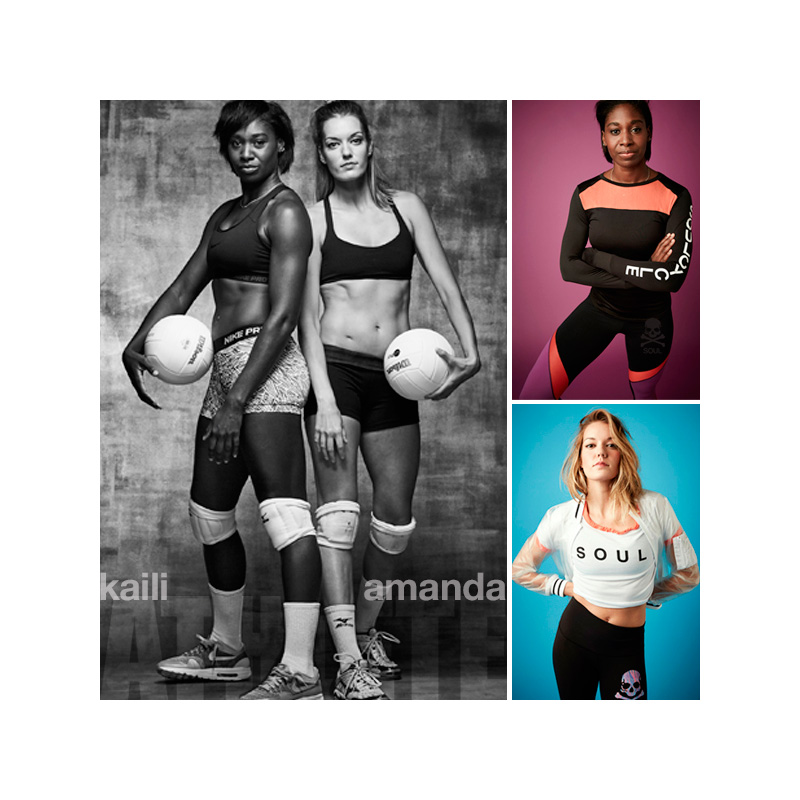 When did you start playing volleyball and what inspired you to start?

I was fortunate to have been introduced to the sport in fifth grade thanks to one amazing coach. Shout out to Mr. Kowalchuk!
Who is your volleyball hero?
Kerri Walsh Jennings, a three-time gold medalist in beach volleyball. She won her third gold medal while five weeks pregnant #nbd #ifthatsnotbadasswhatis
Which athletes do you look up to today?
Many, but none quite like big wave surfer Laird Hamilton! I'm inspired by his connection to the water and his fearlessness. If you don't know him, watch him riding giants and moving skyscrapers in the middle of the ocean.
How has volleyball influenced how you lead the pack?
The truth is that I probably thought I was a better player than I really was, but then because of that, I became that better player. I tell my class time and time again that you'll only go as far as you believe you can.
ANGELA DAVIS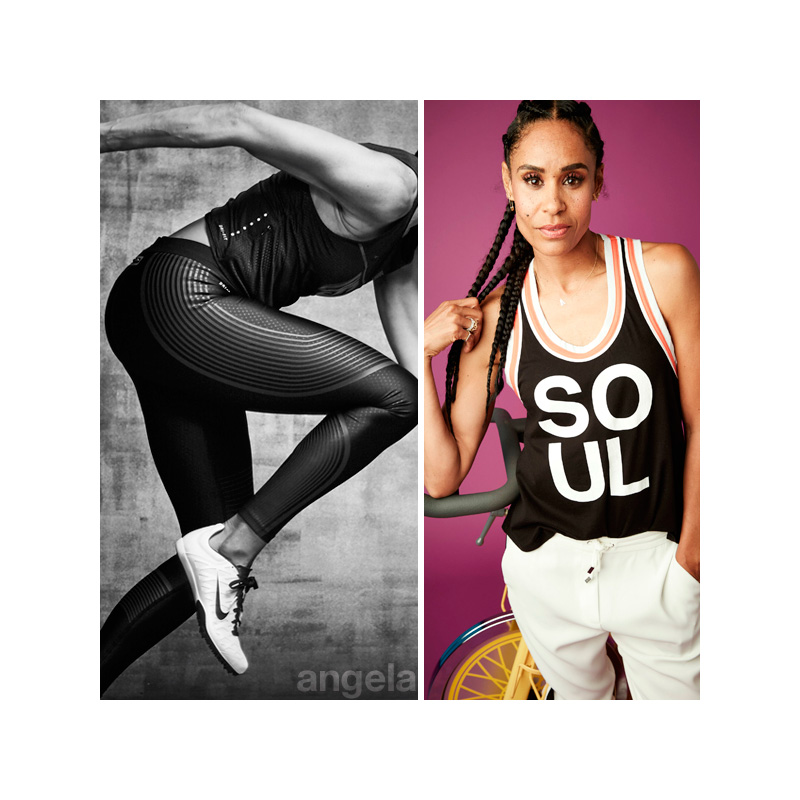 When did you start running track and what inspired you to start?
I was always the fastest kid in grade school, and it wasn't until high school that a boy could finally beat me. Once I graduated from high school, I went to college on a full ride for track and field, and after I graduated from college I began running professionally for Nike. At one point, I was ranked in the Top 25 in the world at 100 meters.
Who is your track and field hero?
Flo Jo (Florence Griffith Joiner).
Which athletes do you look up to today?
My father, Jerry Manuel, was a professional athlete. He played baseball.
How has track and field influenced how you lead the pack?
I definitely take the discipline, focus and work ethic that it took for me to be world-ranked, and I apply those same ingredients to my coaching style as I lead the pack.
OLIVIA AMATO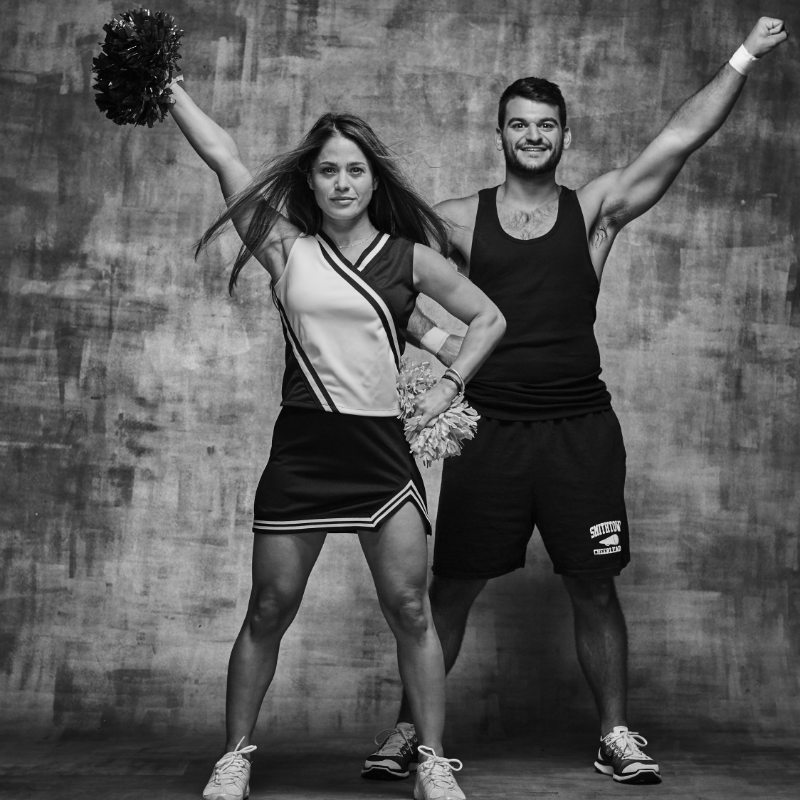 When did you start cheering and what inspired you?

I actually started competitive cheerleading right before college. I always loved gymnastics and enjoyed that component of it. I also like the thrill of competing and the camaraderie that goes along with cheering on other athletes.
Which athletes do you look up to today?
I admire a lot of athletes and they inspire me to get better at what I do every day. Here's a few:
•Evander Holyfield: He holds the title of four-time world heavyweight champion and is the only fighter to ever hold that title. He displays all good qualities that an athlete should: He's humble, nice, composed, modest and hardworking.
•Usain Bolt: He smashed the 100 and 200-meter world records and has been called "the fastest man in the world." He's a natural, gifted athlete and the ultimate showman.
•Serena William: Duh. She's just a ridiculously talented athlete who is #UNSTOPPABLE.
How has cheering influenced how you lead the pack?
I learned a lot from cheering: How to overcome fear, to trust my teammates, to remain poised when something doesn't go as planned and the power of giving off positive energy to those around you. Cheering riders on to get stronger mentally and physically is one of my favorite parts of instructing, Knowing that something I say or do is motivating someone in class is something I truly enjoy. I feel extremely grateful that I get to call that my job.
NICK SPADARO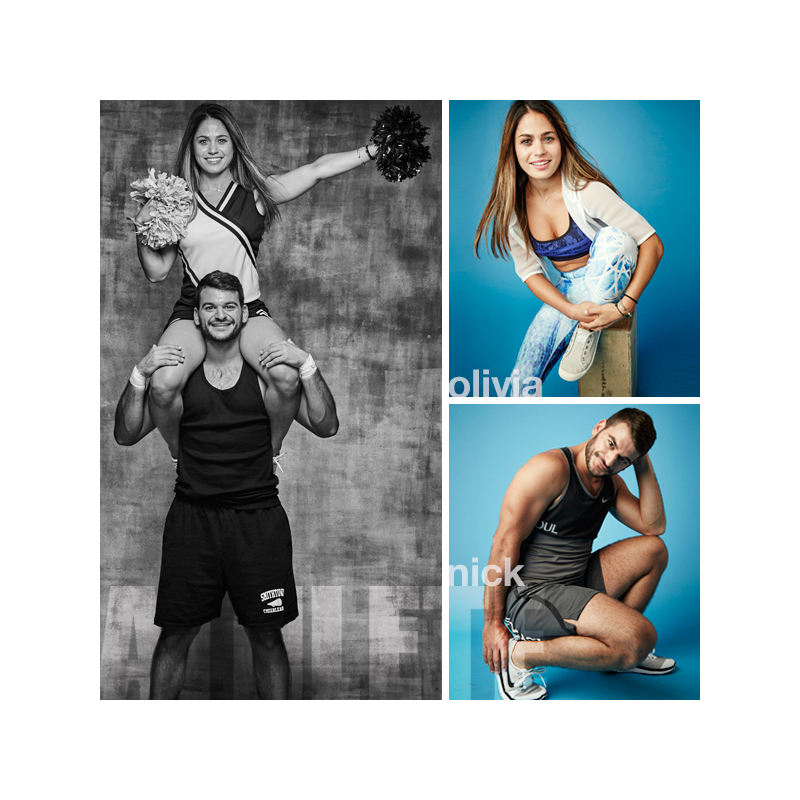 When did you start doing gymnastics and cheering and what inspired you?
I started doing gymnastics and cheerleading during the summer before my freshman year of high school. What inspired me to become a cheerleader in all honesty was watching the movie "Bring It On." I remember watching it and saying to myself, I want to do that. I got up the courage and was the first male cheerleader in more than 20 years at my high school.
Who are your heroes in each sport?
I wouldn't necessarily say I had a hero in the sport, more that I looked up to the college male cheerleaders I saw on TV. They were my role models. They symbolized strength and power and made cheerleading more of a sport than just cheering at a foot ball game. The team that I idolized the most was Kentucky. They were the team to beat and their cheerleaders were unstoppable!
Which athletes do you look up to today?
I look up to athletes who show pure dedication and determination. Currently, I'm a huge fan of Serena Williams just because of her pure power. I also look up to Simone Biles. She is currently on the women's Olympic gymnastics team and the favorite to win the all-around gold medal.
How has cheering influenced how you lead the pack?
Cheering and leading the pack are very similar. In cheerleading, we are on the sidelines, pumping up the crowd, and I feel I do the same thing for riders in the room. I pump up the crowd that is in front of me and create energy. That's what I love about SOUL.
SANDRA JACOB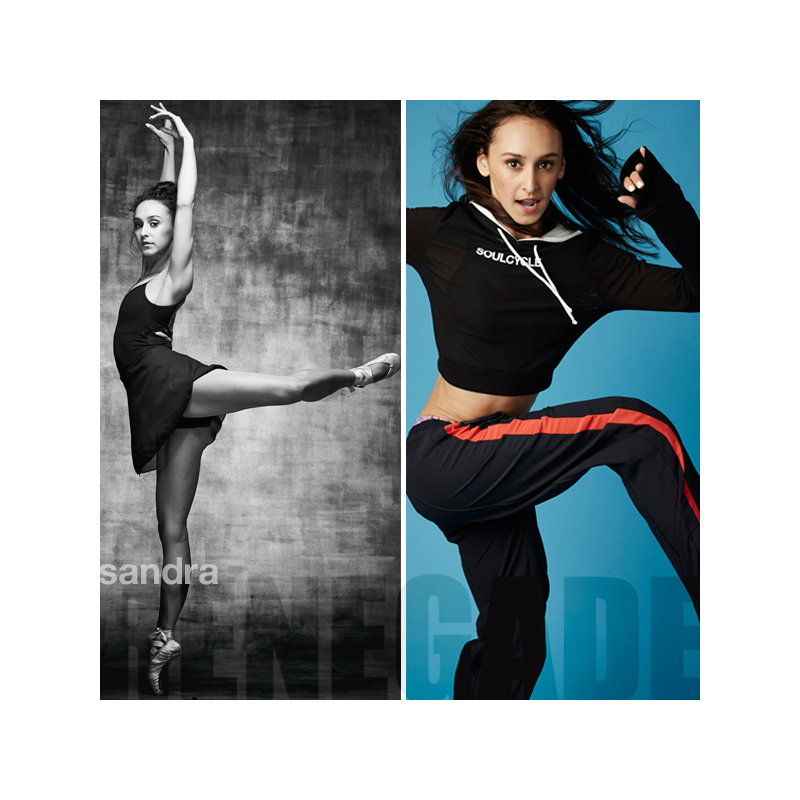 When did you start ballet? What inspired you to start?
I've always loved to move. Some of my earliest memories are of dancing around the house with my mom.
At age 3, I sought to expand my repertoire beyond self-choreographed routines to Spanish love songs and was enrolled in ballet school.
Who was your hero in the sport?
I once watched a documentary about Paul Taylor. It covered his process, inspirations and the language of dance. It taught me respect for dance as a communicative tool and that while technique training can sharpen your vocabulary, without a story to hold it together, it's empty rhetoric.
Which athletes do you look up to today?
With footwork to rival dancers and a strength of character to change the world, Muhammad Ali earned his right to be called "The Greatest," inside and outside of the ring.
Now more than ever, I respect any person who uses their platform for a greater purpose.
How has ballet influenced you to lead the pack?
Ballerinas make the seemingly impossible appear effortless; a right earned through hard work and discipline.
I don't expect perfection from my riders, only a desire to improve. And I want to be involved in driving positive change in every class.
SAM YEARSLEY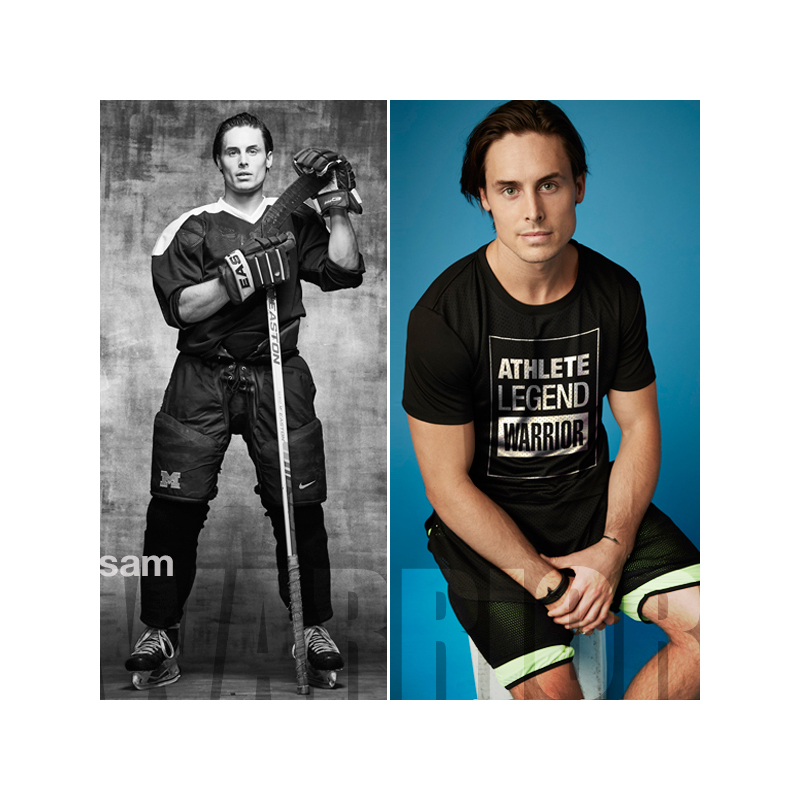 When did you start playing hockey? What inspired you to start?
I started playing hockey at 5 years old, and my father inspired me to play.
Who was your hero in the sport?
My hero was Eric Lindros.
Which athletes do you look up to?
I admire and respect Wayne Gretzky, Jagomir Jagr, Sidney Crosby and Kobe Bryant.
How has hockey influenced how you lead the pack?
The hockey brotherhood taught me to be selfless and to sacrifice everything for the team. I bring that team sentiment into the studio.
KAILI STEVENS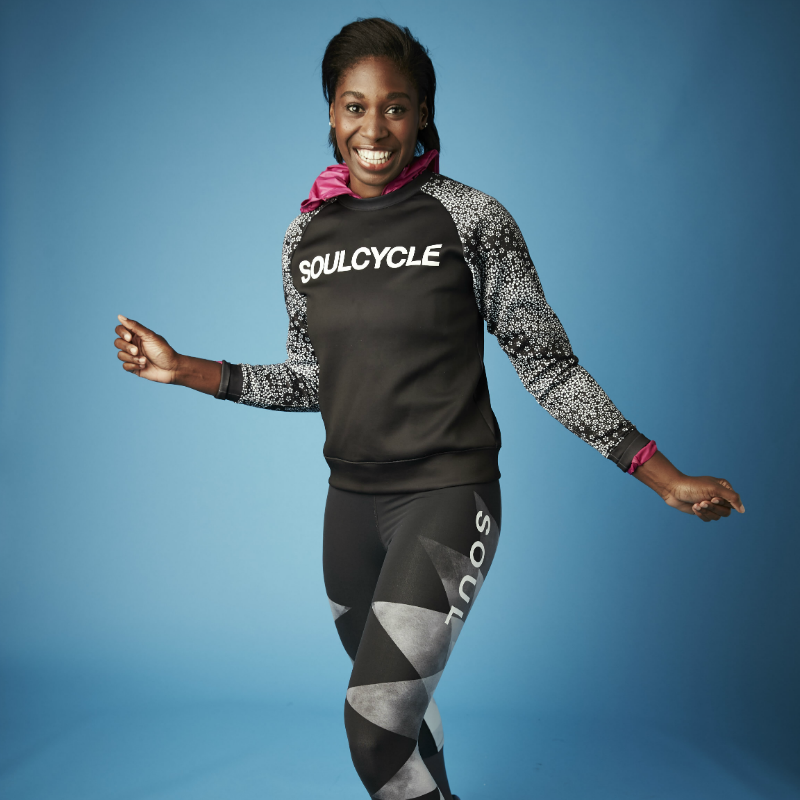 When did you start playing volleyball and what inspired you?

I started playing volleyball when my high school science teacher talked me into trying out to get into shape for basketball season. I wasn't convinced that I would be good at the sport, but I was inspired by my coaches. They encouraged and motivated me to recognize my talent and to be a forceful presence.
Who was your hero in the sport?
At the same time I started playing competitively, there were a lot of awesome volleyball talent finally becoming nationally popular like Olympians Misty May and Kerri Walsh.
Which athletes do you look up to?
I look up to athletes who give their all to their sport both when there are a lot of spectators and also when no one is looking. I admire dedicated athletes who are genuinely motivated by a passion to perform their best, to keep the integrity of their sport and continue to challenge the limits of performance.
How has playing volleyball influenced how you lead the pack?
I love that volleyball requires anticipation, endurance, diligence, adaptability, precision, perseverance and agility. On the court, we execute for the next strategic move and the next transition while in constant motion. The pack is no different. The real definition of being a team player is finding together what each person contributes best individually.... and then being prepared to step into every position in case a player needs support.