4 Fall Jackets to Take You to and From the Studio With Love And Loathing LA
October 18, 2016
AROLINE JUEN of Love And Loathing LA shows us how she mixes her favorite fall jackets into looks that take her from brunch to the studio and beyond…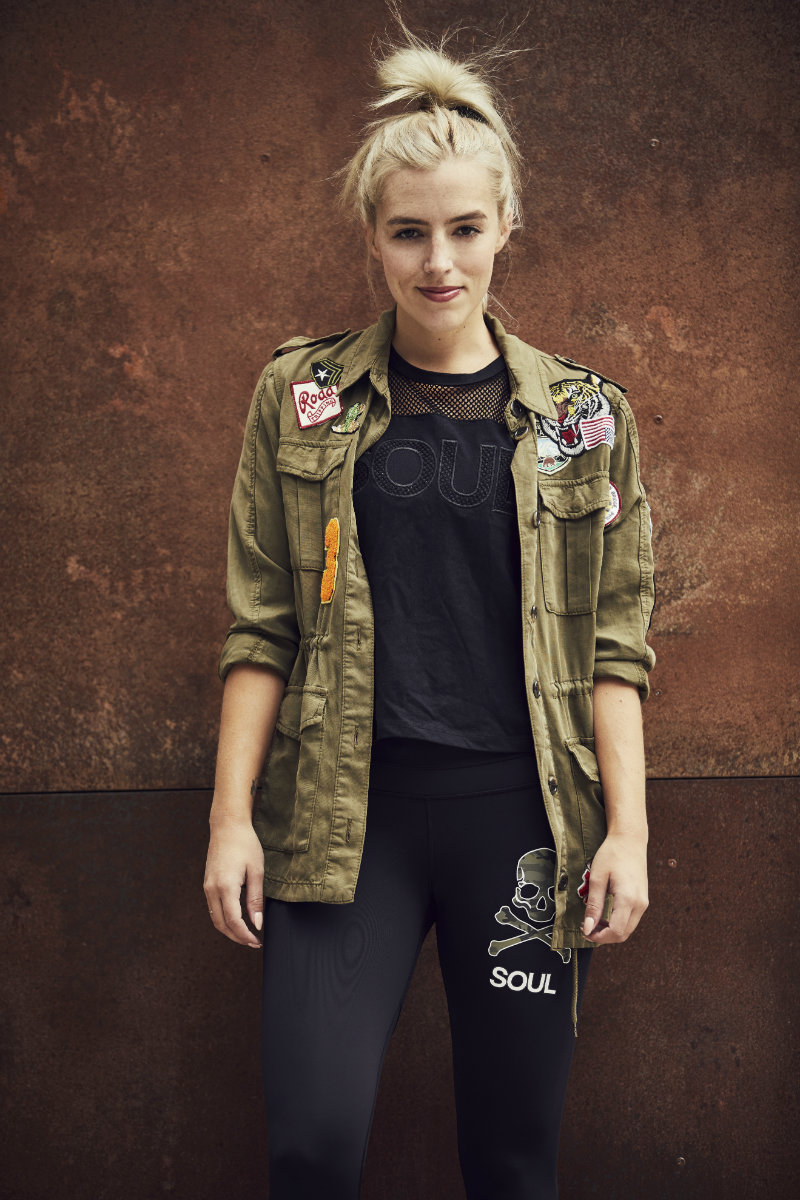 Patch Military Jacket (Topshop)
I am all over this patch trend like a bear on honey. They're such a fun way to spice up an outfit. I got this jacket because it's a great length (sometimes you just want to throw on a jacket that covers your butt!), it's a neutral color that goes with everything and the patches are perfection. With or without the patches, though, a longer military style jacket/coat is a "must have" this year.
Leather Jacket (Rachel Zoe)

Leather never goes out of style, and if there's one item in my closet I'm willing to splurge on, it's a leather jacket, hands down. I got this jacket a year or two ago from Rachel Zoe because I loved the "tuxedo meets moto" look. It definitely wasn't something I'd ever seen before so I knew I'd probably hold on to it forever!
Caroline is wearing her leather jacket with SOUL's "Free to be Wild Bra with S(k)UL)," available in SoulCycle studios.
Denim Jacket (Levi's)
Classic Levi's denim jackets are making a huge comeback this year, and so is denim embroidery! Embroidery is such a great way to really make a (personal) statement and have fun with your look. I bought this jacket as-is namely because I'm a huge Dodgers fan, but I feel like it's mandatory to have at least one solid denim jacket in your closet. It's another one of those jackets you could hold on to forever.
Caroline paired her denim jacket with SOUL's Run Inspire Crop with Camo Skull, available in studios.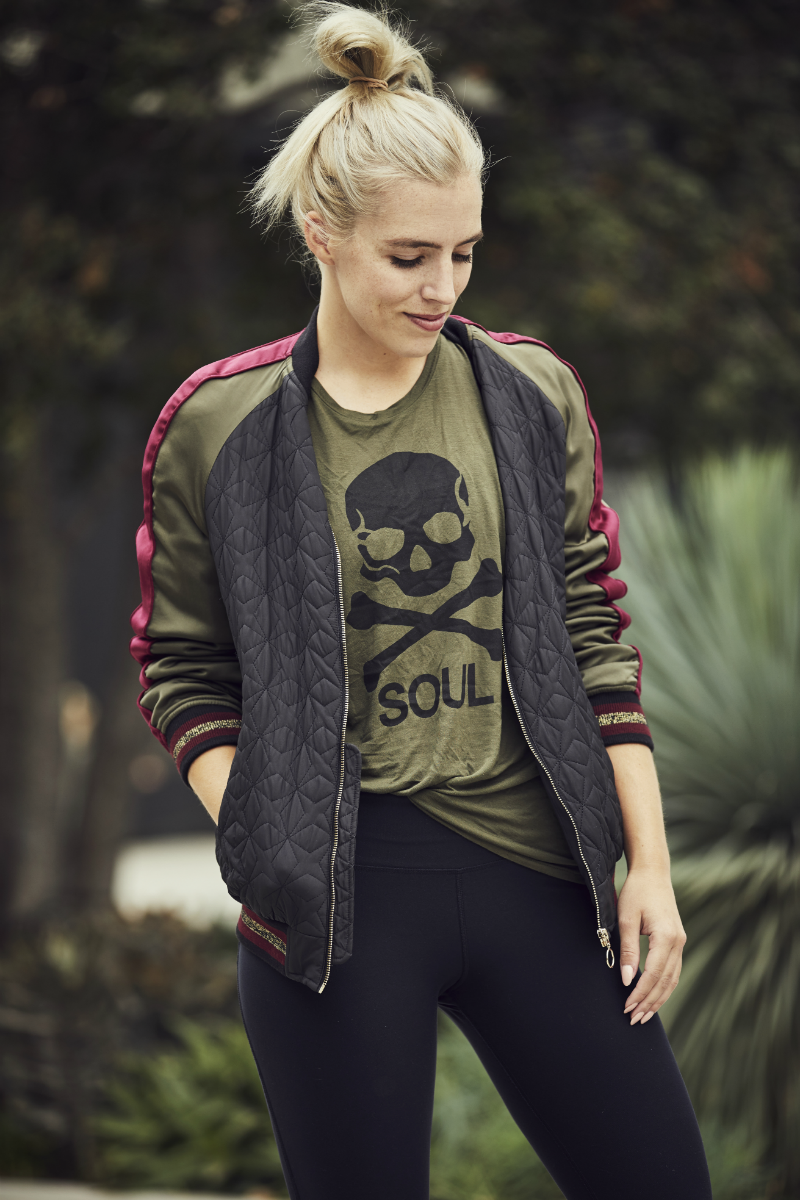 Bomber Jacket (Zara)
I think I'm having a moment with statement jackets, and if there were ever an *easy* casual-chic way to go about it, it would be via bomber jacket. I have seen a million and one different bomber styles, but something about multiple textures, a giant tiger patch and maroon, metallic and olive green sleeves really called to me. It's the perfect jacket to run around all day in. I wear it to SoulCycle, to work, then straight out to dinner!
Caroline's olive SOUL tank is available in studios.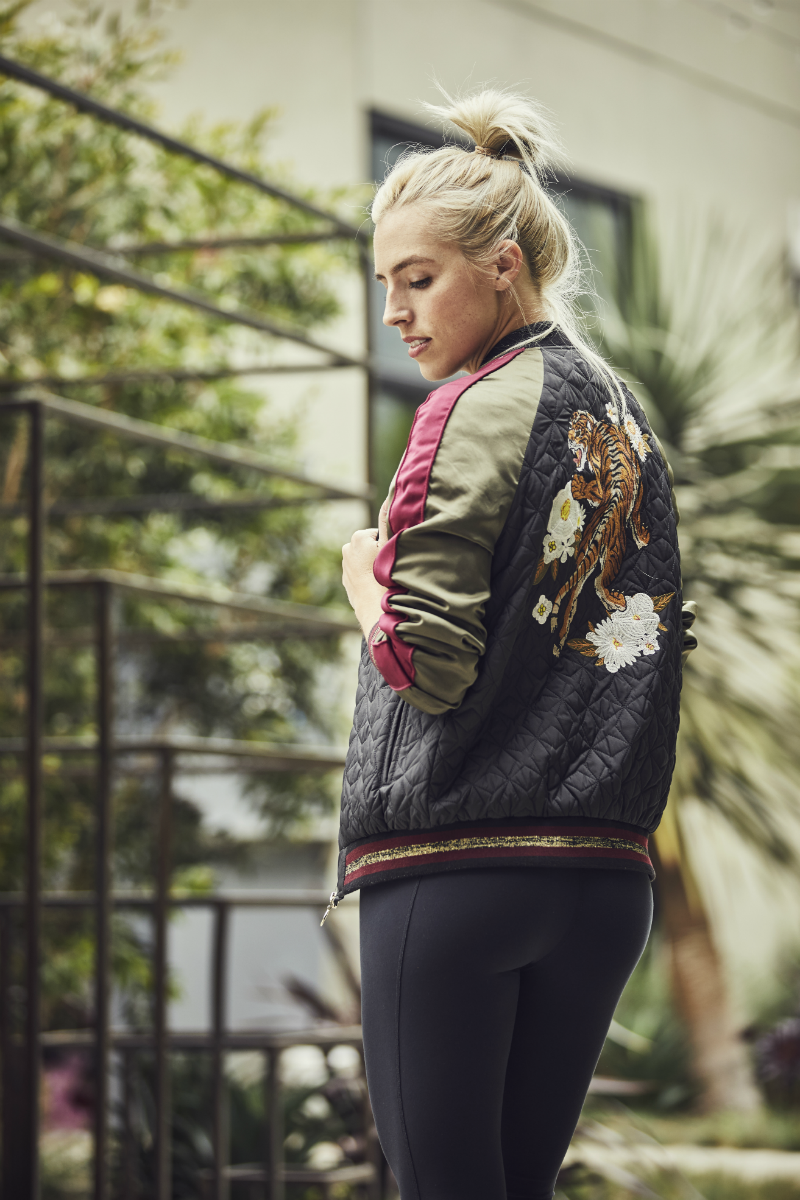 Share your #SOULStyle with us on social and check out our latest collection here! Questions or comments? Email SOULlife@soul-cycle.com! Want to ride at SOUL? Grab a series HERE then book a bike!
Photography by
Tommy Garcia (iamtomymg.com)