What's In James Lewis's Bag
May 18, 2016
kin cream, cash, a crystal… they're all stashed inside the backpack of instructor JAMES LEWIS. He shared the contents of the carryall he totes from Back Bay to Beacon Hill to Chestnut Hill…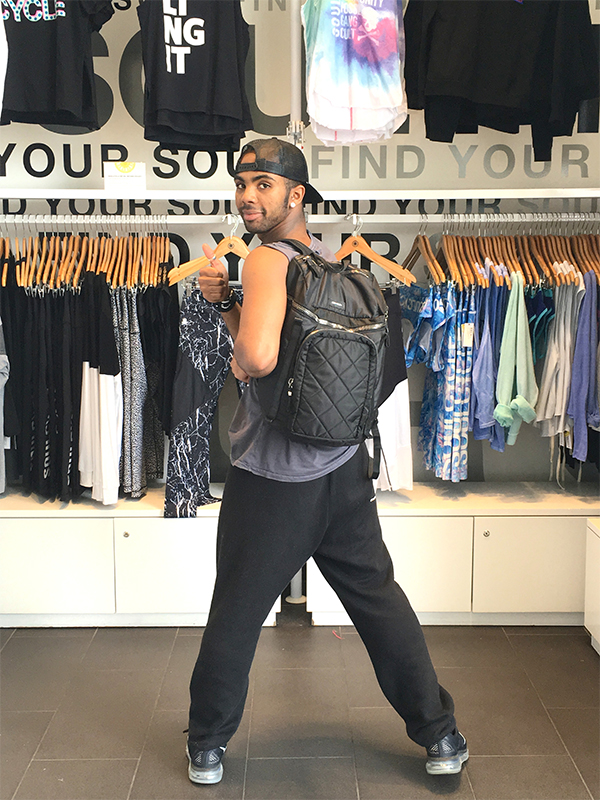 THE BAG
This is a quilted Moncler backpack that I got online. I wanted to get a backpack that's waterproof because it rains so much in Boston. I feel like a carry A LOT of stuff.
SOUL GEAR
I have a bunch of workout clothes in here — almost too many. Have you ever seen Halloweentown? I also have a headband and a beanie.
SKIN CARE ESSENTIALS
I have oil called Daily Reviving Concentrate from Kiehl's for moisturizing your face in the daytime. It helps protects your face from acne, which I'm prone to. Then I have some Ultra Facial Deep Moisture Balm moisturizer, some Chapstick, a hair brush and this Kiehl's Age Defender cream to protect against wrinkles because I want to stay young… is it too early?
NO FOOD ALLOWED
I never carry snacks because I will leave them in there… and I rarely clean out my bag. I left a banana in there once and I learned my lesson.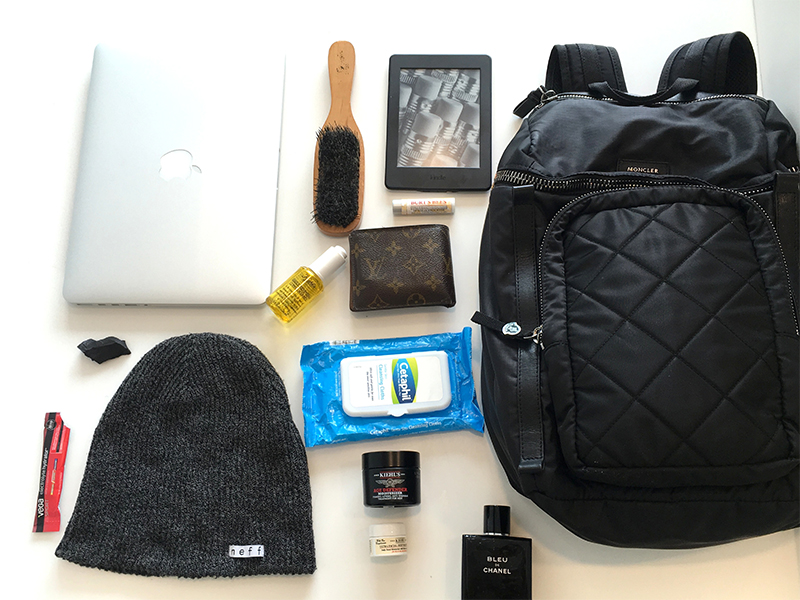 SCENTS OF SOUL
I have some cologne because you've got to smell good. I really pride myself on smelling nice — the studio team knows! I will not go in that room unless I have spritzed on some cologne, and Bleu de Chanel is the best smell ever for a man. I was in Nordstrom and this saleswoman was like, "Come over here." She sprayed it on my and I bought it immediately.
REQUIRED READING
I have a Kindle because I like to read when I'm waiting in line. I read eight books at a time — I like a lot of self help books. The last one I finished was The Secret. Then I have a check book and my wallet, of course.
MVPs
I also carry my computer case and my computer, which is probably the most important thing in here. Wait, no, I lied: This rock is the most important thing in here: It's a jet crustal and it absorbs all the negative energy in the city. So when I'm walking, whoever gives me a dirty look, that energy is absorbed in here and it is transmuted into positivity. I can't go anywhere without it, actually!