Ross Shares His Soul Journey
October 10, 2014
LA instructor ROSS RAMONE talks about his journey from swimming and coaching competitively to rocking the podium — and what motivates him to inspire the pack and push his limits.
I've been a high level competitive swimmer my entire life, so after I finished out my swimming career at Columbia, I immediately transitioned to coaching. I coached under Head Coach Rachel Stratton-Mills at Asphalt Green Unified Aquatics in NYC, where I worked with everyone from developmental swimmers to national level athletes. One of our swimmers even made the 2012 London Olympics Team! I'm also an actor, which is what inspired me to move from NYC to LA.
When I got to Los Angeles about two years ago, I was in search of a fitness routine to keep myself healthy, sane and inspired. A few friends encouraged me to try this thing called SoulCycle, so I decided to give it a go. Feeling a tad overconfident and a touch hungover, I climbed onto bike 42 in David Zint's class in West Hollywood.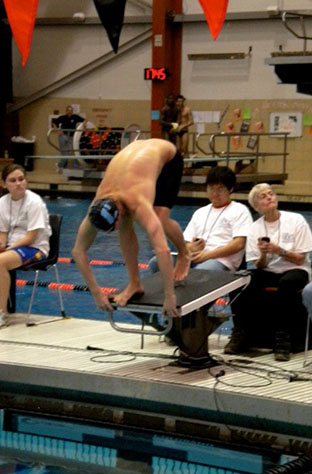 As I struggled to hold onto the rhythm (and hold down my breakfast), I felt instantly moved by David's messaging and connected to the sense of community he created. Plus, it was the hardest I had worked since I was an athlete in college, and that was saying something. I came back a few days later, and I've been trying to catch my breath ever since.
I started working as a front desk employee in West Hollywood, and Master Instructor Janet Fitzgerald came into town. The first time we met, she said, "Hi, my name is Janet. Please tell me you have dreams of becoming a SoulCycle Instructor?" I guess that got the wheels turning, and my course was set from that moment forward. It seemed like the best use of my skill set, and the perfect way for me to combine my knowledge of fitness with my passion for performance. That, and I missed coaching pretty hard, so this gave me the opportunity to connect with riders in the same way I used to connect with my swimmers.
The transition was challenging, frustrating, exhausting and emotional. To be honest, what we do is extremely taxing, both physically and emotionally. It demands the same amount of discipline and sacrifice required of competitive athletes. To say it wasn't a difficult transition would be a lie. Ultimately, though, it only takes one. One rider, who approaches you after class to say, "Thank you. Because of you, I am changed." What happens in that room really is a remarkable thing, because what we do transcends the bike. In every class, you have the potential to affect someone in a powerful way. I try to remind myself of that at the beginning of every class, in that breath between when the lights go down and the music goes up. It's that familiar "game time" feeling that I live for.
I was an athlete first, so that's how we train. At the end of the day, of course I want my riders to have fun. The 45-minute cardio party is a real thing. But in my class, the workout comes first. I try not to ask my riders to do anything that isn't purposeful, physically or mentally. I also believe wholeheartedly that what's good for the body is good for the spirit, and vice versa. That mind/body connection is important to me, because as a coach, I often found that what my athletes struggled with in the water was also what they were battling in their everyday lives.
The same applies at Soul; what's true on the bike is usually true in life. Every class is a journey. By confronting challenges physically, by expressing whatever it is that we're feeling, and ultimately by working through those feelings, we triumph emotionally as well. It's just a metaphor. But I think it's a pretty powerful one.
One mantra I often think about is "Notice it. Accept it. Let it go." It's just about acknowledging whatever you feel in the moment as valid, giving yourself permission to feel it, and then getting out of your own way. It's about forward motion. It's ironic that what we do is on a stationary bike. But I really do think that the bike can take you anywhere, if you just let go.
I once got a fortune cookie that said, "Choose Love Over Conflict," and I feel like that's a pretty good way to live.
Catch classes with Ross at Soul Beverly Hills, Soul West Hollywood and Soul Pasadena, and come meet him for coffee and healthy snacks this Saturday morning (10/11) in our Pasadena courtyard after class! Questions or comments? Email blog@soul-cycle.com!