Robert's Surprise Engagement
July 10, 2015
NYC instructor ROBERT PENDILLA just got engaged! He shares the sweet proposal story and reveals details on when he might say "I Do!"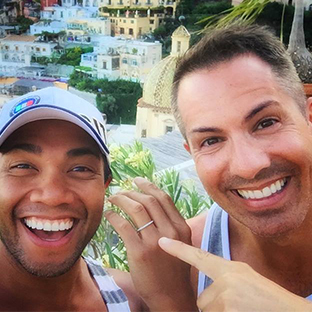 Robert (left) with fiance, Brian, in Positano, Italy
Congrats on the engagement! Tell us about the big proposal!
My boyfriend, Brian Boye, and I were on vacation in Positano, Italy, staying at the stunning Le Sirenuse Hotel. We spent the day boating with friends in the Mediterranean on the hotel's Riva. When we got back to the hotel, Brian asked me to go up to a private terrace for a drink. He sat me down and told me how much I mean to him and how much he loves me and romantically asked me to spend the rest of my life with him. I immediately said "YES!" Side Note: I did ask if he asked my father.
Were you surprised?
Very. I was not expecting it at all. I dreamed it would happen one day, and I knew he was The One. He had been planning to propose for the last few months and was waiting for the right time. The fact that he did it on June 27th — the day after the Supreme Court's decision to make marriage a right for all — made it an even better moment.
Let's back up... how did you two first meet?
Interesting question. We met online on OKCupid. We dated for a while and then things became more and more serious. We moved in together officially after a year of dating and then rescued a beautiful boxer/Australian Shepard puppy named Luka Louise Wilson.
Do you ever ride together?
We ride together a lot and he takes all of my classes. He actually introduced me to SoulCycle in East Hampton. He convinced me to take Karyn's 9:00 AM class on a Monday and I was hooked after that. He is a true supporter of my SoulCycle career and everything the SoulCycle community offers. It makes me so happy to see my fiancé riding and supporting me in my class. We also take other instructors' classes together when he is available. You can usually find us riding side by side. We both believe in fitness and good health.
Any wedding plans?
We're working on them now. There may be a spring wedding in our future next year. In the meantime, I'm watching all the wedding movies, including The Wedding Planner with Jennifer Lopez. I'm kidding. (But I really do love that movie.) We're proud and thankful that now we can be recognized and treated equally. We want to spend the rest of our lives together.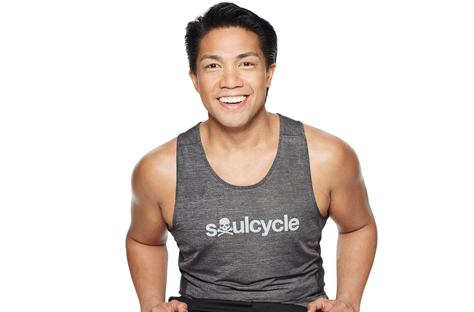 Anything you want to add?
Besides being a SoulCycle instructor, I'm also a cast member of the hit Broadway musical Kinky Boots. The message of the show is to be yourself, and accept other people's differences. In the finale it says, "You change the world when you change your mind," which is also my personal mantra. At SoulCycle, I've found a community of people that believe the same things, and together we all work to help each other be the best possible versions of ourselves. The Supreme Court decision granting marriage equality is a real life example of accepting people for who they are.
Catch classes with Robert at SoulCycle West 27th Street and SoulCycle West Village! Questions or comments? Email blog@soul-cycle.com!