Olivia Ward's Little Rockstar Is Here!
September 11, 2015
Instructor OLIVIA WARD has a new baby boy! A month after giving birth to son Harper Ellis, she shares some adorable photos of her little rockstar — and talks about her speedy delivery, how she chose his name, what his personality is like and how she's bouncing back post-pregnancy…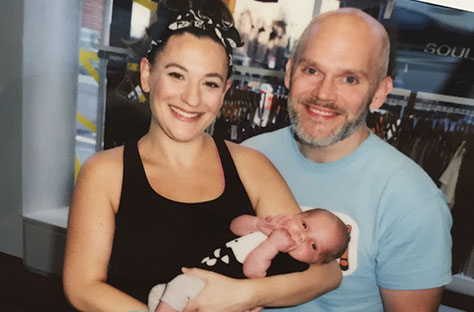 Olivia and husband Ben with baby Harper at SoulCycle Noho
Can we ask — how was labor and delivery?
It was actually really good! It was interesting because it was a very big lesson in being flexible. I'm very Type A, and I like to plan things out; when I make a plan, I like to stick to it until the end. A few weeks before Harper was born, he actually flipped over and was breach, and that was not a part of our birth plan, but it was how he wanted to come into the world, so being flexible was key.
So what happened then?
Well, I was just planning on having a traditional birth, but my doctor was not a big believer in trying to flip the baby over. Harper stayed breach, and I ended up having a scheduled C-section, and in the end that was the best decision. The nurse actually said that she finds it interesting why babies flip in the womb, and that there's often a good reason. It turned out that Harper had the umbilical chord loosely around his neck. It wasn't a big deal when he was in there, but it could have caused problems if he had flipped back over.
Wow. I guess she was right!
We were just kind of following his [Harper's] lead [for delivery]. I literally just walked in the hospital at 5:30 AM and by 8:00 AM, the baby was out. I didn't even experience any contractions. Even though it wasn't part of my plan, it ended up being a really good experience.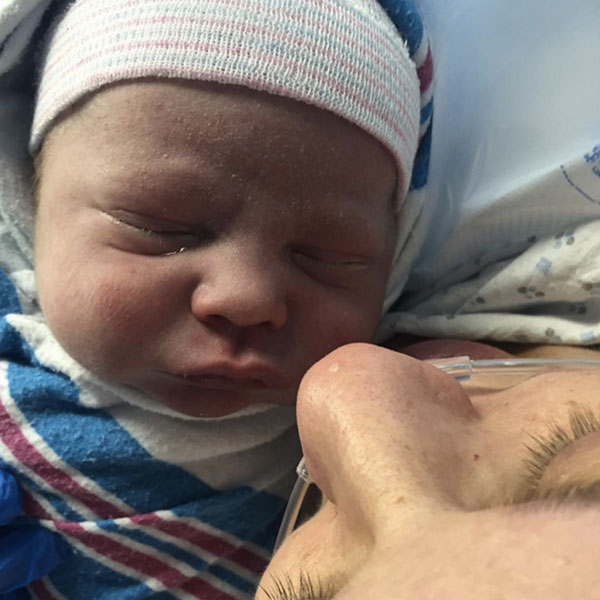 What was it like after delivery?
A lot of C-section babies had a lot of leftover fluid in their lungs, so he did go into the NICU for a bit, but it was just to make sure he lost all that fluid. They called him the Gentle Giant in there because compared to the other babies, he was so much larger. Harper was 8 pounds 6 ounces and almost 21 inches!
That's amazing! So what is little Harper like?
He loves music, which I think is really funny. I taught about 12 classes a week during my pregnancy, and now whenever he gets fussy I can put anything on — classical, EDM, anything — and he'll go right to sleep.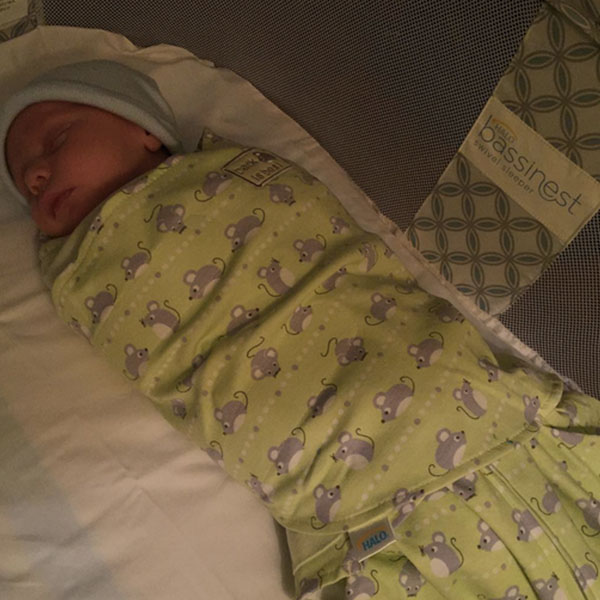 I guess he can appreciate a good SOUL playlist already! What was your first thought when you saw Harper?
My first thought was, "I cannot believe that we just made this." It's such a surreal feeling when you're pregnant — it's almost like an alien experience. All of a sudden, when you give birth, this new person comes into the room but a door didn't open; your heart quadruples in size almost immediately, and there was this feeling of pride, like my husband Ben and I made this together. For a long time, I thought I knew how I'd feel when I became a parent, and I wasn't even in the ballpark for how I feel when I look at him. He had his eyes wide open and looked at me before they took him and cleaned him up, and there was an instant familiarity there between us. It was just instantaneous.
That's so special.
You know my husband and I waited a long time; we've been married for 17 years. At this stage in my life, I was just so ready for this. Harper was definitely, definitely worth the wait.
Love the name! How did you decide upon Harper Ellis?
I think choosing his name out of everything was what gave me that most anxiety. My parents placed a lot of weight into names, and were really big in names having meaning when you put them together. Before I took my husband's name, mine meant gracious bringer of peace, so it was also important to us for his name to be strong and have meaning.
Definitely!
Obviously being on The Biggest Loser was a big benchmark for both of us us. Many people know this, but one of my best friends is Bob Harper – he's even ridden in my classes and we see each other often and speak numerous times a week for the past five years. He's been such a driving force in helping me and encouraging me to keep the weight off, to evolve and be able to work at SoulCycle. It just seemed a really special way to honor him and our continued relationship.
That's so wonderful! How did he react?
He was so excited when we told him we wanted to name our baby in honor of him! As for Harper's middle name name, Ellis is the British interpretation of Elijah — I just wanted something a little bit different. When you think about naming someone, it's what they'll be called for the rest of their life. I wanted it to be something unique but strong.
How have the first few weeks been?
I feel like I've been very spoiled because he's a very calm and chilled out baby. I keep waiting for the other shoe to drop, but luckily we haven't gotten that yet. He doesn't cry much, and he sleeps pretty well during the night, so he's been really good.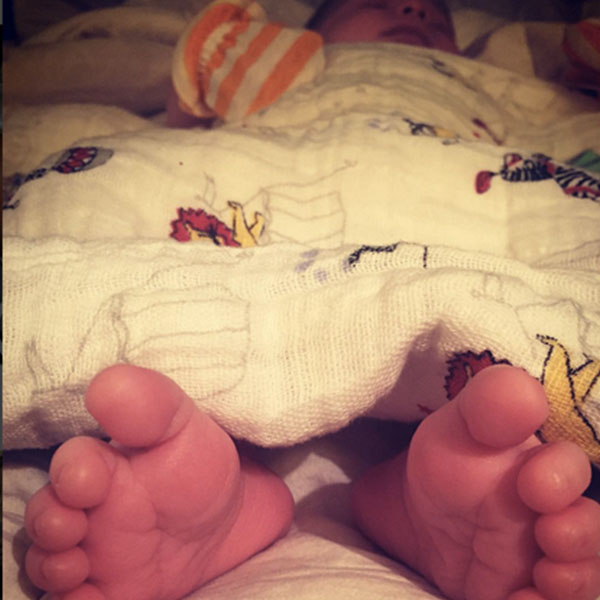 Perfect.
He already loves to go places, too. Harper does well in his little car seat and in his stroller. My husband has been off on paternity leave, so we've been able to tag team it, which makes it feel way less overwhelming. Ben has been such an incredible hands-on dad; he wants to do it all. That has been really awesome, to watch him be my partner in this. He just jumps right in.
It sounds like you both are having an amazing experience!
We are obviously very tired (like most new parents), but Harper has been worth every moment. We've had lots of poop explosions and first-time parent mistakes, but we've been so fortunate because his temperament is so great. When he does fuss or cry, it's really just a rarity and you can sooth him really quickly. He cries solely when he wants to communicate something, and that lets us understand easier what he needs and when he needs it.
Have you been able to get out with Harper for a bit?
He's made a quick visit to the East 63rd Street and NOHO studios already. When they say it takes a village, it really does, and I was so blown away how amazing everyone at all the studios I teach were throughout my pregnancy. They rode for me and supported me and were tangibly such big hand in him being here and being healthy. I taught my last class six days before Harper was born, and I wouldn't have been able to do that without all the studio managers, instructors in training, my riders, and basically everyone at SOUL.
And how are you feeling now?
I honestly am feel completely back to normal with each passing day. I have a doctor's appointment for myself coming up, and I'm going to beg my doctor to get back on a bike because I'm so ready to start getting back to the physical side of my recovery. I'm so ready for that higher intensity working out again.
That's a pretty fast recovery post C-section!
I really actually believe that my recovery from the C-section was so fast because I stayed on my feet throughout my pregnancy and continued to ride at Soul. After my C-section, I just took Tylenol and Motrin and was up walking around after 12 hours. By day five, I was really moving around quite a bit. At two weeks post-op, I felt really pretty much back to normal, and I think that so much of that is because how involved I was in SoulCycle throughout my whole pregnancy.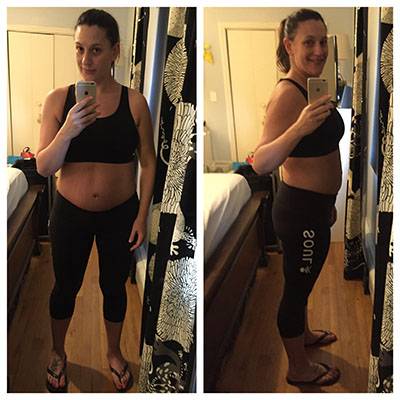 How did riding help you?
It kept my muscles and my bones strong, and you can really tailor your ride to wherever you are physically. I think that will be the same way post-birth. I can roll my feet, do the hills and build my body back again, and slowly move back up to the front. hopefully in 10 weeks or so I can be back up on the podium. It's just such a testament to SoulCycle's message; it really is a workout from head to toe for any stage of life.
Have there been any surprises about becoming a mom?
Well, I'm not typically anxious person — like I said before Type A, but also low key with things — and it's just been so interesting to me that I'm so hyper-aware and hyper-sensitive to Harper's needs. I think thats also a first-time mom thing. As the days go by, I know I'll become more comfortable though. Also, before you have a baby, you read all these articles and they say you need all this stuff, but the stuff you really need is so simple compared to what the baby industry says. You really just need less stuff than you think; their needs are really pretty simple.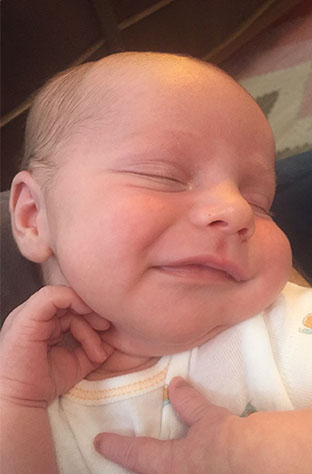 Who does Harper look like — you or your husband?
He kind of looks like a perfect hybrid of me and my family and my husband and his family. It's so amazing how much he changes each day. Right now he has blue eyes, and I hope they stay blue. His coloring reminds me of my husband — light eyelashes and light hair. His lips are like mine, not super small. It's so neat to look at him and see a little of everyone. He also has huge hands; everyone has been calling him Bear Paw, and they look identical to my husband's. Harper has long skinny arms and long skinny legs, and when you look back how I was as a baby, that's how I was built. He is almost 24 inches long already, so I think he's going to be really tall.
What can't you wait to do with Harper?
I just can't wait to take him out to meet people, or even to push him around Central Park. We've taken him to Starbucks and other places around Astoria briefly, but we can't really take him around until he gets a little bigger. Overall, I can't wait to do all the New York things like the museums and the zoos, and as first time parents, were going to experience that for the first time with him. I'm also excited for him to experience life interacting with other people. When they're so little, they have to be kind of isolated in the beginning, but I can't wait for him to experience the world and I can't wait to experience it with him.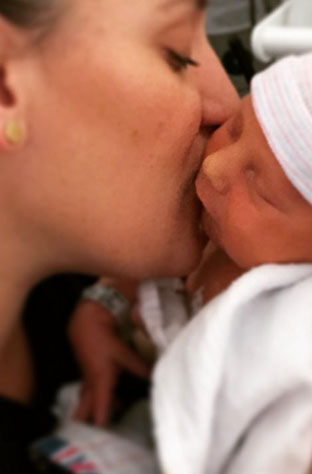 Anything you want to add?
This whole experience has been such a reminder to me about how precious and special family is, and I'm thankful that this was my journey. Family comes in so many different forms. Whether it comes easy or difficult,or you're from a nontraditional family or you adopt, it's such special feeling, and the opportunity to be parents is available to everyone in many different forms. I encourage everyone to seek that out if it is something that you desire. I just love being able to call myself a mother, and I'm glad it worked out the way it did.
MORE FROM SOUL