New Faces To Know & Love: Meet Our Instructors!
October 8, 2018
New Faces To Know & Love: Meet Our Instructors!
Our instructors are the heart and soul of the ride. We might be biased, but we think they're some of the coolest people around. Not only do they show up to class and give it their all, but they do some pretty amazing stuff off the bike, too.
From the East Coast to the West Coast—and a few places in between—the newest members of the SoulCycle pack are excited and ready to start their journey with all of you.
Get to know them. Get to love them.
Then go book a ride and say hi!
How did you end up at SoulCycle?
Meghan Kelley (Boston): I just finished college this May and knew that SoulCycle was a space that I wanted to teach at after taking my first class with James J. (His energy is insane!). I didn't have a lot of SoulCycle experience since the closest studio to me was two hours away, but I figured I would apply and try anyway! One thing led to another and here I am!
Scott (NorCal): It was 2014, I was in the midst of my figure skating career preparing for the 2014 Olympic trials, and was trying to add to my workouts off the ice. I kept hearing about SoulCycle and kept driving by the Santa Monica location (I was living in LA at the time), so I finally gave it a try. I walked into Laura Crago's class on a Tuesday evening, and like most of us, I never looked back; I was hooked.
Lauren S. (Philly): I played division 1 soccer for four years and realized I was better at making warm-up mix tapes than scoring goals. I went right into hospitality after college, and auditioned for SoulCycle for the first time in 2016. Everything came together on my third audition, and I am blessed to be serving up the best parts of me here in my hometown.
Sophia M. (NYC): I rode with Emma Zaks at E83rd, and it blew my mind! Four years ago, I spoke with Soul hoping they were moving to London. Then, through some weird events, I moved with my family to New York last summer. I've auditioned three times and did the training program twice. I'm beyond grateful to have this as my job now.
Natasha (Miami): I met two Boston instructors (Sara and Maddy) through PUMA. I wasn't happy with my current job or life in Boston, so they invited me to a class at SoulCycle and the rest is history.
Heather B. (NYC): My first SoulCycle experience was in LA. I was riding sidebar in the Beverly Hills studio, where I was living at the time and pursuing my music career. I felt and watched how the room moved with the music and how it all made sense. I felt like a true athlete for the first time. I was able to connect to myself through the music that feels natural to me, being a musician, while simultaneously pushing myself past my limits. I decided to become an instructor to bring this feeling to other riders, lifting them up as the music drives us.
Kristin M. (Chicago): I ended up at SoulCycle after leaving my job in TV and Film Production. The moment I clipped into my first SoulCycle class and felt this surge of energy and connection to my body, I knew I wanted to be leading the pack from the podium.
Madison S. (DC/Vegas): When I stopped dancing, I struggled to find a workout that gave me the same mind-body-music connection. I found Soul when I was going to school in DC and was riding on and off for a few years. Last year, it felt like all of sudden that something just clicked for me and Soul changed my life in a way that I could've never imagined.
Anthony S. (NorCal): I had an internship at a boutique showroom in NYC back in 2011. My boss saw I was having an off day and he wanted me to come to a class with him! I've been hooked since day one and my life changed for the best!
Charlie (Miami): My friend Danielle finally convinced me to go after many attempts. The last thing I wanted to do was get on a bike, clipping in being the most intimidating part. It only took one class to hook us, after falling in love with the atmosphere, we kept going back and it became an outlet that helped heal me during one of the hardest times of my life.
Ryan D. (New York) : Before Soul I was playing professional hockey. After realizing real estate wasn't my calling, I wanted to do something with fitness. I took Marvin's class, fell in love, and auditioned 2 weeks later!
Hugo (New York): I was always into fitness and love music. The first time I took a SoulCycle class, I knew this was something I was missing in my life.
Why did you want to become a SoulCycle instructor?
Meghan Kelley: I want to reach a large audience where I can contribute to my community by encouraging humans to be kind, move their bodies in ways that they might not have realized they could, and, selfishly, listen to all my favorite jams over the speakers!
Scott: The experience in class helped me learn how to exercise in a way that celebrated self-acceptance and self-love. SoulCycle made me a better athlete, but also a helped me build a confidence in myself that I hadn't yet tapped into, so from that moment forward I knew I wanted to be the one on the other end, bringing this transformative experience to the riders.
Lauren S.: I had a rough childhood and struggled with confidence issues, until I found my passion/love for music and fitness. I want to use these two passions to make other people feel good about themselves.
Sophia M.: Community and the core values of SoulCycle are so real; they struck such a chord with me from day one. This has never faltered for any class I have taken and through the real friendships I have made since moving to the city.
Natasha: I myself was not very confident, but I remember my first class at SoulCycle allowing me to feel sexy and confident in that dark room was incredibly liberating. I want to help other people feel confident and empowered, even if it's just 45 minutes of their day.
Heather B. : As a rider, I went through a lot of changes, moving across the country, writing my original music, and going to school, but being in the room made me feel grounded and more than capable. I want to let people know that whatever is going on outside, they ride the bike in this room, not the other way around.
Kristin M.: I want to create a positive change within my community. Whether that's changing your mind, body, or soul, I want to create a fulfilling and safe space for people to come and release all of their worries, tensions, and fears.
Madison S.: As a rider, SoulCycle was one of the only ways I could find a sense of stillness in my life. I know first-hand how hard it can be to settle the mind, and I want to provide a cathartic space for those looking to get out of their own heads for a little bit.
Anthony S.: Nothing makes me more thrilled than a lot of energy in a class, and I get the chance to help create that! I want to be able to help those find an outlet and a voice through us dancing on a bike.
Charlie: To be a part of the revolution that changed my life. My goal is to lead others to living their best life, mentally, physically, and emotionally.
Ryan D.: Being a former athlete, I'd love to tap into others a strength they didn't know they had.
Hugo
: I want to connect with people and help them with their fitness goals.
Describe your class vibe in one sentence.
Meghan Kelley: Passion.
Scott: A place where riders leave and say, "That was EXACTLY what I needed today."
Lauren S.: High-energy and uplifting. Challenging but not defeating.
Sophia M.: A kind and inviting community with a killer workout.
Natasha: I hope to allow people to feel free and act as if the bike room is their outlet to feel however they want to feel and embrace who they are.
Heather B. : We're the music nerds who write songs at recess, but actually have so much passion we push and sprint for our lives.
Kristin M.: A heavy, sweaty, and sexy 45 minutes.
Madison S.: It's not that serious.
Anthony S.: We dance in Ibiza but also find our soul in the Maldives. Catch my drift?
Charlie: Soulful. My goal is always unity. I want my riders to always feel confident riding to the best of their ability, together we learn, laugh, and shake our booties!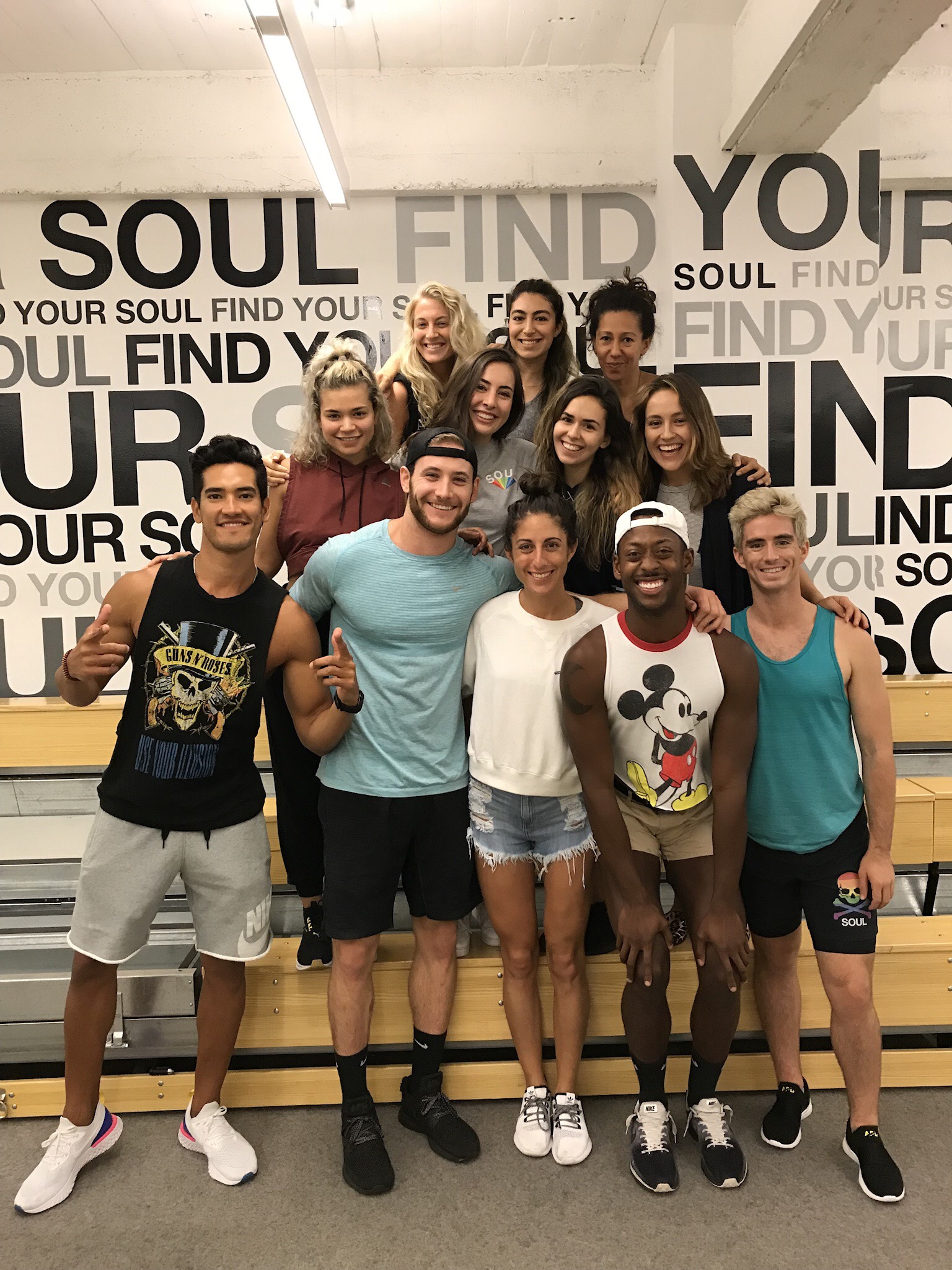 If you could have any musical artist (dead or alive) perform live during your class, who would it be and why?
Meghan Kelley: Michael Jackson. He's an icon! Need I say more?
Scott: TAYLOR SWIFT BECAUSE SHE IS MY EVERYTHING. Not actually, BUT she taps into that somewhat crazy but fearless side of me that I think we all have. She embodies putting it all out there; no shame, no regrets!
Lauren S.: Justin Timberlake. He can sing, dance, perform, tell jokes, and melt people with his eyes.
Sophia M.: David Bowie because he was unapologetically himself and continues to inspire generations through his creativity and music.
Natasha: This may be a surprise, but Lana Del Rey. Her vibes are so sexy and deep down I feel like I too have a dark soul; we all do and can relate to her at one point in our life.
Heather B. : Lady Gaga. You know we're going home to Gypsy.
Kristin M.: The Beatles. I grew up listening to the Beatles with my dad and I can only imagine the smile on his face if he were to take my class with THE BEATLES performing live.
Madison S.: Lady Gaga. Obviously? No explanation needed.
Anthony S.: Freddie Mercury. He could command a crowd just by the flick of a wrist, and I want to know how to get on his level.
Charlie: I'd do anything to have Lil Wayne come through to pop off class! I'm all about channeling your inner badass and tapping it back to music that makes you feel confident, sexy, and powerful.
Ryan D.
: I would love to have Ariana Grande. Girl's got pipes!
Hugo
: Sean Paul. I just love all of his music. It makes me feel full of energy!
What's one thing about yourself you want to share with the community?

Meghan Kelley: I dream of owning a B&B one day! I love to design, cook, and create homey spaces.
Scott: After retiring from a near lifelong career in sports (20 of my 27 years so far), I made a leap of faith and moved to SF to work for Soul. So, I completely understand the fear of walking through lots of change and uncertainties. Let's embrace fear and work through all the change that goes on in life in the studio with some great music and incredible people! SIDE NOTE: My hair is completely natural..........not at all, but that's okay!
Lauren S.: I AM SO GRATEFUL. I know this is where I am meant to be, and want nothing more in my life than to use my skills as a human/coach/instructor to improve the lives of our riders at SoulCycle.
Sophia M.: SoulCycle has allowed me the space to be unapologetically myself, to embrace my imperfections, and that even though I don't have my shit together, I am enough as I am.
Natasha: I found fitness to be the ONE thing that made me feel good a few years ago. I allow myself to be big in the bike room; to dance, to scream, to sing, to feel powerful regardless if I'm happy, sad, heartbroken, in love, confident or insecure. I invite you to do the same.
Heather B.: SoulCycle was always there for me as a rider and I'm really excited to be sharing that now from the podium.
Kristin M.: I am always an open ear and a shoulder to lean on for strength. I feel destined to help people in unique ways, and I want my community to know they can always find a friend in me.
Madison S.: I will never, ever, say no to karaoke.
Anthony S.: I love to bond over a nice glass of Frozé. I'm also one of the friendliest guys you'll meet…just because of the southern boy in me! Let's ride together!
Charlie: Becoming a SoulCycle Instructor was my biggest dream. It is the biggest honor to able to connect with so many people through movement and music. I am super thankful to be able to have this opportunity and share my soul with anyone that's down to dance.

Ryan D.: Despite my shyness, I'm very funny and outgoing!

Hugo: My love and passion for fitness.

See what they're up to on social:
Meghan @m.kelley.c
Scott @scott_h_dyer
Lauren @lauren_stevis
Sophia @sophiamanasseinyc
Natasha @natashawhitby_
Heather @definitelybrave
Kristin @kristinmcgrath
Madison @Madison_Santoli
Anthony @anthony_sneed
Charlie @charliesagee
Ryan D @ryandevine23
Hugo @hugobarbosan