Meet Nick S.
October 17, 2012
If you haven't had the pleasure of meeting NICK SPADARO, let's just say he's got a big personality with some of the best dance moves Soul has ever seen. But don't let Nick's party vibe fool you; he also encourages you to crank that resistance so that you leave class sweaty and ready to tackle the day. A joyous dance party that leaves you feeling strong? Sign us up... for a double.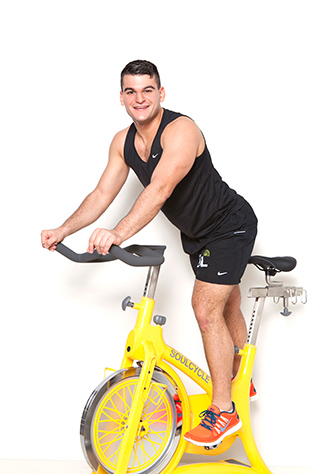 5 things you may not know about me...
1) I was a competitive cheerleader all through high school
2) I have ripped my pants more times than I would like to admit due to the usage of Jump splits.
3) I just graduated from LIM College last May with a BBA in Fashion Marketing
4) I lived in London for 6 months and traveled all throughout Europe
5) I ran the New York City Marathon in 2011
My class is unique because...
I believe that a workout isn't just about sweating as much as possible, it's about being sexy, giving attitude and having as much fun as possible.
In my class I love to...
Always play that one song that will make you say, "I haven't heard that song in years."
The pace of my class is all about the build.
I love to pop the party with a killer jump sequence and step on the gas full throttle with speed and resistance. If you want to change your body you got to change that resistance.
My favorite fashion designers would have to be...
Christopher Bailey for Burberry and Rick Owens. I would die for a pair of Rick Owens high tops, and a leather coat, and every Burberry Prorsum coat.
If I have an hour to myself...
You can probably find me falling asleep on my couch to the Real Housewives of New Jersey, Beverly Hills, Cake Boss, or Dance Moms to name a few.
Surrounding yourself in a positive atmosphere is very important to me.
This positive atmosphere includes friends who will give you confidence and help you achieve your goals. This also includes food that makes you feel good and doing what truly makes you happy.
My friends know me as...
The booty popping, jumpsplitting crazy kind of guy.
Be sure to look out for Nick S. in Union Square, 19TH Street, East 83rd and TriBeCa Studio B. Questions or comments? Email blog@soul-cycle.com!