Meet Lindsay Waxer
August 8, 2012
You don't often see much crossover between early childhood graduate students and fitness instructors. But when you ride with Soul Instructor LINDSAY WAXER, the combination makes sense. A childlike joy comes through Lindsay's classes -- her energy palpable, smile beaming. So it's not surprising that this 80s-loving, PJ-wearing, energetic instructor makes you feel like a kid again too. And what's better than that?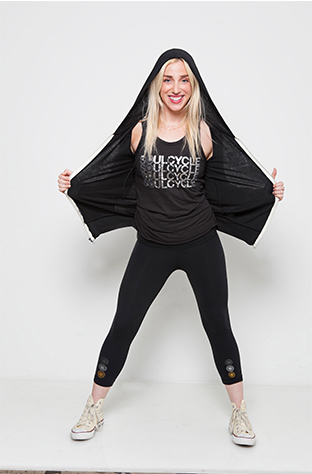 5 things you may not know about me...
1) I have never taught ANYTHING fitness before teaching at SoulCycle, but I've always loved playing sports and working out.
2) I'm OBSESSED with 80s music and movies.
3) I LOVE extreme sports. I have jumped the second highest bungee jump in the world (Queenstown, New Zealand) and I have gone sky diving multiple times.
4) I also love lounging more than anything. Dinner in my PJs, with my food tray next to my bed, is ideal. On any given night, you can catch me watching Law and Order or It's Always Sunny In Philadelphia.
5) I worked in fashion for a few years in between studying at the University of Wisconsin and going back to graduate school at Hunter College, where I'm receiving my masters in Early Childhood. I have more Manolo Blahniks than I know what to do with, since now I don't wear anything besides flip flops, flats, or spin shoes!
My class is unique because...
I am a SoulCycle rider turned instructor. I teach how I ride and I ride from my soul. I love SoulCycle and the community more than anything, so it's important to me that I provide my students with the same care and inspiration that I received. It's all about having fun and dancing on that bike! I can also guarantee you that I am SMILING the ENTIRE time during class :)
In my class I love to play...
Hip hop and fun dance remixes! But I'll play a variety of music, as long as it has a good, solid beat that really makes your body want to move. I'm also into adding some old-school throwbacks that you can really sing along to – that really get's the crowd going!
The pace of my class is...
Fast because I am an extremely energetic person when I ride, but I mix it up a lot because we NEED the resistance filled climbs and runs too. My favorite though, is definitely a fast jog with some wild push-up combinations or seated sprints with jumps!
My favorite skin care line is Tata Harper.
They have the most amazing products ever! I can't live without their Hydrating Floral Essence, Replenishing Nutrient Complex, or Reparative Moisturizer.
If I have an hour to myself (and I've finished my playlists for the day), I'm...
Either napping, lounging, music-ing, or doing yoga.
Being supportive is very important to me.
I believe that everyone needs to step outside of their own little worlds and give love and attention to the people around them. What goes around certainly does come around! We ALL need it!
My friends know me as...
The FUN and CHILL one. YES, it's possible to be both extremes!
Be sure to catch Lindsay in Roslyn, TriBeCa and Union Square! Questions or comments? Email blog@soul-cycle.com!