Meet Emily Turner
October 8, 2013
Rock and Roller. Dancer. Adventurer. These are just a few of the words that describe Soul instructor, EMILY HOPE TURNER. A energetic and enthusiastic SOUL, Emily is known for embracing all that life has to offer. She loves a fast jog and a juicy hill, rock and roll and teen pop, pushing herself to the limit and taking it easy. Those are some contradictions we can get behind.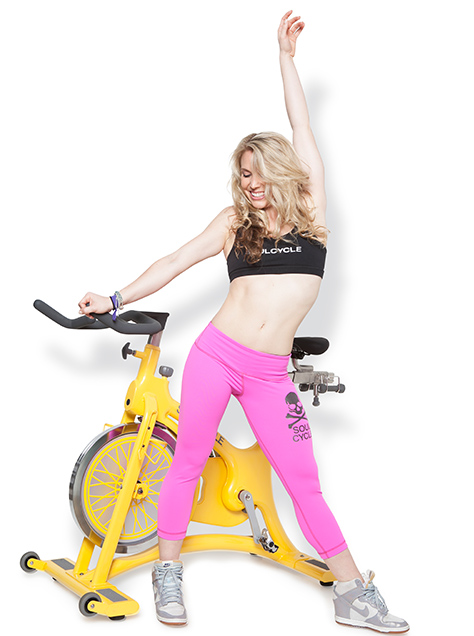 5 things you may not know about me...
1) I was a magician's assistant before moving to NYC and occasionally still perform with the show. (Yes, I know the secrets and no, I won't tell!)
2) I studied dance management in college and came to NYC to be a professional dancer. Upon moving, I was hired by Physique 57, which is where I unearthed my passion for teaching health and fitness.
3) I ran the NYC Marathon with my dad, brother and cousin in 2011 (and, plan to run 2012 w my bro again this year). We call ourselves Team Turner and support each other in races all year long. My family is a huge source of inspiration in my life and for the classes I teach.
4) I would eat mexican food for breakfast, lunch, and dinner if I could. Rice and beans is my favorite food group ;)
5) All of my pets growing up had names that started w the letter W. Seriously, Weaver, Wally, Wilson....the list goes on.
My class is unique because...
I'm fun yet form specific. I like to make sure each rider understands which muscles we are targeting, is aware of resistance, and engages in a total body workout free of "Simon Says" mentality. My goal is to cultivate educated riders and athletes who can move their body knowing what muscles inspire the movement and why.
In my class Rock n' Roll is my jam!
Stevie Nicks, Metallica, Guns n Roses... just to name a few. But don't be surprised when Britney, Gaga, and various hip-hop all-stars make the playlist! My favorites are remixes of old songs mashed with newer artists. Currently obsessed with the new Fleetwood Mac tribute album: Just Tell Me That You Want Me.
The pace of my class is fast but controlled.
I'm a dancer so I love a fast jog with tap backs. But I'm also an athlete who loves a good juicy hill with a crazy sprint down the other side! Plan to see lots of variety in core work in my class as well.
My favorite store is Anthropologie.
I'm usually in spandex 95 percent of my life, but when I get to dress girly I'm usually always sporting a hippie chic style by Anthro. I also love their home decor items and always have their mandarin sake candles burning at home.
If I have an hour to myself I'm...
On a run by the water, sitting outside drinking a glass of wine, or in a yoga class.
Balance is very important to me.
In this crazy city I think it's so important for people to take time to stop and smell the roses and take care of themselves. I want to be able to be an athlete for many, many years (and I wish that for my students as well!) We must take care of ourselves now with yoga, massage, rest, and downtime or else it won't be possible.
My friends know me as...
The adventurous one. I'm not afraid to do or try anything (except watch scary movies!!)
Check out Emily Turner (@emilyhopeturner) at East 83rd St, TriBeCa and Union Square! Questions or comments? Email blog@soul-cycle.com!