Meet Emily Larger
December 10, 2013
Chances are, if you ride at W 77th St, then you already know EMILY LARGER (or as her co-workers like to call her, Blades). Emily has worked off-and-on at the west side for two and half years, soaking up inspiration from nearly every instructor at Soul. And her experience shows. A true performer, Emily knows how to command a class and let loose at the same time. And her wicked sense of humor doesn't hurt either. Already teaching to sold-out rooms, we suggest you take her class now... while you can still get in!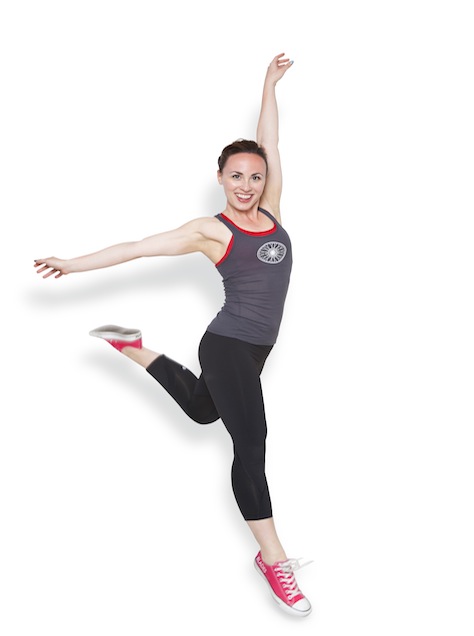 5 things you may not know about me...
1) I'm a Midwestern gal with plenty of Ohio pride. I have a huge family (45 1st cousins...) and some of them miiight play the OSU fight song at wedding receptions.
2) I am an actress, singer and dancer. I've been in numerous regional and touring productions, usually dancing up a storm and understudying the older character women. (I've gotten very good at old age make-up.)

3) While bored on a tour bus I began growing a small business called "subversive stitch." I hand sew very detailed throw pillows with gangster rap quotes in the center. I was featured in Time Out NY and on thrillist.com in february 2010. My parent's taught me to be crafty...I don't know if this is quite what they had in mind.


4) I've worked behind the desk at SoulCycle's UWS for the last two and half years between performing contracts. I am fortunate enough to have been influenced by nearly every instructor in the company.


5) Some people call me "blades" (like razor, not roller). It's a nickname I was given while working at Alice's Tea Cup with Miss Louise Gassman. When I came to work with her at SoulCycle she refused to call me anything else. And so it spread. If there's a bad*ss nickname you'd like to go by, just let me know. I'm all about it.
My class is unique because...
I genuinely want you to become a stronger and more confident individual. I will do everything I can to get you to push to a new level, let something go, and maaaybe crack a smile. (I cannot keep my sarcastic jokes inside).
In class I love to play...
Music that makes you want to MOVE. Classic rock (favorites: tom petty, steve miller band, aerosmith...) Hip hop (favorites: lupe fiasco, jay-z, dr. dre...) and anything with a dramatic flair like prince or scissor sisters. I LOVE THE BAND FUN.
The pace of my class is...
Non-stop. Everything at your max.
My favorite ballet of all time is...
Le Cosaire. And extremely complex three act wonder that I used to watch in middle school when I was home sick. I probably still know most of the choreography.
If I have an hour to myself, I'm...
drinking iced coffee and watching 30 Rock. calling my mother. using my foam roller.
My family is important to me.
I have two fabulous older sisters, two lovely brother-in laws, two incredible nephews, and the greatest mom and dad I know. They have always supported all my big crazy choices. Thank God I live in an age where they are all just a phone call away.





My friends know me as...
The one who takes two days to return a text. But means well. :)
Questions or comments? Email blog@soul-cycle.com!