An 18-Hour Day in the Life of Lily
September 7, 2017
eet LILY. The New York City-based instructor is a bit of a powerhouse — running through 18-hour days that include multiple SoulCycle classes, a part-time office job, a personal training session, and some very essential acupuncture. See how she keeps it straight and sets goals to move forward, ahead.
5:00 a.m. My alarm chirps. Isn't this how every day starts? Pain! Sorrow! Regret! Just kidding. I'm stoked to be alive once I get up and start moving. Usually the joy sets in as I'm brushing my teeth.
5:50 a.m. I get to the West Village studio, where I have been teaching the 6:00 and 7:00 a.m. double since the studio opened what feels like many moons ago. Time to change lives!
8:15 a.m. I am gasping for breath after a rigorous 90 minutes of cardio and camaraderie. I adore teaching so early in the a.m. It's tough, but they are some of my most beloved riders.
9:00 a.m. I meet my new trainer, Mike Castle, at Gotham Gym for my first-ever boxing and training session. I'm nervous and tired and a touch nauseous, so it should go great.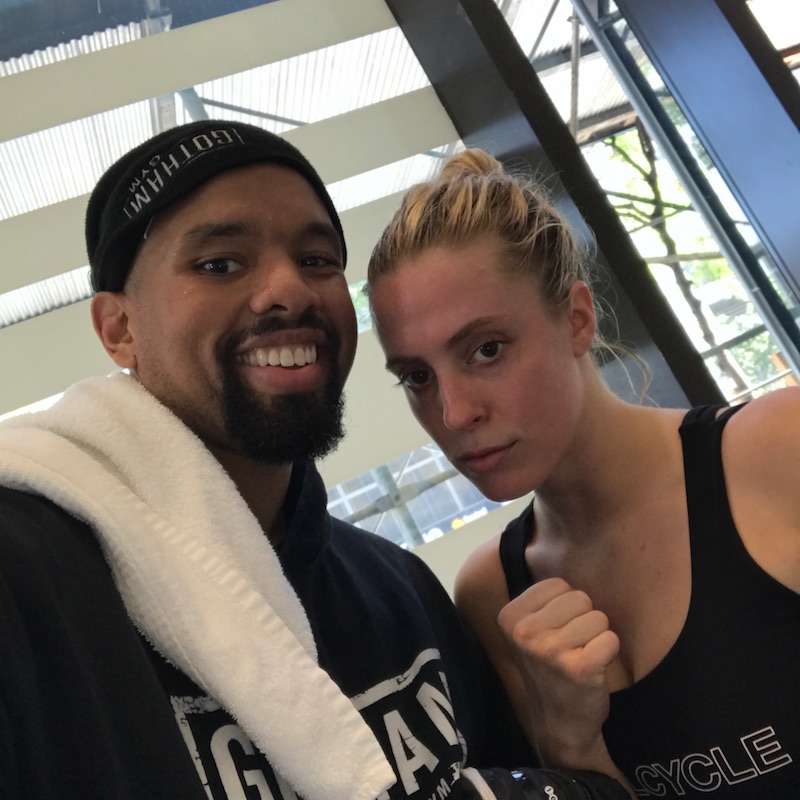 10:00 a.m. I am out of training and it was amazing! Mike is a god. So nice and so tough. When I got back from vacation at the end of August, I started setting little goals for myself: "Keep your apartment clean, set up autopay for your ConEd account, wear matching socks, learn to box." A nice mélange of achievable dreams. And hey, I'm already on my way to boxing!
11:00 a.m. I get acupuncture once a week from the most amazing guy named Noah. He runs the YinOva Center on 11th St. with his wife. It's so zen and the best experience. I lay there like a Christmas ham and as he gently puts needles in me. His dulcet tones and soothing manner always make me relaxed and sleepy.

12:30 p.m. Home and in bed. No regrets, no shame. Must sleep.

1:30 p.m. Dreaming. Maybe of small dogs. I really like Amy Schumer's dog. Have you seen her? Her name is Tati. #Tati.
3:00 p.m. Up and at 'em and in the office for my new side gig as, drumroll please, a copywriter and content strategist for SoulCycle! I love the work I get to do and the people I get to do it with. It's a dream come true if I'm being honest.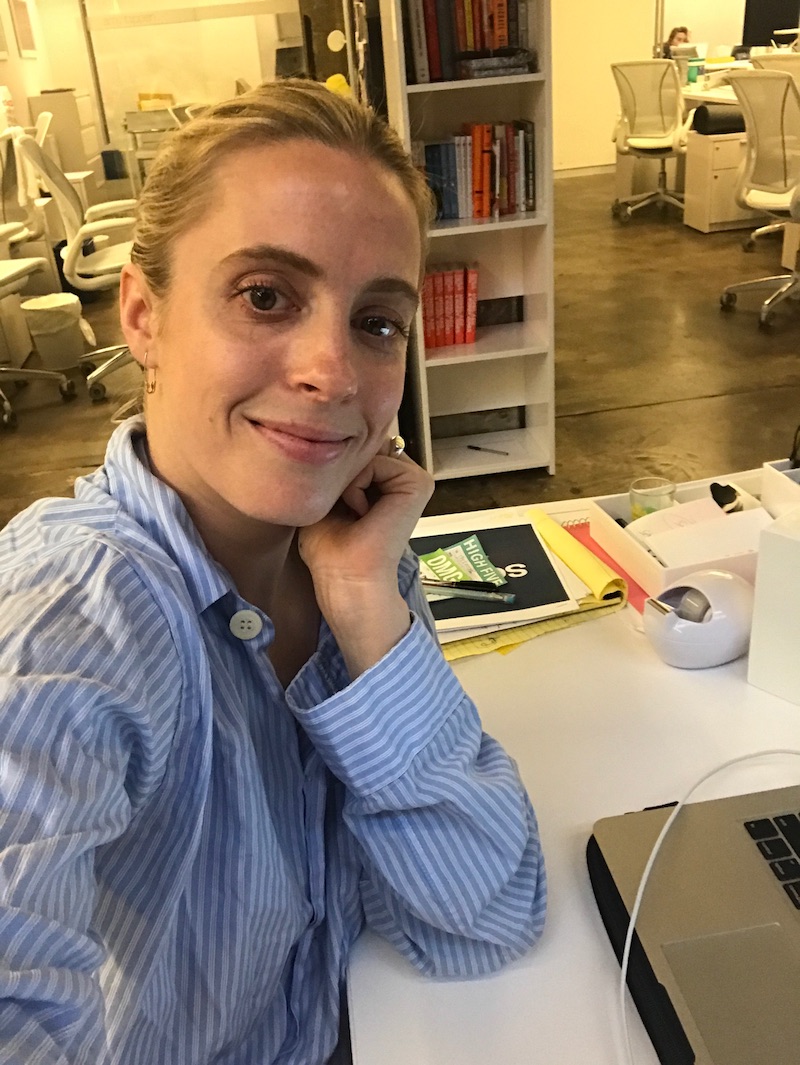 6:00 p.m. After writing copy for a few hours, I hop upstairs to the West Village studio, which happens to be connected to our corporate office, making it the world's shortest commute.
6:30 p.m. I teach my final class of the day. A very cute 6:30 p.m. in the West Village that I love. It's a one-off — I don't even teach it on Mondays — but the powers that be let me keep it because they know how much it means to me.
7:30 p.m. I'm done teaching, done working for the day, and I feel like a ventriloquist doll without a puppet master. I'm all strings and heavy limbs hanging there limply.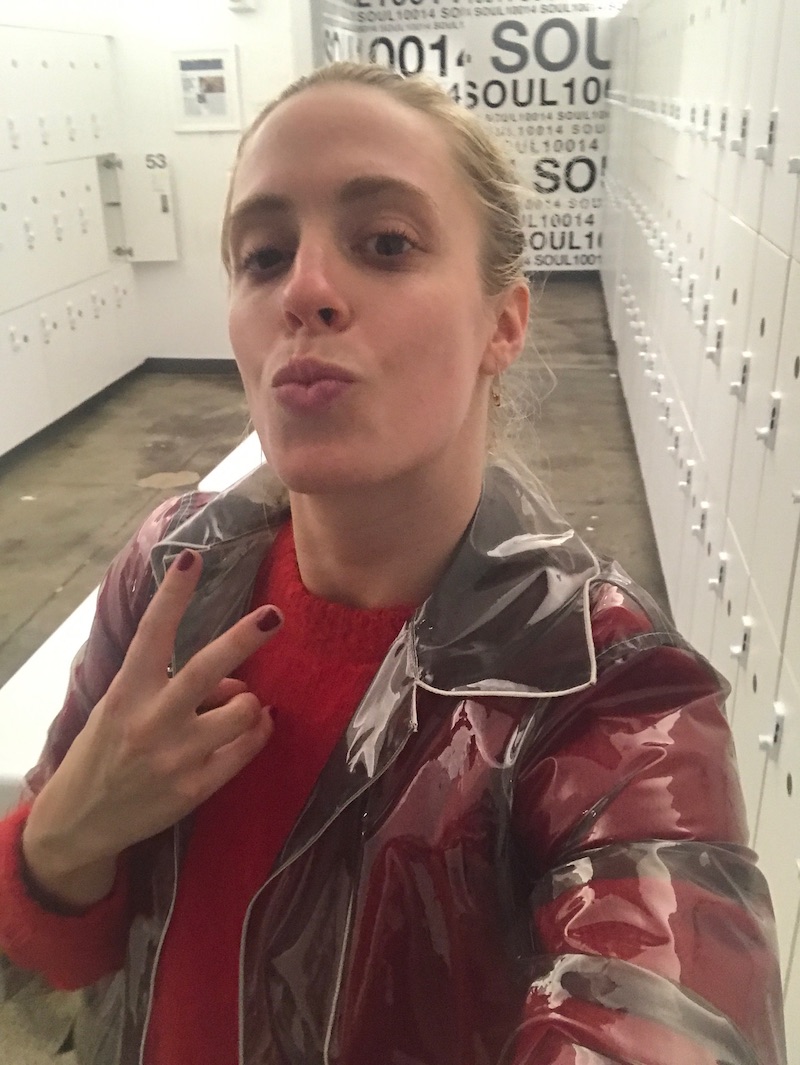 8:30 p.m. Arrive home after doing some dazed and starved grocery shopping (Whole Foods, more like Whole Paycheck, amiright!?).
9:00 p.m. Abandon all hope of cooking. Order in expensive pasta instead. Lay slumped over on the couch watching HBO like some sort of wounded animal.
11:00 p.m. Shower, conduct my nightly multi-step cleansing process that involves French beauty products that likely do nothing but give me pleasure, and finally slink into bed. My cleaning lady has come today. Ah, the virtues of freshly changed sheets. Especially when they were changed by someone else.
11:30 p.m. Set my alarm for the next day with an honest-to-god smile on my face because as exhausted as I am, I can't wait to do it all again.
Catch classes with LILY at NOHO, TriBeCa and West Village. Want to ride? Grab a series HERE and book a bike!