The Cause That Gets Jasmin Dancing
June 7, 2017
nstructor JASMIN DAY spent her childhood as a competitive athlete. Years later, the high-climbing SOUL star is giving back. Find out more about the cause close to her heart, ahead.
I recently had the pleasure of participating in a charity ride for
She Plays We Win
. Started by photographer Christin Rose, "#SHEPLAYSWEWIN is an ongoing photo series, a movement, and a community dedicated to uplifting young women in athletics." It truly inspires me and really connects with my story.
I started playing soccer when I was 4 years old and went on to get involved in different sports in my youth. I am the youngest of three children and we did not have a lot of money growing up. My parents made it work most of the time, especially when it came to having the chance to participate in activities we enjoyed. I am so thankful for every opportunity I was afforded growing up.
I was eventually able to pay for my education with a track and field scholarship to the University of Arizona (#BEARDOWN), where I was a high jumper on the track team and striker for the soccer team. I majored in physical education (K-12) and am now a SoulCycle Instructor because of the impact sports and movement had on my life.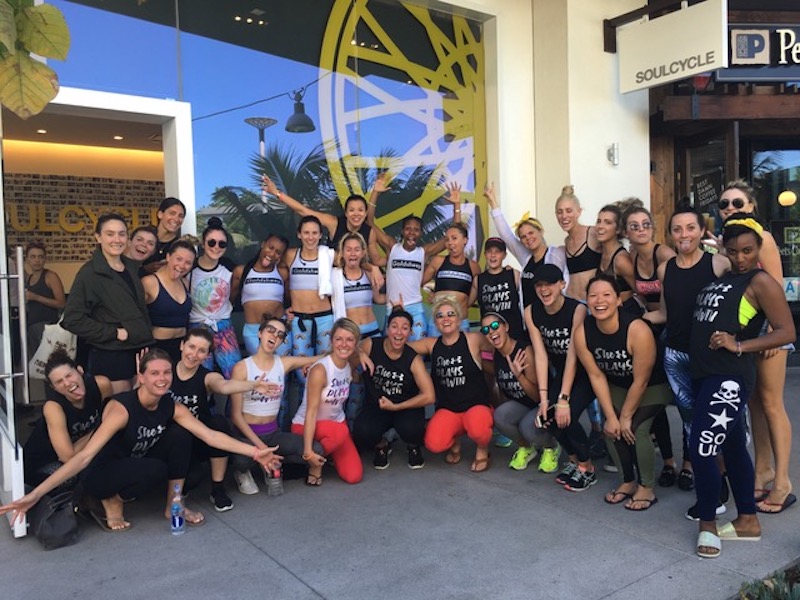 In my involvement with athletics I learned so much, traveled the world, and made the best lifelong friends. Sports played a vital role in teaching me a lot about commitment, determination, and leadership. I'm now in the position to pay it forward and am always down to support empowering people through athletics.
Christin Rose leads this awesome project that does just that. Along with Christin, four other women have come together to use their platforms to elevate this cause. Jillian Davis, Sumner Weldon, Tina Jackson, and Lindsey Simcik have joined forces to help build up not only young women, but people in general, through sports. They have rallied us all together sharing their connections with music, movement, and athletics. I got to be a part of the second ride for She Plays We Win that took place at
MNBH
.
Sumner and Jillian taught the class to a packed and vibrant room of awesome women and it was epic: Vibin' together to raise hope for girls, like myself, who might not have had the opportunity to pursue sports otherwise. A time when we could come together, celebrate, and uplift the next generation of young athletes and humans. Through a team effort, the crew was able to raise $5,000 (if you'd like, you can still donate HERE). The money raised from the event goes straight to the girls, "who through application are awarded $1,000 Scholarships each to pursue the sport of their choice." This scholarship can help pay for equipment, uniforms, and competitions, among other needs.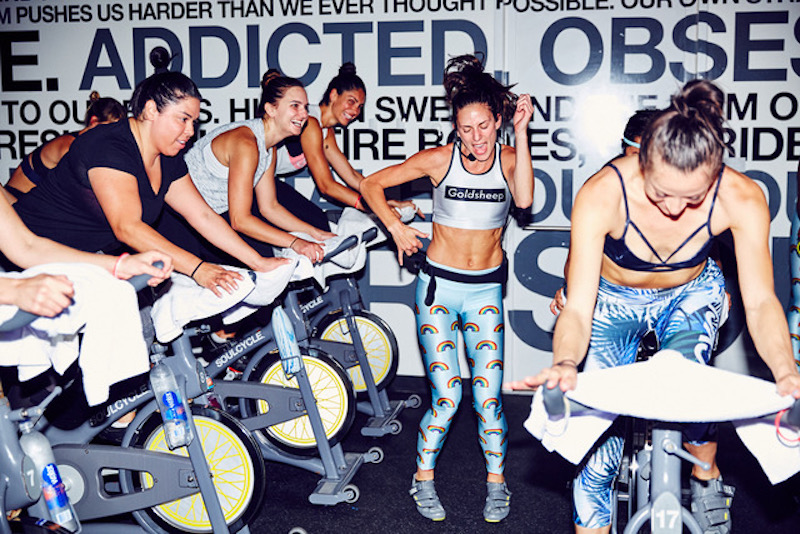 We had the pleasure of meeting Hannah, a young superstar tennis player. She spoke to us about her love for the game, what it has taught her, and how much the scholarship means to her. Cheers to Hannah and the other little homies out there showing up and showing out — for repping hard on and off the playing field, putting in the work mentally and physically, and pursuing their dreams.