Inside Jaclyn's Soul Journey
December 26, 2014
After SOUL helped her find "a sense of pride and purpose," NYC instructor JACLYN MITGANG got inspired to lead the pack. Now rocking the podium at 19th Street, FIDI and Union Square, she shares her journey…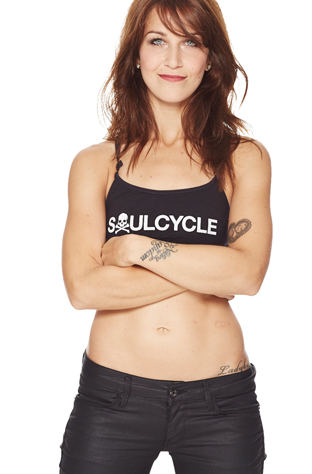 I first heard about SoulCycle in March of 2013, when one of my favorite singers, Christina Perri, tweeted about it. Out of curiosity, I signed up on the website and bought a class. It then took me three weeks to work up the courage to book the class and go.
My first SoulCycle class was on April 15, 2013. I reserved a bike for the 12:30 PM class on the Upper East Side with a rockstar named Noa Shaw. I reserved bike 12 because 12 is my number. I had no idea it was "front row center." So yeah, there I was. Bike 12.
Before class started, Noa came over and introduced himself to me. We commented on each other's tattoos and he made me laugh. I felt very comfortable. Then the door shut, the lights went out, and "Madness" by Muse started playing. Within the first few seconds of the song, I remember thinking, "How did I not know about this before?"
I loved the dark, I loved the music, I loved the energy that was already beginning to stir within the pack. I loved the feeling that was coming over me and as I started to delve into the experience more, I began to feel the most myself that I had done in quite some time. That's all I really remember from my first ride. Everything else after that was a magical blur. It was something special and it continued every Monday at 12:30 PM for the next few months.
Timing was everything. SoulCycle came at a very crucial point in my life. It was a year after college and I felt lost. In the beginning, I was going to Soul because I loved the music and the new environment. The fact that my body was transforming was an added bonus as I was more aware of the fact that I was changing emotionally. I felt like my mind caught up to my body and for the first time in my life, I felt that both aspects of myself were strong.
It was all just a big surprise to me. Out of nowhere, it felt like everything in my life leading up to to that point finally made sense. Everything I had ever loved, my years of being a tomboy and playing sports, my passion for music and years of performing in a band, to the years of training in theater, all started to resurface and intertwine together within those 45 music-pounding, theatrical and challenging minutes. I finally felt like I was able to be my whole self and I began to feel a sense of pride and purpose.
On October 6th, I celebrated my birthday at Noa's Rockstar Ride in Williamsburg. During the intro to No Doubt's "Sunday Morning," he told everyone I was in a No Doubt tribute band for eight years before telling me to get on the podium for the very first time.
After, he told me to get ready for instructor auditions — and I just laughed. I was humbled by the idea of it and content in the fact that I was just hired for front desk at the new 19th street location. Working for SoulCycle was a dream come true already. I thought that was it.
On New Years Eve, I sat down with my notebook and wrote a list of manifestations, the last one being "to live like a SoulCycle Instructor for two weeks." I was going to ride 10+ times a week to find out for myself if it was something I wanted/could do. I kept it quiet but reached out to Ben Turshen, who had needed podium riders while he recovered from an injury. I knew from the first podium ride at Union Square, that the dream was loud and clear in my head.
I began what I called "training for training" and started riding all over the city with Melanie, Marvin, Danny, Janet, Lindsay, Kaili, and Parker. It took place while I was on an intense skin medication called Accutane. The medicine takes a toll on your joints and makes you feel exhausted overall. The fact that I wanted to ride and push on even during my discomfort, I realized that I had never felt this kind of determination before.
The strength from SoulCycle helped me and the support from family and friends kept me going. I owe a lot of credit to a lot of special people.
I am so grateful for the journey that I've had at SoulCycle before becoming an instructor. I love that I was a rider first. I love that my experience as a rider helped shape how I approached my job as front desk for a year. I know that all of the different steps in my journey will absolutely inspire my way of teaching.
I believe that whether you are in the pack as a rider or in the pack as an instructor, the relationship in that room is mutual. We work together. We inspire each other.
Now, I get to challenge my riders the way I was challenged, I get to support my riders the way I have been supported, and together we celebrate the most beautiful thing of all — the fact that in that room, we get to be unapologetically ourselves. Once a rider, always a rider.
I believe in embracing the things that scare you. I believe that dreams can always be bigger, surprising yourself is a good thing, and living outside of your comfort zone can become comfortable and right.
A mantra that inspires me is *Ladybug Love — Love that is with you no matter where you are or what happens* I've dealt with a lot of loss in my life and came up with this mantra when I was 15. It inspires me to celebrate life in honor of those that I have lost and reminds me to love fully.
Catch classes with Jaclyn at 19TH Street, FIDI and Union Square! Questions or comments? Email blog@soul-cycle.com!