Get to Know Instructor Kevin Cummings
March 28, 2016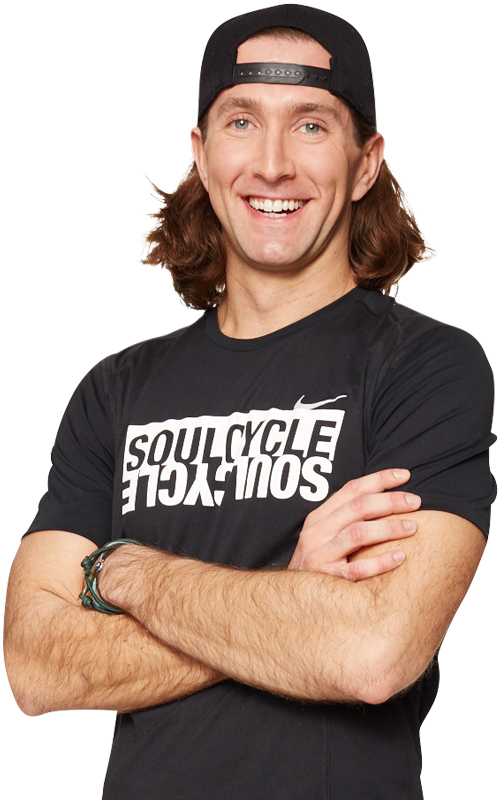 What inspired you to become an instructor?
I was a rider since 2013 and had always thought about pursuing a career as an instructor, but was always too afraid to leave the "normal" corporate job trajectory. When I first started riding a few years ago, my friend and I would use SoulCycle as our weekly reward for making it through another week at work. At the time I was working at a start up management consulting firm that had just opened up its New York office. We would go to the Friday night class in Tribeca and then go to our favorite Italian restaurant around the corner. It was our Friday night ritual and it only grew from there. We began to build relationships with the instructor, other riders in the class, and even recruited more friends to partake in our routine. As my love for SoulCycle began to grow, I started to incorporate more classes into my weekly workout routine, often traveling across the city at all hours of the day/night to try a new instructor. I also used it as a cross-training tool for my marathon training- it was a great way to flush out my legs after a strenuous long run. Over time, I began to get complacent in my job, never feeling a true passion for what I was doing. I wanted a change and I knew that I wanted to do something that was fitness-related, always day dreaming about the possibility of leading the pack on top of the podium one day.
What made you make the leap?
When I left my the management consulting firm last May, I started working at the front desk at SoulCycle Tribeca. I was riding a lot more (two, sometimes three classes a day) but was still hesitant to take the plunge and audition to be an instructor. I was studying for the GMAT at the time and I was planning on going to business school and re-entering the corporate world in some capacity. But after a long conversation with my best friend John (a friend of 15 years and a former Tribeca key-holder), I realized that I was traveling down a career path that I was not passionate about. It was there that I committed to trying out to become an instructor and started to prepare myself for the journey ahead.
How did you prepare?
I started riding in more instructors' classes and talked to them afterwards about their playlist or the structure of the class overall. Two Tribeca instructors in particular (Bevin and Lily) took me under their wings and mentored me through the audition process. They helped me pick my audition songs and gave me tips on how to best position myself for the audition process. I tried out in November and got a second round audition in December. A few days after my call back I was accepted into the instructor training program. I will never forget the day that I received that email: I was at Tribeca (working a Lily 1:00 PM check-in) and I happened to check my phone and just stood there in shock. There was a solid 10 minute celebration and even the riders going into class were congratulating to me. It was probably one of the best days of my life to date.
Awesome! Then what happened?
The next month I joined my fellow Group 21 trainees at the corporate office and the rest is history. It has been an incredible journey and I am so fortunate that I get to do this as my job every single day. The greatest part of this process is that I'm just one person whose life has been changed by SoulCycle, and there are thousands of others out there whose lives are positively affected by this company every single day.
Do you have a mantra you live by?
Work hard, play hard.
Who is the most inspiring person you know?
My Dad.
Do you have a favorite movie?
Zoolander.
What's on your grocery list?
Poland Spring Seltzer water: I drink at least two bottles of this every day. Lemon and orange flavored are my favorite!
Chicken breasts: An easy protein to eat by itself or throw on top of a salad.
Pretzels: They're great to eat on-the-go or while sitting on the couch watching TV.
Bananas: I love to eat these if I'm doubling — the potassium helps prevent cramping!
Eggs: I'm no Emeril in the kitchen so I love to whip these up for a quick breakfast or an easy dinner.
Sour Patch kids: Treat yo'self!
Red wine: It's rich with antioxidants — for the heart!
If you had a theme song, what would it be?
"The Nights" by Avicii. I love the line: "One day you'll leave this world behind. So live a life you will remember."
What did you want to be when you grew up?
A professional monster truck driver.
Which TV show are you obsessed with?
Friday Night Lights. Always have been, always will be.
One word people use to describe you?
Genuine.
What never fails to get you out of a bad mood?
Hanging/catching up with one of my friends.
What's on your bucket list?
• Hike the Inca trail to Machu Picchu
• Run a marathon in every state in the US (4 down, 46 to go!)
• Go sky-diving (my last attempt was thwarted by a thunderstorm)
• Visit Australia
Last book you read?
You Are a Badass: How to Stop Doubting Your Greatness and Start Living an Awesome Life.
What is the best advice you've ever received?
"Never let your highs be too high or your lows be too low." — My Dad
Catch classes with KEVIN at
SoulCycle Preston Hollow
! Questions or comments? Email blog@soul-cycle.com! W
ant to ride? To book a bike, grab a series
HERE
then book a bike!
MORE FROM SOUL