Garrett's Soul Journey
October 30, 2014
DC instructor GARRETT SCHLOSSER opens up about what first brought him to SoulCycle, why he decided to start leading the pack, and who's his biggest inspiration…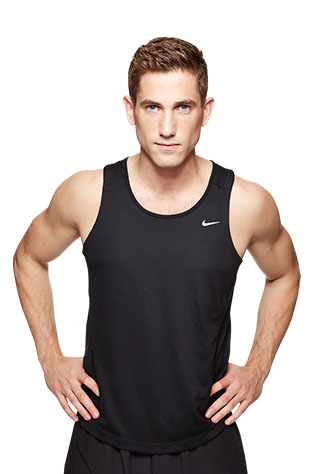 What first brought you to SoulCycle?
My good friends Sarah Buchanan and Chris Layda wouldn't stop talking about this incredible company they worked for in New York City. I had never heard of SoulCycle and didn't give it much thought until I graduated from college in 2012 and began the job hunt. Sports and fitness has always been a big part of my life, and I certainly trusted my friends' advice, so I did a little research on SoulCycle and applied to be an Assistant Manager.
So what was your first ride like?
My first class was....painful. Talk about a piece of humble pie! I had never taken an indoor cycling class, however, I knew I was in pretty good shape when I walked into the studio for the first time. Man, was I in for a surprise. I remember walking out being impressed, confused, and instantly addicted. I grew up playing both sports and music, so finding a workout that perfectly blended the two was truly life-changing.
What kept you coming back?
Besides being determined to become the best rider I could be, I also got a job! I moved to NYC and started working at the West 77th Street studio on April 1, 2013.
What inspired you to become an instructor?
At SoulCycle, we talk a lot about facing our fears and being our best selves. I loved my job as an Assistant Manager and was blessed with some incredible opportunities over a short amount of time. However, when I began to think more and more about my future with SoulCycle and why I loved the product we deliver so much, I realized it was time for me to face my fears and take a chance. I knew all along that I secretly wanted to be an instructor one day; I simply didn't believe I could do it. With a little encouragement and a lot of deep breaths, I finally took the plunge and auditioned. It was, by far, the best decision I've ever made.
What's the difference between being a rider and being an instructor?
For me, the only difference is the microphone. I've always had an internal dialogue going through my head as I rode, now I just get to share it with others. No performance, no trickery, just an opportunity to try and give back what Soul has given to me.
What is your biggest inspiration?
My father. He truly inspires me day in and day out. I can only hope to be the man that he is one day.
Any mantra that motivates you?
It takes strength to feel weakness!
Catch classes with Garrett at Soul DC! Questions or comments? Email blog@soul-cycle.com!