Day in the Life of MK
December 17, 2014
What's life like as a SoulCycle instructor? Bay Area rockstar MK HURLBUTT gave us the rundown on everything she squeezes into a day, from tapping it back with her bro to eating on the go...
4:45 AM
Wake up, y'all! Get my bag packed, call an UberX and make my way over to the SoMa studio for that 5:45 AM rooster class!
7:00 AM
I think I'm in love with those rooster warriors. Time to rinse off and then take a short power nap before my 9:30 AM class back at SoMa. Wait, is that a T-shirt? "Ride, Rinse, Rest, Repeat?" Someone please get on this ASAP!
11:00 AM
The 9:30 AM riders crushed it! After a quick shower and change back into some more SoulCycle gear, I head to The Plant for a bite with my best friend who is town from New Zealand! I got the Quinoa Bowl with Chicken 'cause I've got one more class and MK needs her protein.
1:00 PM
Back at home, on the couch, listening to music, downloading new beats, and catching up on emails. Ok...so maybeee Law & Order is on in the background too but whatever.
3:30 PM
Grab a green smoothie from the Earth Bar that just opened up next to the Union Street SoulCycle and doubling up with an almond milk latte from La Boulange. Don't worry: Even though I haven't mentioned it, there has been a smartWater attached to my person at all times throughout the day. HYDRATE, HYDRATE, HYDRATE. Jump in the '99 Cadillac D'elegance (yup ya know dis) to get my booty to Palo Alto for my 5:30 PM class.
6:35 PM
5:30 PM Palo turned it outtttt! My little brother even came! Now I'm done for the day so it's time for one more shower before the drive home back to San Francisco.
6:55 PM
Ok, JK it's a long drive home so I run next door to Chipotle to get a quick chicken taco for the road, guacamole obviously included. #notsorry
8:30 PM
Arrived home to find that my amazing roommate Kit made a fresh batch of spaghetti squash with ground turkey. Fry an egg over that, add some spinach, and BOOM. Best domestic life partner ever. #bff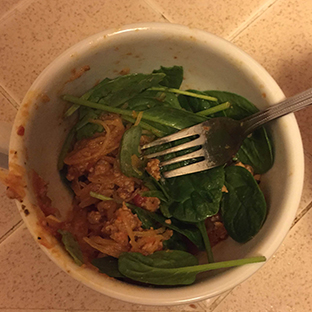 10:00 PM
It might have been an early start to the day, but I had to stay up to watch the reunion special of Are You the One? on MTV. Guys, this show is crazy. Crazy.
11:00 PM
Awesome, awesome day with so many amazing riders and friends. Feeling so happy and grateful (especially for that spaghetti squash situation). SWEET DREAMS! THIS CHICK IS DOWN FOR THE COUNT!
Catch classes with MK at Soul SoMa and Soul Palo Alto! Questions or comments? Email blog@soul-cycle.com!