A Day in the Life of Taylor
September 1, 2015
From making killer playlists on the beach to whipping up his signature shake (recipe included!), Coral Gables instructor TAYLOR SHANK takes us through everything he squeezes into a day…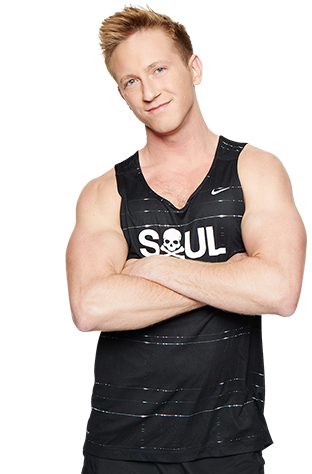 6:40 AM: Wake up and make some coffee and a light breakfast of a couple eggs and some oats, then craft a playlist on my balcony watching the sunrise over Key Biscayne. It's hard not to be inspired when this is how I start my day.
8:00 AM: Arrive at SoulCycle Coral Gables ready to rock! Down in Miami, riders are always bringing the heat, even at 8:30 in the morning. (Bars and clubs do not close here at 1:30 AM like they do in LA!)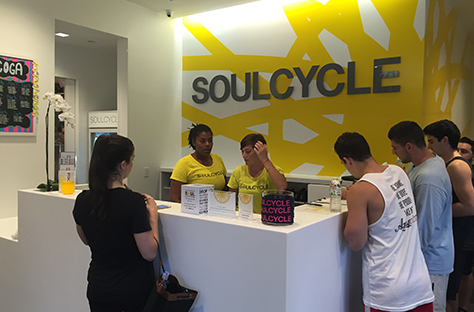 9:15 AM: Great class, and I'm soaked. I goof off and joke around with fellow instructor Allison in between classes — we cross over almost every class we teach!
9:45 AM: Go meet up with my BFF and fellow instructor Soeuraya for some coffee and a second breakfast. Unlike Allison, we never have any classes back to back. She is the jelly (sugary and sweet) to my peanut butter (thick and crunchy), and we are always on the same page. I could not have moved from LA and adjusted down here without her.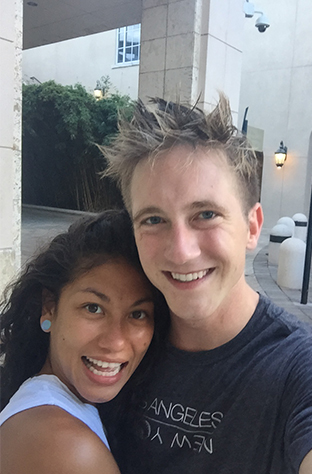 10:45 AM: Hit the gym. Wednesday is leg day! Cross training is crucial to athletic balance, and muscle development off the bike will only help you stay stronger, longer on those thick pushes and heavy breakthroughs in class.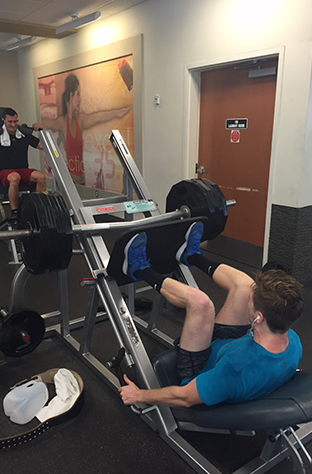 12:15 PM: I make a protein shake to assist in my recovery from my 8:30 AM and hitting legs in the gym. Because I have such a fast metabolism, but only want to gain lean mass, I have a special shake I make. It provides carbs as quick expendable fuel, yet proteins to build muscle! Great for sustaining high energy all day long. Here's my recipe:
1 cup unsweetened almond milk
1/2 cup of oats
40 g of chocolate whey protein isolate
2 tablespoons of peanut butter
1 banana
Blend it all together and drink!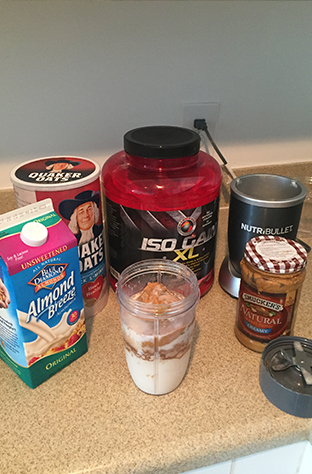 12:30 PM: Head to my building's pool deck for a round of rooftop tennis. With the sun shining all day long and so many activities at an arm's length, I have to play outside (if I have the energy!)
2:00 PM: Catch a quick ride to the beach of Key Biscayne to soak in the salt water with my friends and former LA roommates, Tyler and Ashley. I met Tyler while lifeguarding in Myrtle Beach, so it's no secret we love being by the water. Just being in the ocean for 20 minutes can restore and assist muscle recovery — nature's natural Epsom Salt bath!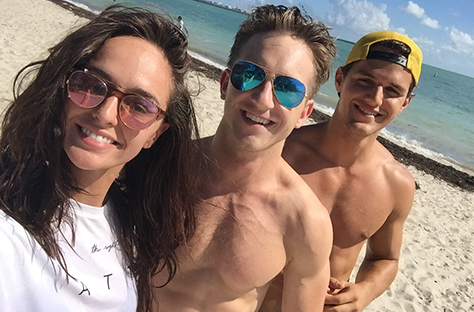 4:15 PM: Head back home and down to the pool deck to nap and make a playlist before my 7:30 class. I also do static stretching in the deep end and hot tubs— the water helps me move and bend in ways I'm too tight to do so on land!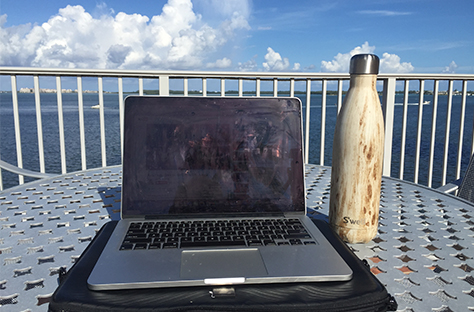 6:30PM: Make moves back to COGA for my 7:30 PM class — I love this class because a lot of my friends I've made in Miami ride at this time, and the energy is always high. And, like a true #SoulFam member always does, fellow instructor Aubrey came to ride! I know we hashtag it all the time, but #teamCOGA really is strong and unbelievable. How many other jobs are there where you see your peers, your co-workers, and best friends all day long on a supportive basis while having fun and getting better? Uh… is college a job?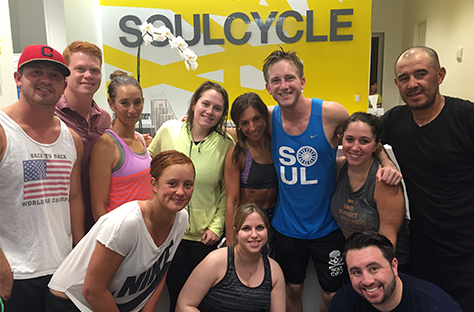 8:45 PM: Family Dinner! The first Soul class I rode in was the Wednesday 7:30 PM in Santa Monica, and I was hooked on the family dinners that took place after in Tender Greens across the street (how I miss you so…) This week the 7:30 riders and I head to Akashi in the Grove for some sushi, sake, and wine! One of my favorite parts about this job is the community of happy, positive go-getters, and how it's not only in Santa Monica, but now nationwide!
10:45 PM: Back home! Give my mom a call and wish her good night (she's my number one fan). I don't teach until 5:30 PM tomorrow, but it doesn't matter. My body calls for sleep and I answer! Night night and can't wait to see what is in store for tomorrow.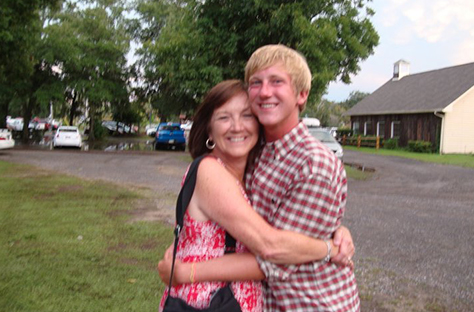 Catch classes with Taylor at SoulCycle Coral Gables! Questions or comments? Email blog@soul-cycle.com!
MORE FROM SOUL