A Day in the Life of Elianna Sable
May 12, 2017
rom rocking the podium to bathing her baby girl, instructor ELIANNA SABLE has one seriously packed schedule. She gave us all the details on a day in her life…
Hey, I am Elianna and I have been riding at SoulCycle since just about the day it opened on 72nd Street! I was a 19-year old college student, and somewhat out of shape. Fast-forward a dozen years and I'm healthier and in better shape then I ever was back then! I'm a mom of my 18-month old daughter Goldy, a wife to my awesome husband Yoel (who doesn't ride nearly as much as I want him to!), and a SoulCycle instructor to inspiring New Yorkers who make my job and my days so fulfilling. Here is a glimpse into my average Monday...
6:15 AM
The glorious sound of the alarm! I quickly press snooze and sleep for another 8 minutes (10 is too long). When the alarm goes off again, the race begins, and I scramble to do everything I need to get done before I get Goldy (aka baby G.) from her crib. (But first: I quickly check my Instagram feed and catch up on all the things I missed while I was sleeping.)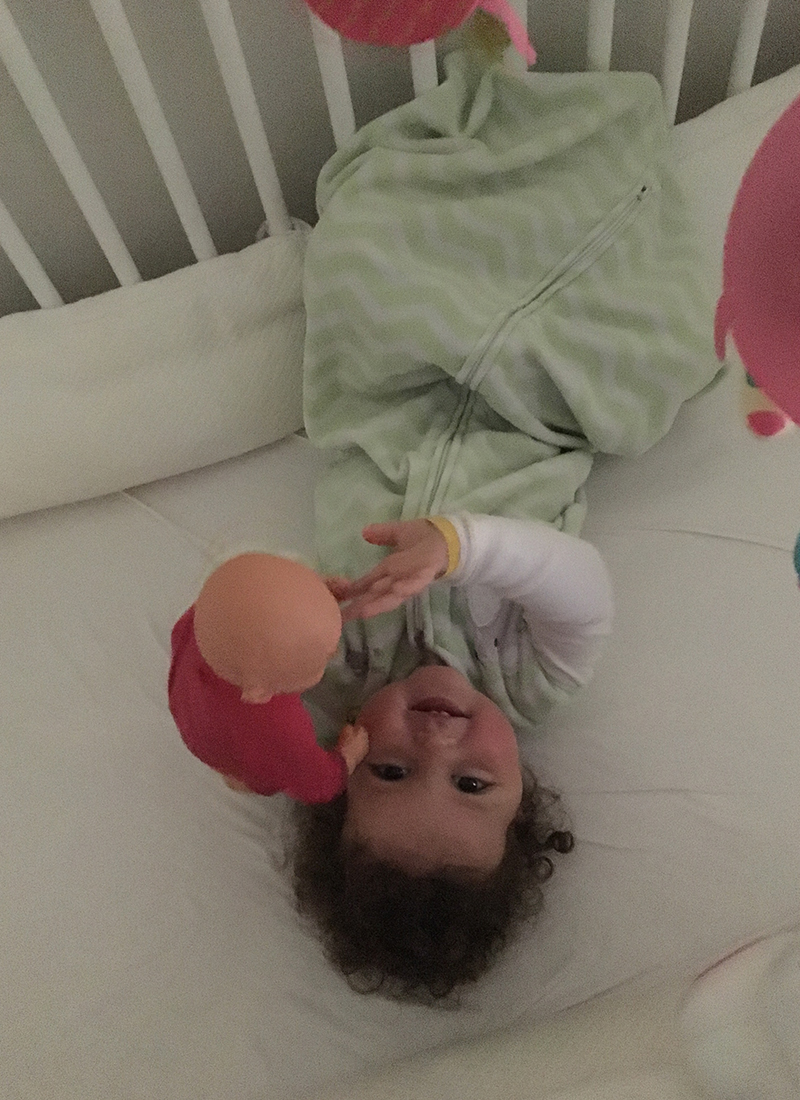 6:41 AM
I am all showered! To me, a shower in the morning is better than coffee! I even shower at 5:00 am before I teach Roosters. My bag is packed (three outfits for three classes) and I make myself a big cup of warm water, lemon and ginger (weekend bloat anyone?). I tidy up my apartment and take a few minutes to sit and meditate/pray.
7:01 AM
Let the games begin! Goldy's ready for me with her huge and infectious smile! Lots of excitement to come out of her crib but… that diaper! Sorry! Too much detail?
8:02 AM
Breakfast and playlist time! While Goldy munches on her scrambled eggs, a clementine (her favorite fruit) and a homemade blueberry muffin made of coconut flour and bran, I grab the opportunity to prep my food for my day. I am teaching three classes and I get hungry! With the playlist blasting in the background, I chop a salad, slice a pear, zip some carrots and sugar snap peas into a bag, and make myself a big veggie omelette for breakfast. Well, apparently the perfect amount of time needed to create an omelette is also the exact amount of time Goldy needs to pour her breakfast all over her head. A quick clean-up and we're ready to finish our breakfast together!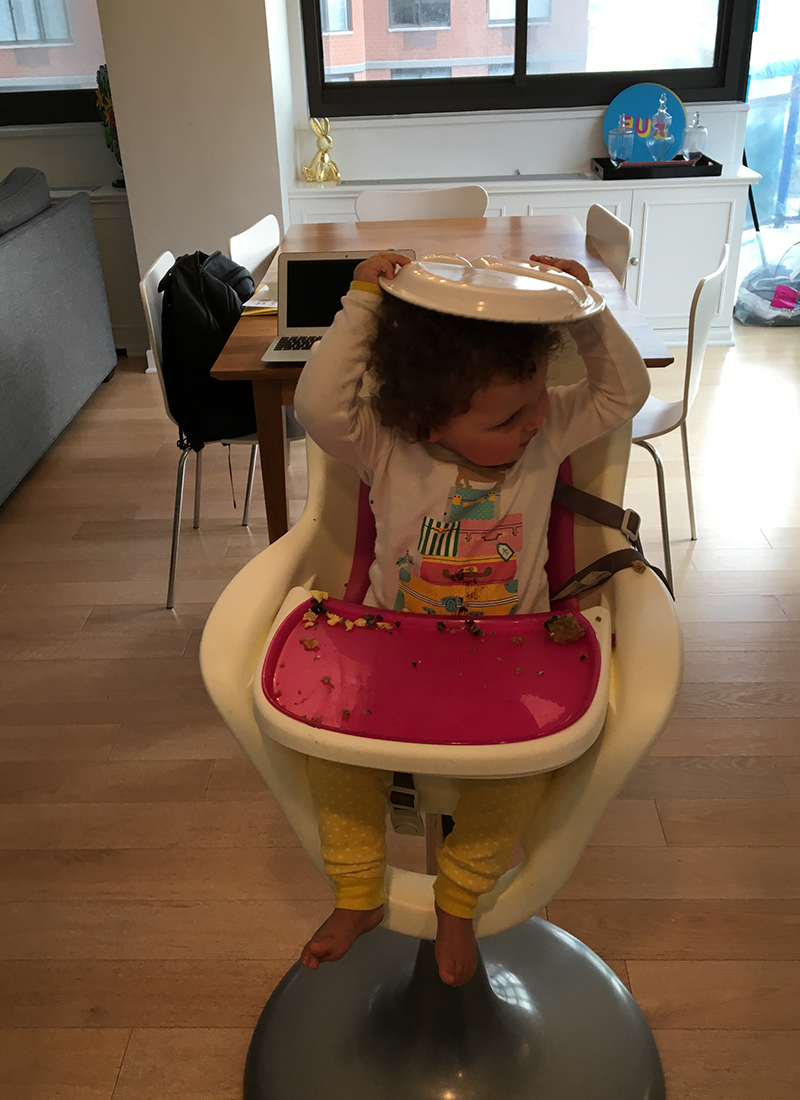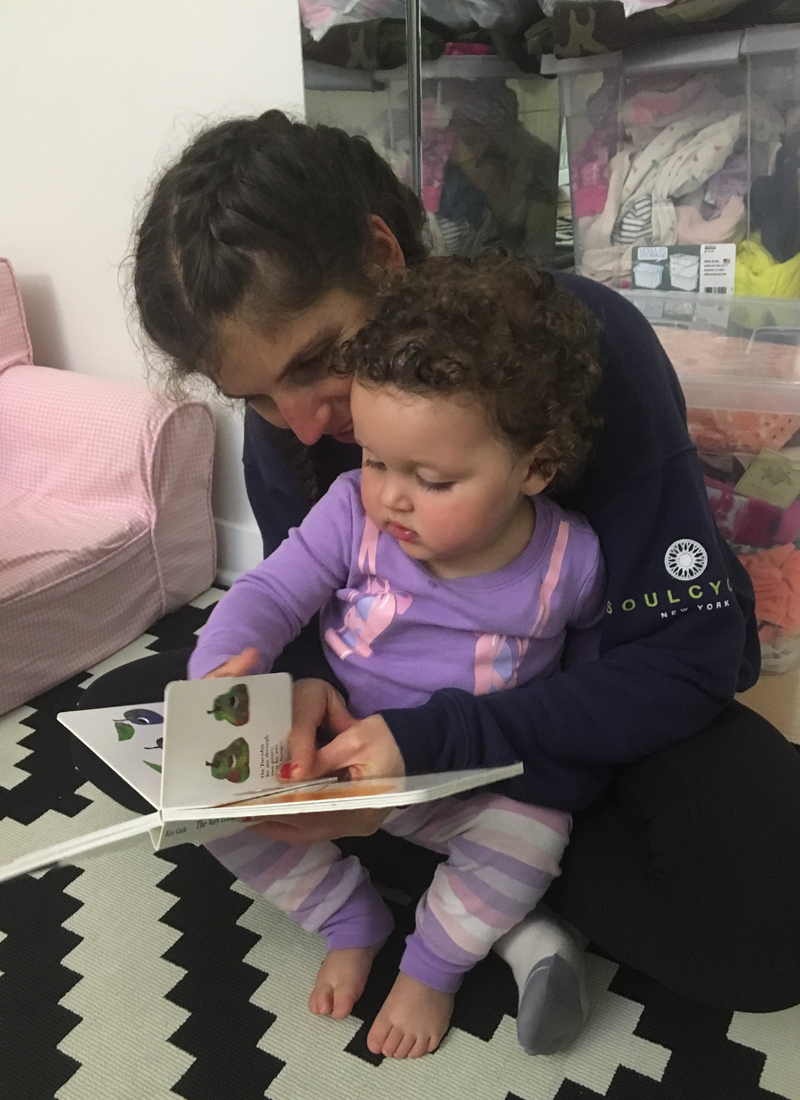 8:44 AM
Here's my chance to play with Goldy! Books, blocks, puzzles, even riding her scooter around our apartment...it's the best way to start my day!
9:17 AM
I am ready to go! With a little bit of time to spare and some spring weather, I can't resist the crosstown walk to my 10:30 class on
West 92nd Street
from my apartment on the East Side. The energy of Central Park is contagious and such an awesome way to ground myself, clear my mind and get me charged for my classes on a Monday morning!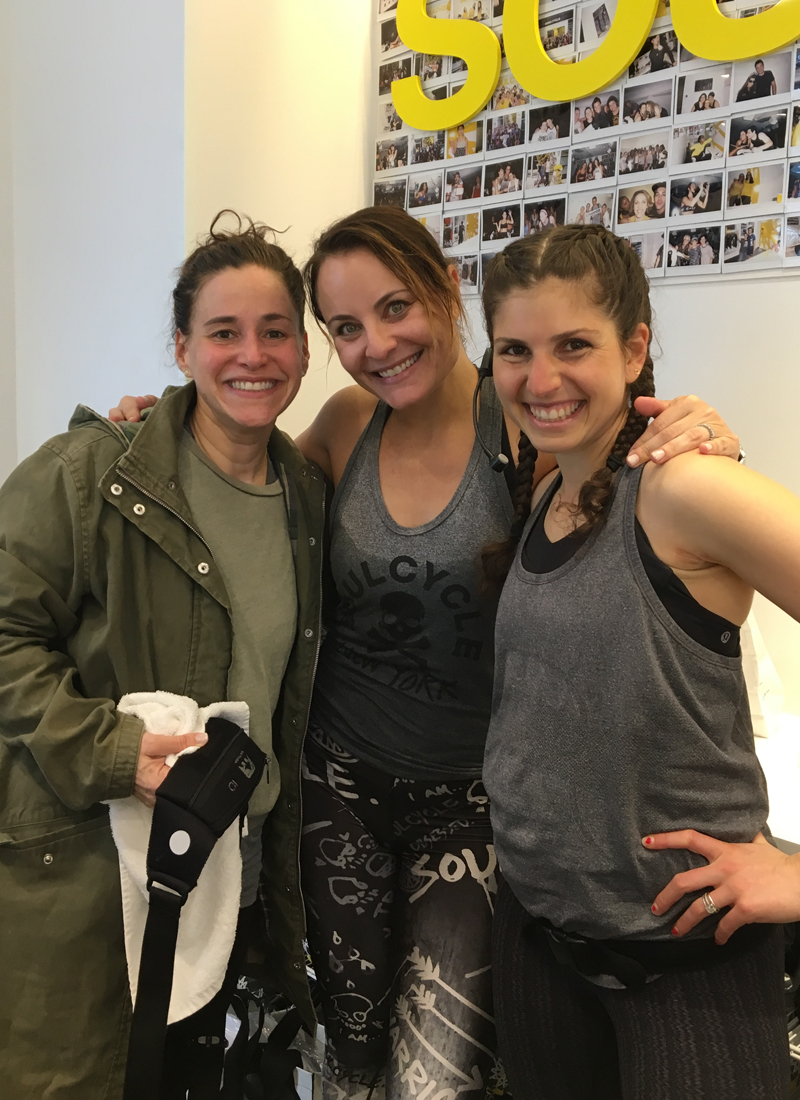 9:59 AM
Walk into
SOUL West 92nd
and am greeted by the awesome staff, all pumped for a great day! I am a little early so I rock it out to Julie D.'s Killer playlist who teaches before me. Extra bonus: Master Braider Abby, who works the desk, masterfully styles my hair! Our look of the day is boxer braids!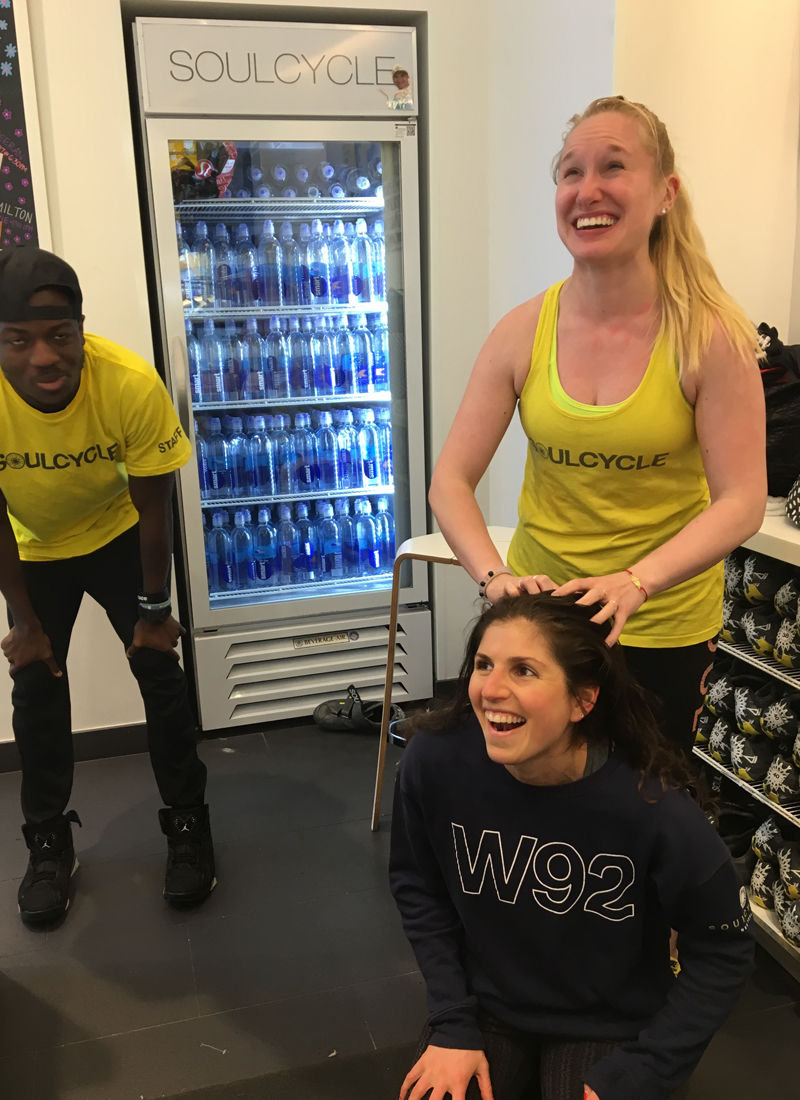 10:30 AM
Class time!
11:31 AM
A quick wardrobe change and I run to do a personal training session, which I do on the side. It isn't always easy for everyone to get to class! My client recently had twins! While she does squats and burpees, I pound water and eat my pear. My favorite pears are those humongous, juicy ones that if I'm lucky I can find at Fairway) and I do a few sit-ups with her.
12:40 PM
On the run again: I race to
West 77th
and get to live my dreams back on a bike at 1:00 PM! I have been teaching this class since I started teaching seven years ago! A big bonus is that my sister drives in from Englewood to ride with me!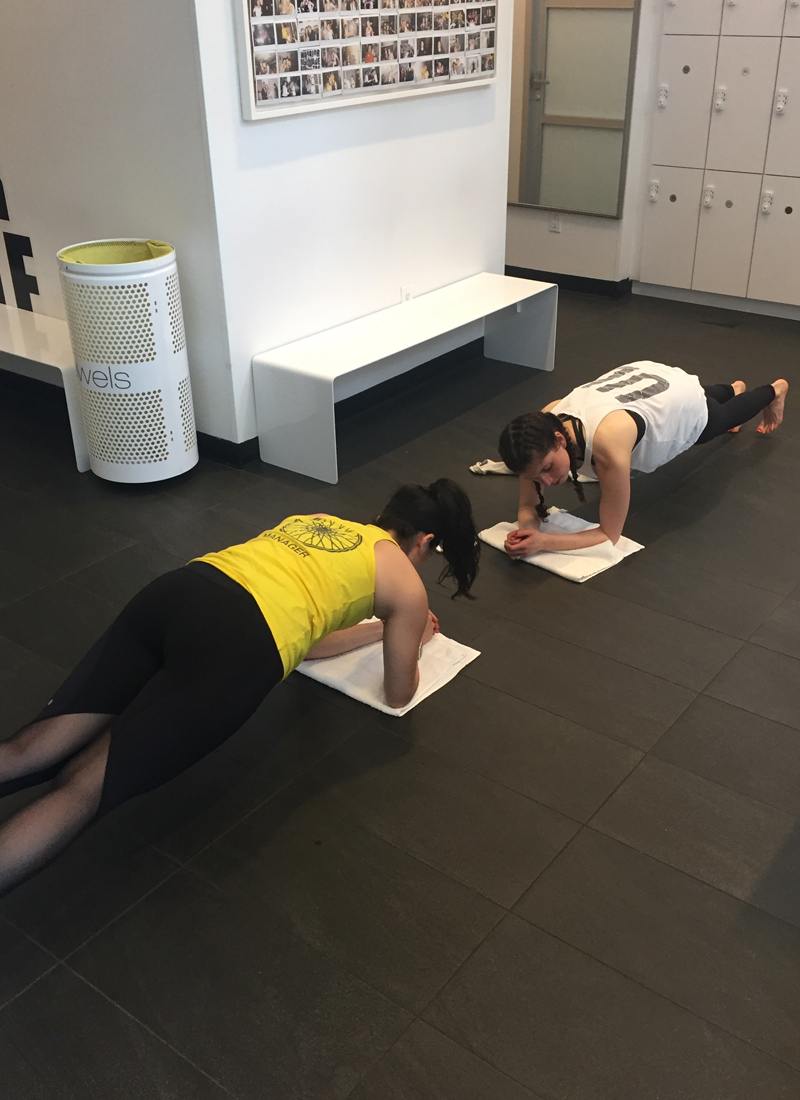 2:01 PM
Lunch time! And yet again, another wardrobe change! But before I dig in, Alyssa, the area Manager of the UWS, and I do my 5 minute ab challenge (follow me at
E_kable45 on Instagram
) It is a 4-week, 5 minutes a day ab workout and we have one week to go! I eat my lunch — yes, I have been dreaming about it all day — listen to some new music, and run into Juice Press to buy some kale chips! I literally am beyond obsessed with them!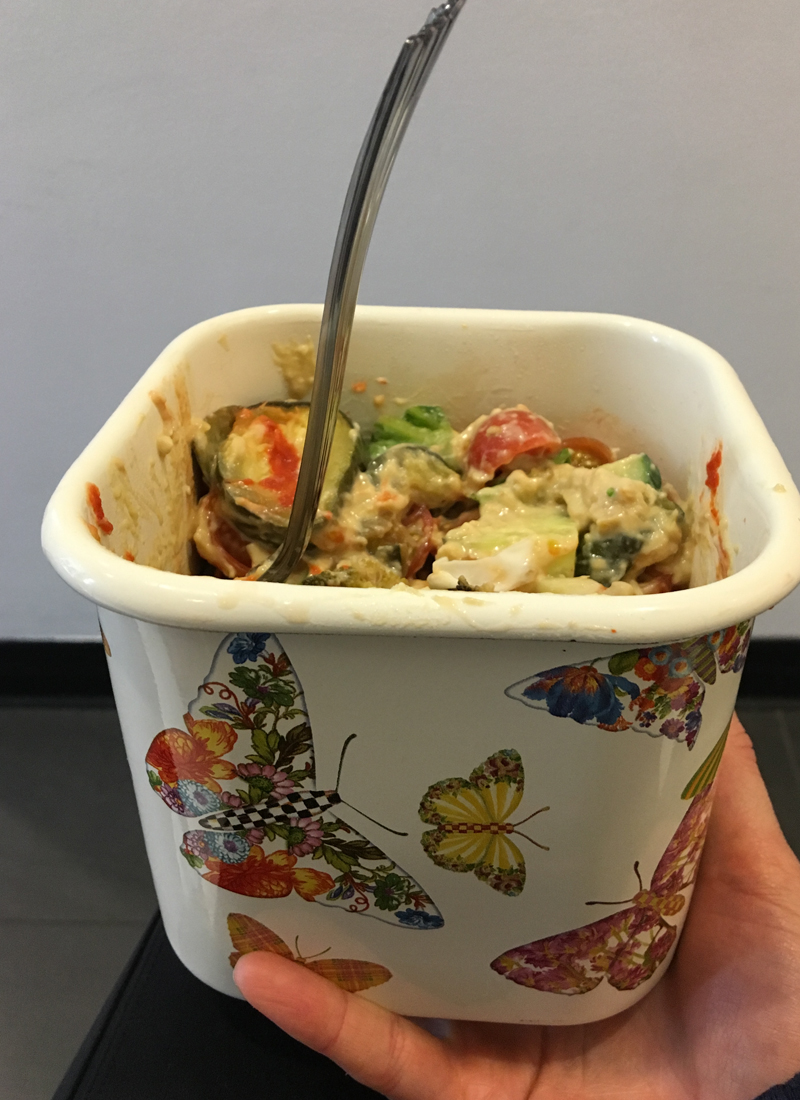 3:29 PM
Call my Via (I don't know what I would do without you, Via!) and head to East 83rd Street for my last class of the day! This Via is making about 10 stops and there is a nice amount of traffic! Help! Sooo happy I left early!!! Back inside, I am once again greeted by the awesome staff.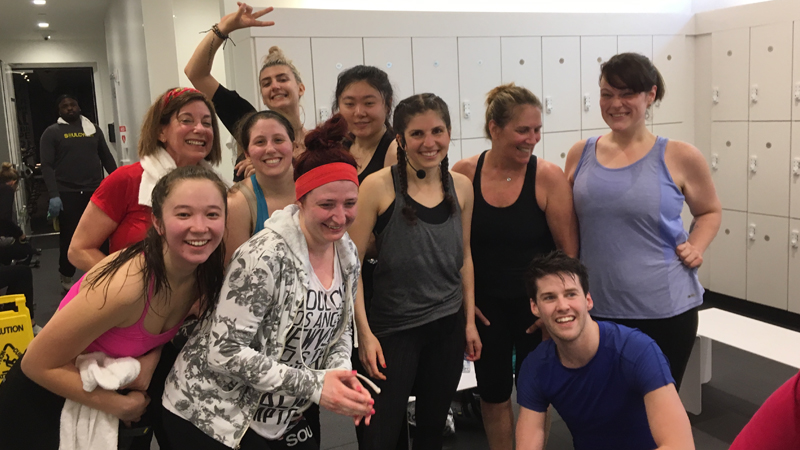 4:30 PM
We rock it out for the third time today!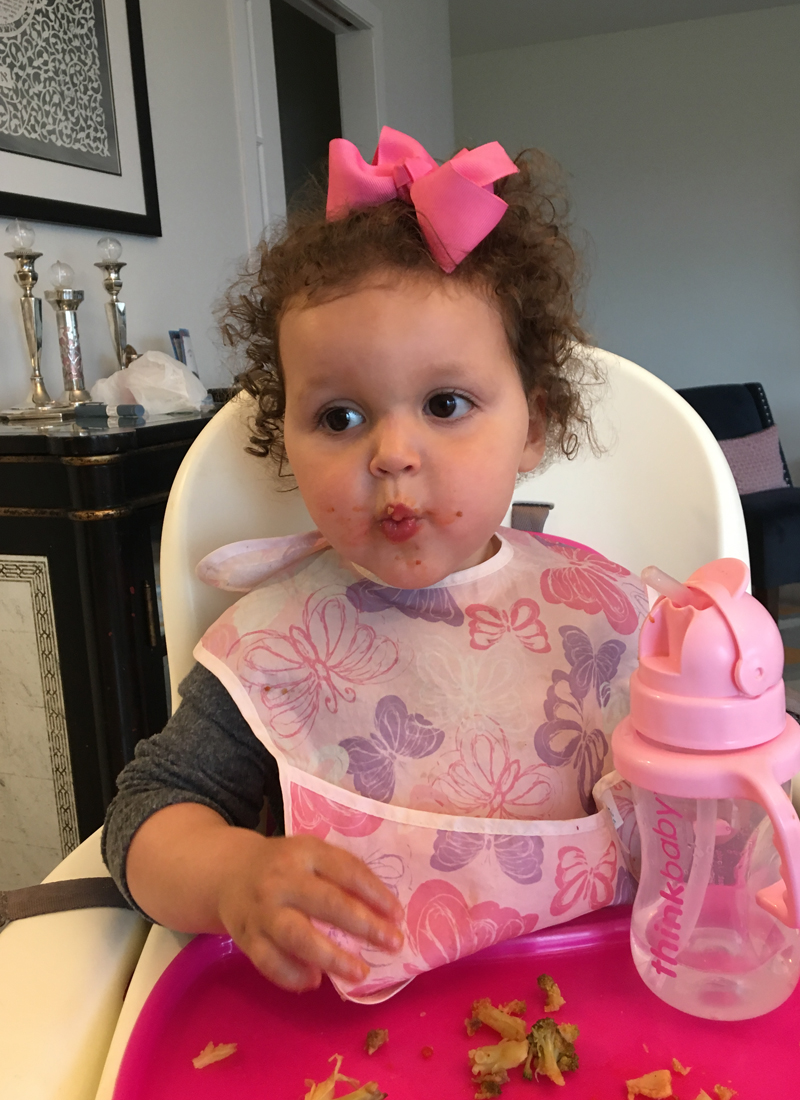 5:32 PM
I am finally home and super-excited to give Goldy a big smush! I hear about her day and then... no time to waste! Dinner, bath and bed before 7:00 PM. Goldy is having meatballs with Banaza pasta (pasta made from chickpeas) and it's actually delicious! I obviously sneak some broccoli in there too. Half of the meal is divided between the floor and her hair but she loves to feed herself and that's what baths are for anyway!
6:29 PM
Fresh and clean, Goldy watches a few minutes of TV to settle down: Bubble Guppies is all the rage in our house these days. Then: Goldy's favorite- reading books. She's riveted by tonight's choice, The Very Hungry Caterpillar. But at 7:00 PM, it's lights out and into the crib she must go!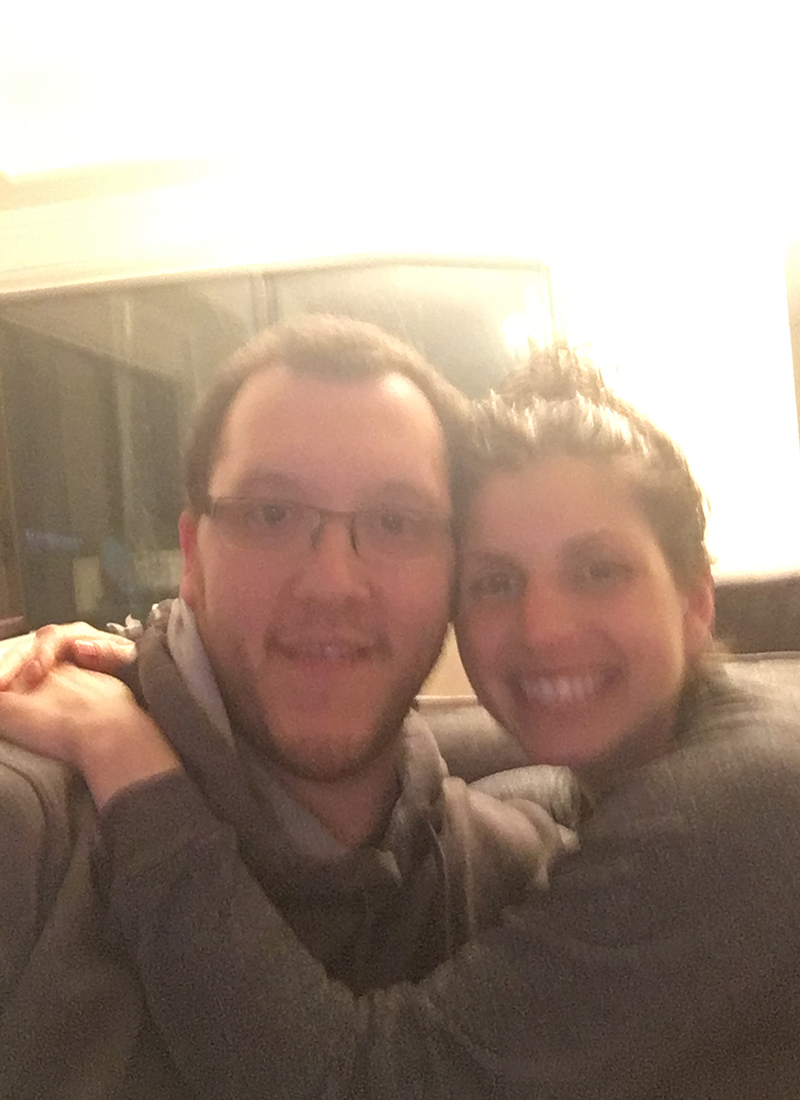 7:02 PM
Time to make adult dinner! Tonight it's chicken stir fry! While I'm sautéing all the veggies, I make my husband do 45 squats and 30 pushups! Let's just say we're working on his fitness game. Oh yeah, still haven't showered (I know, gross) soooooo I jump back into the shower!!!!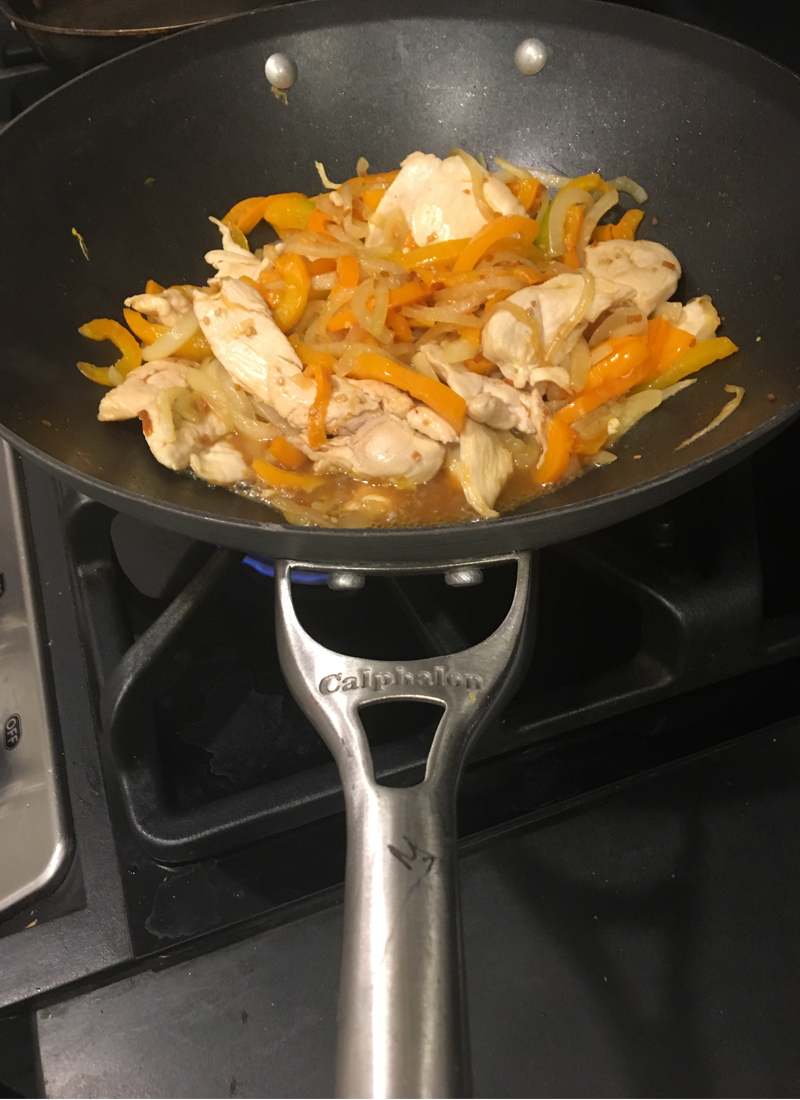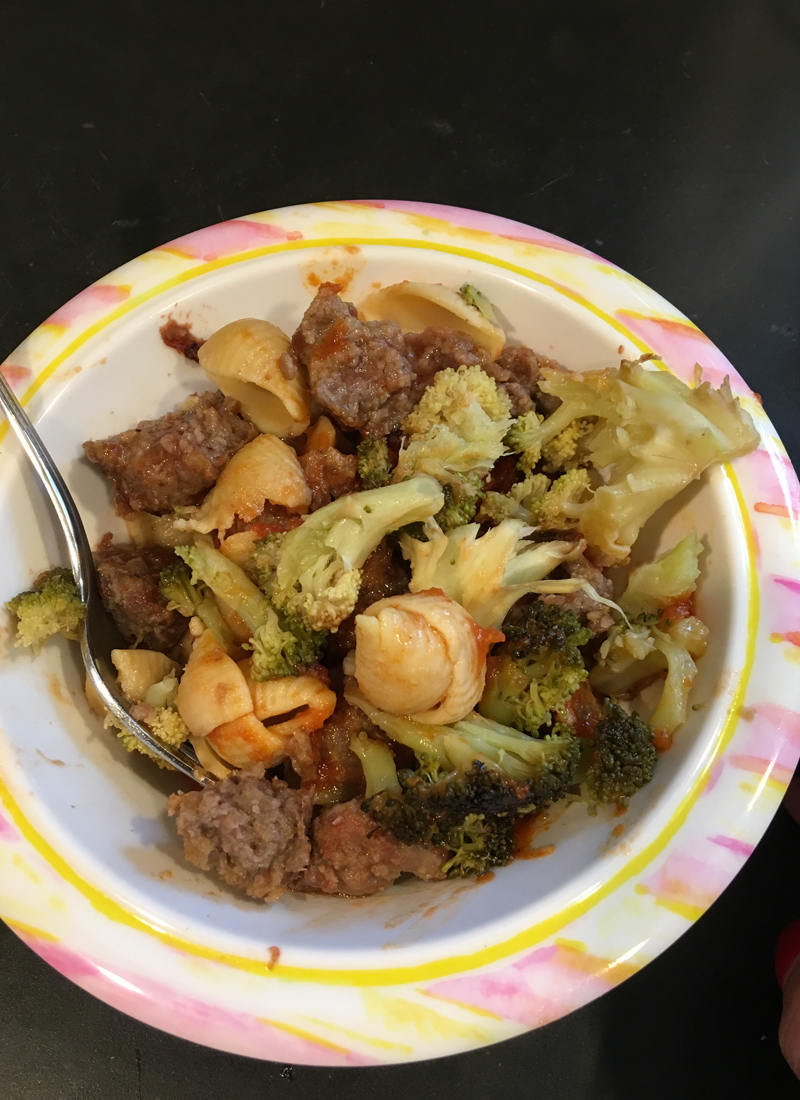 8:01 PM
Don't judge: Dinner on the couch, in front of the TV. That's right! and obviously popcorn for dessert (and maybe I snuck back into the pantry for some chocolate chips).
9:29 PM
I am in bed ready to go to sleep! I watch a little more TV, listen to my playlist and by 10:15 PM, I am passed out!