Working Out Beyond the Numbers: BRITTANY BERLIN's SOUL Story
March 30, 2016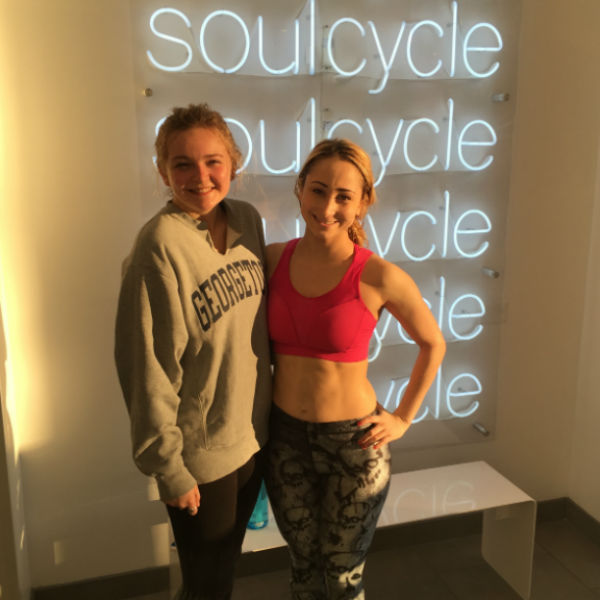 I used to consider myself a runner rather than a cyclist. I grew up dancing and doing gymnastics, but running was the sport that stole my heart. When I was diagnosed with OCD, running was one of the only things that could silence my mind from intrusive, repetitive thoughts and debilitating compulsions. For me, running was a sanity-saving escape from reality, a challenge to prove my strength and the only way for me to really feel alive.
You know that high that all runners talk about -- that high that makes every step forward both painless and painful, that tricks you into thinking you could just go on for miles? Yeah, well that feeling is real, and I had a serious addiction to it. Run seven miles? No biggie. How about eight? Nine? 13? Take a rest day? Hell, no! I would choose sitting on the couch over pushing my pace on a long run. I'll be honest, my OCD did start to play into my running; I had to reach a certain mileage each week and consistently strived to get below a certain pace per mile. I never had a shitty run because no matter how I felt, I did not allow myself to take it easy. I struggled to let myself run anything less than six miles a day, and I panicked at the thought of ever taking a day off.
You know that saying, "too much of a good thing can be a bad thing?" Well, that is also real, and I learned that the hard way this past November, when I was diagnosed with a severe stress fracture in my tibia. My doctor told me that I had overworked my body, overworked my shoes and that all of those rest days I missed were now catching up to me. The biggest challenge of it all: I would not be able to run until at least late February or early March. For someone who found peace of mind through running and lived for that runner's high, this was devastating.
However, sometimes these seemingly unfortunate events are actually blessings in disguise. This period in my life was when I discovered SoulCycle, and I have never looked back. My sister, Brooke, actually turned me on to it. She was always raving about how awesome the instructors are and the cool people she met through the SoulCycle community. Being the skeptic that I am, I felt like it was too good to be true. How could anything even compare to the feeling I got when running? It just so happened that my doctor told me the only forms of cardio I could participate in without worsening my injury were swimming or cycling. There was no way I was about to get into a pool in the middle of winter in DC, so SoulCycle it was!
This was probably one of the best decisions I've made in my life. Though I was extremely nervous during my first class (after all, I was a runner, not a cycler), my nerves instantly morphed into adrenaline as soon as the lights went off, the beat dropped, and
Alex
asked, "Are you ready, SoulCycle?" My feet found the pace of the music as we tapped it back, went around the world and side-crunched to the beat. Ever since that first class, I have been hooked.
Now, just a few months since my first class, I can't imagine my day without my SOUL family. I love walking into the
Georgetown studio
before the sun rises and seeing the smiles of Stephen, Duncan, Shane, Hillary, Chris, DJ, both Alex's and the rest of the crew! Not only has SOUL helped me to cross-train while I heal my stress fracture, but it has also reminded me that working out is more than just how many miles I can run, how fast I can run them and the rest of the numbers that play into my OCD. It's about how I feel both inside and out and remaining in the present moment with the people I'm surrounded by in that room. And those people are pretty damn cool. From the instructors and staff to the riders next to and around me, my SOUL family is full of incredibly strong, loving, giving and inspiring individuals. In fact, that's probably the best part about riding with SOUL, and the one thing that running has never given me: a sense of community and family centered on being the best you can be. You walk into a room filled with support and free of judgment; you're encouraged to just be comfortable with yourself and the place that you're in. For the first time in a long time, I don't judge my worth based on how hard I worked out or how many miles I clocked in that day. I just ride for the feeling that comes with working out because I love being challenged, I love sweating and I love being strong, both physically and mentally.
I seriously have everyone to thank at SoulCycle Georgetown for how much I've changed internally since joining SOUL. I'm excited to start running again, but I can't wait to integrate it with SoulCycle and my new mentality towards health and fitness. Cheers to this incredible SOUL family and the lives that have been changed because of it!
Do you have a Soul Story to share? Email blog@soul-cycle.com! Want to ride at SOUL? Grab a series
HERE
then book a bike!
MORE FROM SOUL: