Why Soul Gave Me the Confidence I Needed: Amanda Posniak's Story
December 22, 2015
"Since beginning my SOUL journey, I've lost 15 pounds and found the confidence that I've always been looking for," says AMANDA POSNIAK, who just celebrated her 100th ride. Now this rockstar shares her inspiring Soul Story…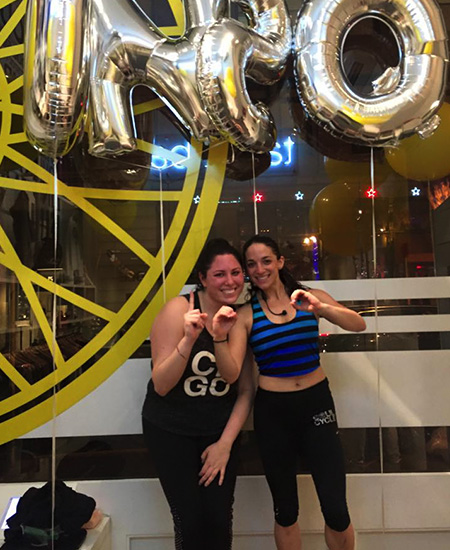 I just wanted to say thank you. On Friday, I completed my 100th SoulCycle ride. (That's me, above left, with instructor Jamie Glassman.) I've always hated working out and I've always had body image issues. Since beginning my SOUL journey, I've lost 15 pounds and found the confidence that I've always been looking for.
I have always hated my body. Always looked in the mirror and hated what I saw. There has always been a voice in the back of my head, every day, telling me, "You look awful" or "Keep eating, fatty." I needed to do something to change me, mentally and physically.
I took my first class in Short Hills almost two years ago with my older sister, who lived and breathed SOUL. (That's us, below, after my very first ride.) She even got engaged at a SoulCycle Short Hills class! I hid in the back row, panting and praying that I would survive the 45 minutes. I took a few more classes before moving to Chicago that May.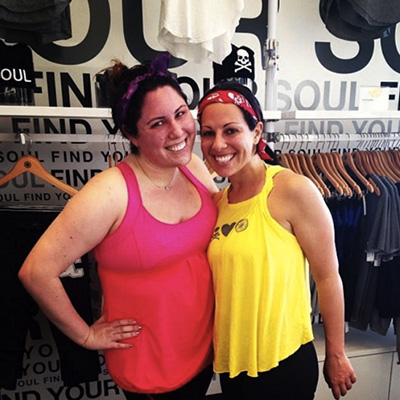 I waited for almost an entire year for SoulCycle Old Town to open, checking the website for the class schedule and following Jaclyn Mitgang on Instagram. April 2015 rolled around and my life basically changed for the absolute best.
When Old Town opened, I was mentally dealing with a lot — the passing of my grandfather, a broken heart from a boy and absolutely hating my job. I added everything to the wheel that hurt me. Looking in the mirror from bike 33, something changed: I no longer saw the fat girl with no rhythm. I was beginning to see someone with confidence. Someone that wasn't afraid to sing along to a song or dance on a bike.
My instructors pushed me to become the best possible version of myself. Jaclyn, Aya and Brent were my biggest cheerleaders. I took my first double, I started to ride front row and I found my SOUL family. Some of my best friends are fellow riders.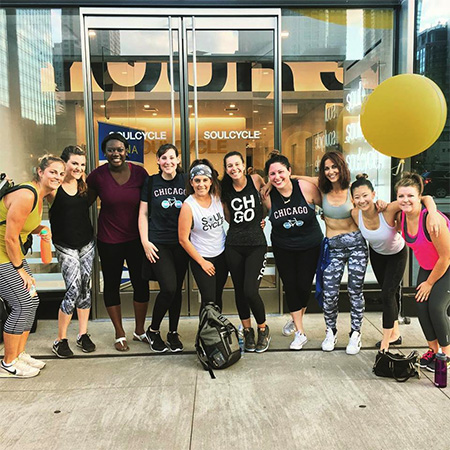 Jaclyn played a song in class that will forever resonate with me: "Burning Gold" by Christina Perri. I wanted to set fire to the life that I knew in Chicago so I applied for my dream job back on the East Coast. I was petrified. But I felt like a rockstar in every possible sense.
Long story short, I got my job and moved back to New York. I had an epic send off with my Soul Chicago family and basically cried for 90 minutes straight with a double.
I've now continued to ride in New York with Ryan S., Jamie (fellow Chicago rider!), and Nina. I feel so much better about myself than I ever thought I would. I became an avid New York front row rider. I bought my first crop top and wore it out in public — something that I would never had done if SOUL wasn't part of my life.
If I knew how my life was going to change 100 rides ago, I would have gotten on a bike sooner.
Thank you for creating a community where I can be the best me, for helping me find the confidence that I needed and making me an athlete, legend, warrior, renegade, and rockstar.
Do you have a Soul Story to share? Email blog@soul-cycle.com! Want to ride? Click HERE and book a bike!
MORE FROM SOUL