What Janine's Twins Taught Her
November 17, 2015
When instructor JANINE CRECCO gave birth to her twin girls at 26 weeks, they each weighed less than two pounds. Now more than a decade later, her girls have grown into strong, healthy warriors. On World Prematurity Day, Janine opens up about how the experience transformed her outlook on life — and inspires her to celebrate every moment…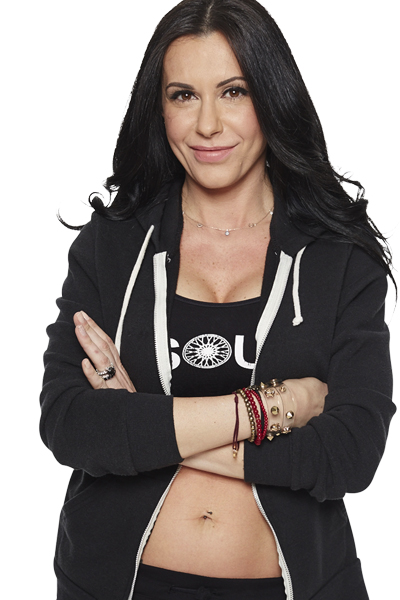 I think anyone who has met me or who has taken my class knows that I am a take-life-day-by-day, moment-by-moment girl. I am a big believer in karma and that all things come full circle at some point in life, so I keep my circle light and positive. Energy begets energy, therefore what we put out into the world will come back to you tenfold. All that being said, it does not mean my life has been without struggle or hardships; we all go through those from time to time. The reasons I choose to wake up each morning with a smile on my face and a gratefulness in my heart is simple… 12 years ago, I almost lost it all.
Barely halfway through my pregnancy with my twin daughters, I had some complications, and Gia and Ava came into this world at only 26 weeks gestational age, weighing 1 pound, 14 ounces each. I remember the day vividly, staring at my babies through their incubators while the doctor told my husband and me that the first 48 hours were critical: "We take it minute by minute." Minute by minute felt like a lifetime, but we passed those first 48 hours without issue, which became hour by hour, then day by day. No looking ahead, just being present for every single second we had them. Before I realized it, fast forward two months, and the girls were almost ready to come home.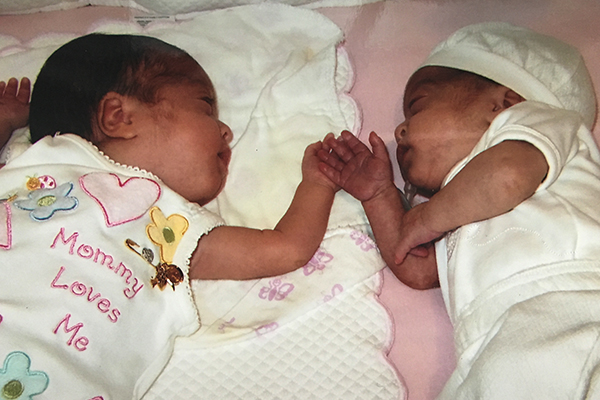 The NICU at Columbia Presbyterian was our home for more than 11 weeks and every time I stepped off the elevator, I was met with the story of The Very Hungry Caterpillar by Eric Carle painted along the walls. If you're not familiar with the children's book, the little caterpillar ate and ate and grew and grew until one day he became a beautiful butterfly. Just like all these babies at the neonatal unit. It takes time but one day they will grow strong enough and big enough to leave.
A few months into being home with the twins, I found out I was pregnant again! The fear that this next baby would be born early — and my husband and I would have to go through all those scary moments again — were present every single second. Because there was no real medical reason for the twins' premature birth, the reality of it all happening again was very possible, so doctor's orders were for us to take it day by day… and there we went again, day by day. Days turned into weeks, 37 weeks to be exact, and Samantha was born, full term, healthy and ready to meet her sisters.
The Very Hungry Caterpillar was always very present in our house. We read the story every night before bed; it was on our daily rotation of DVDs that were played and it never got old. It was our constant reminder to take things one step at a time. A few years later, I was reading a magazine and stumbled upon the quote: "Just when the caterpillar thought her world was over, she became a butterfly." In that moment, it dawned on me: These girls were my butterflies. In the few short years they'd been in this world, my babies had been through hell and back, but they never stopped fighting — and always came back stronger. So, Ava, Gia, and Sammi each chose a color for their butterfly and I had that quote tattooed on me as a daily reminder to take it moment by moment, just like these little ladies did.
Moral of the story is, maybe the world we knew was over, the comfort and security of what we called our daily life was tossed upside down. But minute by minute, day by day, through the struggle that we faced and the determination to keep moving forward, change occurred. It does not lessen what we were or where we've been by any means, but once you're in this new phase, it makes the journey all the more sweeter.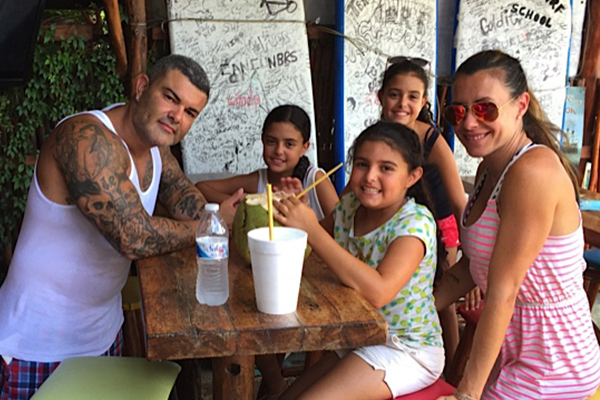 It took three gorgeous butterflies to teach me this… every second we have is a gift not to be taken for granted; even if the time is short, it has meaning and relevance. Embrace it, live in it; if it's a struggle, one day it will become a part of your metamorphosis into that butterfly, as either the reason for change or a building block used to get there. I take everything that I am and everything that I've been through into that SoulCycle studio each class. We don't give up, we don't stop fighting, we choose to believe that there are wonderful things waiting for us, but we've got to work for them. It's minute by minute, pedal stroke by pedal stroke, day by day. We're going to keep trucking together, SoulCycle. You know where to find me.
With Love, Light and Gratefulness, Janine
MORE FROM SOUL