What Inspires Ashley
June 23, 2015
NYC instructor ASHLEY ROE shares six things that keep her inspired, from daily mantras to motivating music…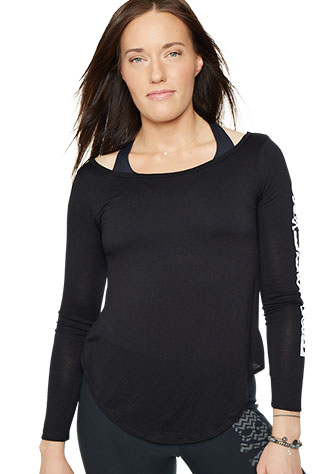 The music that motivates me is…
Any music that derives a meaning — the lyrics and the beats have to mesh! For example, the lyrics in "Lose Yourself" by Eminem are accompanied with heavy hip-hop beats, making you just want to bob your head and move.
The mantra that inspires me is…
"I began to realize how important it was to be an enthusiast in life. If you are interested in something, no matter what it is, go at it full speed. Embrace it with both arms, hug it, love it and above all become passionate about it. Lukewarm is no good." – Roald Dahl
The book that changed my life is…
Mind Gym: An Athlete's Guide to Inner Excellence by Gary Mack and David Casstevens. It's a super cool book that gives you insight into the minds of some of the most influential athletes while providing you with mental toughness exercises.
The person who encourages me is…
My mother! She has always been my support system, my strength, and my role model. She has always been right by my side, through the up's and down's of my athletic career and life challenges. My mother is the true definition of strength and courage – she has been through a lot!
The mistake that taught me is…
When I was younger, my sister and I thought we were the coolest little girls. We had this plastic playhouse in our backyard and one hot summer day we thought we would "make dinner" in our little playhouse. So we found things in our backyard that resembled "food." We chose to pick wild mushrooms from our grass to put in our meal. Little did we know they were poisonous! Our mother rushed us to the hospital to get our stomachs pumped. So, lesson learned: Do not eat wild mushrooms from your grass — they are poisonous!
The place that transforms me is…
Any beach, anywhere, any time! There is something about the ocean and its grandiose that humbles me. It brings me back down to Earth and makes me think about my life and the bigger picture of things, easing any little thing that takes up too much of my own worry.
Catch classes with ASHLEY at Soul East 63rd Street and East 83rd Street! Questions or comments? Email blog@soul-cycle.com!