What Inspires Alejandra Serret
January 28, 2016
Instructor ALEJANDRA SERRET shares the books, people and music that fill her with inspiration each day and keep her motivated on and off the bike…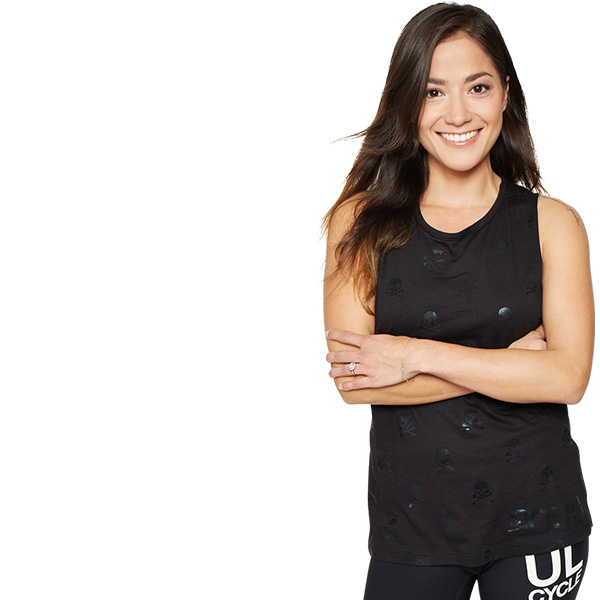 BOOKS
Books and words are my jam — to the point where I've gotten tattoos of favorite phrases onto my body. Pick up one of the many I have strewn about my home and you'll find entire passages underlined, pages dog-eared, my scrawl lining the margins.
I am currently reading Elizabeth Gilbert's Big Magic and I have a major thing for this passage: "And you have treasures hidden within you — extraordinary treasures — and so do I, and so does everyone around us. And bringing those treasures to light takes work and faith and focus and courage and hours of devotion, and the clock is ticking, and the world is spinning and we simply do not have time anymore to think so small."
HOLY CRAP, that is beautiful! Last year brought about so many changes in my life — a big one was the jump from working in finance to becoming an instructor, so words like that have a way of touching my soul and setting me on fire.
There isn't any genre or author I won't check out. I love me some Cormac McCarthy and the last great book I read that left me speechless was Donna Tartt's The Goldfinch. If you haven't yet read it, go out and buy it now!!
PEOPLE
I am endlessly inspired by my mother. She's 4-foot-11, bold, charismatic and passionate about seeing the world. She is a real spitfire.
As a young girl living in rural Peru, she dreamt of traveling the world, getting out, seeing new things, meeting as many new people as possible. She has a gift for making new friends everywhere she goes and can turn any situation, no matter how stressful, into an opportunity. She's 68 years old now, and I am still bowled over by her energy, her wanderlust, her beautiful view of the world and her decision every day to inhale as much of it as she can.
She is a lover of hats (big, small, elegant, fur-lined) and finds the perfect one for every occasion. She is the kind of woman who gets on the floor with her grandchildren, lets them climb all over her, and has tea time with them right after.
I never stop learning from her (even now when I call her on the phone she will blast whatever classical song is playing in the background, so that I can also appreciate it or she'll read an excerpt from the latest book she's picked up on yoga or acupuncture). I can go on an on. Simply put, she is amazing. She also has the best accent — picturing her reading this cracks me up. If you happen to see me in the studio, ask me and I'll give you a glimpse.
MUSIC
Spanish girl here! We live for a good beat, a beautiful lyric and feeling that rhythm. It's amazing how a heroic song or an emotionally charged song can make you feel in that dark room. I'll never forget hearing Florence + the Machine's "Never Let Me Go" for the first time at the UNSQ studio. Cue the tears!
I love the challenge of finding music and putting together a playlist that will make riders want to dance, get a little lost, amp up a room and make people want to push even when their bodies may not want to. My current favorite is Morgan Page's "Running Wild." I feel a rush every time it starts and I just want to move.
MORE FROM SOUL