Tour Stacey's Sneaker Collection!
June 19, 2014
STACEY GRIFFITH is always sporting the coolest pair of kicks. Nike, Celine, Adidas… we're obsessed. Well, today's our lucky day because the Senior Master Instructor gave us a peek at her collection of sneaks!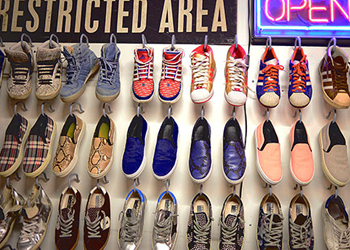 Photo by Debby Hymowitz
How many pairs do you own?
150 pairs
Wow. Which ones started the collection?
The oldest pair that started the collection are the Keith Haring High Tops that my students gave me when I moved to NYC.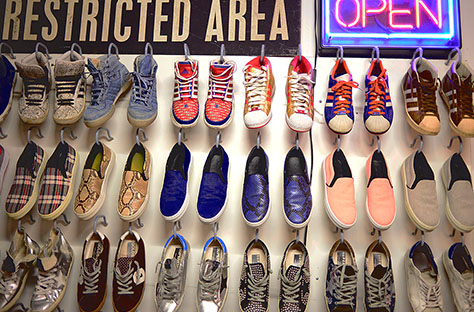 What about your newest acquisitions?
Celine Slip-Ons, Givenchy High Tops and the Nike Air Max and the Nike Free Fly Knit 4.0. For every pair of sneaker that I acquire, I donate a pair.
That is amazing. And where do you go to find great sneakers?
My go-to spot for finding great sneakers is West NYC 147, Hoops in Harlem, Rime on the Upper East Side and Barney's New York.
How do you choose the ones you like?
It's hard to find comfortable sneakers that have a good color scheme. Usually the ugliest sneakers are the most comfortable! So sometimes choosing a sneaker can be difficult, so you sacrifice style for comfort. I have found that the company that blends comfort and style the best is Nike. The most comfortable sneaker for teaching is the Nike Free Fly Knit 4.0. So when I'm trying to pick out a stylish sneaker, I am searching for more of a loafer meets tennis shoe. The sole is very important. I don't like a pointy toe. I like more of a round square toe. And when I choose high top sneakers for style, I am looking for the best pattern because it is a lot of shoe to wear.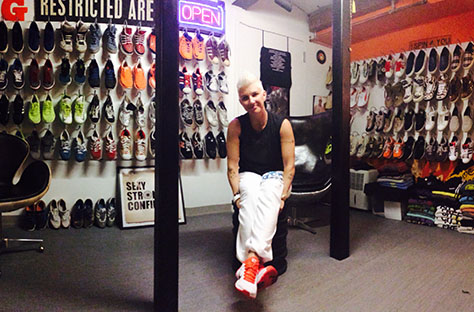 Which ones do you wear the most?
With jeans, I wear Golden Goose and Celine. With sweats, I wear ADIDAS and Nike. With a Gucci suit, I would wear Christian Louboutin studded hi-tops. With a J.Crew suit, I would wear Celine Python Slip-Ons.
Now for the toughest question: Which pair is your favorite?
Probably my leopard print gold spiked Christian Louboutins and my Celine Python Slip-Ons.
Questions or comments? Email blog@soul-cycle.com!