This SOUL Mom Pushed Through Her Pregnancy On a Bike
April 11, 2017
ew mom STEPHANIE BURLIN tapped it back throughout her pregnancy — right up until her delivery! Now that her little rockstar has arrived, she talks about riding at BSDA with a bump and what it's like to be back on the bike.



Congrats on your little rockstar! How have the first several months been?
They have been a long blur. It's hard for me to sit still, so the first weeks at home were a challenge. Luckily, Demi is a big snuggler so we did a lot of Netflix and chill.
You rode all throughout your pregnancy — up until the day you delivered! What was that like?
SOUL remained a wonderful mental escape for me. That's why I rode up until my delivery. It was also the most fun I could have while being pregnant. Physically, it became more challenging as the months passed. I rode up until the day with my first pregnancy, so physically I knew that it was possible with my second. I certainly wasn't as graceful, as light and as fast in the saddle. By month nine, out of the saddle, I was basically in a permanent tap back. But, I was still feeling the vibe.
Did you have to make any adjustments to the bike or to pacing as you got closer to nine months?
In the later months, I raised my handle bars so I could sit up taller to prevent my belly from totally sitting on my legs. Presses and pushups on the handles became a much smaller movement. In the final month, keeping up with the beat on runs and sprints was tough. I would crank up the resistance and run so I'd get that same cardiovascular surge. I did jumps up until my delivery though (I'll give myself that).
Any advice for other women looking to work out during pregnancy?
If your doctor's okay with it, do it! Don't let being pregnant hold you back, especially if it's something you've been doing. Let it be a release while your body is changing in all sorts of weird and crazy ways. Of course, listen to your body, but if it feels good keep letting it feel that way.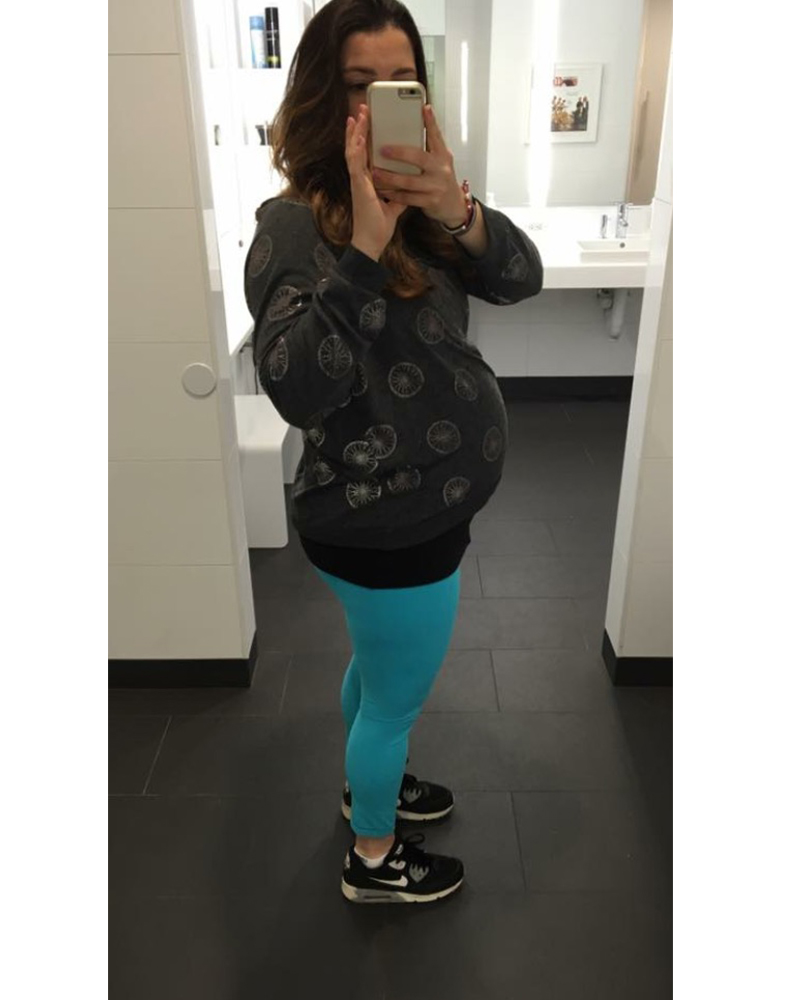 What was it like getting on the bike again after baby?
Harder than it was riding pregnant. I had to take eight weeks off after having a C-section, so it's taking some time to physically adjust and get my stamina back in action. Mentally, being back is better than ever (despite being sleep deprived). I've had to start taking earlier and later classes since I have the little one to look after, so I do miss my later morning rides.
What does the BSDA community mean to you?
I started riding at SOUL back in 2009 at the
East 83rd studio
in Manhattan and have been to a number of other locations since, but nothing has felt quite like
Soul BSDA
. The staff is so sweet and thoughtful. My fellow riders became friends. And the instructors... especially
Garrett
and
Sunny Mae
, there's not enough kind words to express my appreciation for them throughout those nine months. They inspired me, motivated me, entertained me and also made me sweat more than any pregnant person should sweat (Garrett, but he did check up on me). They're a wonderful community/ support system that has even offered up baby sitting services for Demi. I might have to take them up on it ;)
Do you have a SOUL Story to share? Email SOULlife@soul-cycle.com! Want to ride? Click HERE to grab a series and book a bike.