This Rider's Can-Do Attitude Will Inspire You
March 7, 2017
othing can stand in the way of accomplishing my goals," says rockstar CHRISTINE O'LEARY, who just rocked her 100th ride. She shares her SOUL journey…

One weekend, thanks to a group of Connecticut girlfriends I met through the Tone It Up fitness community, I was challenged to take a SoulCycle class. It was October 3rd 2015 and I was so nervous because I had never taken an indoor cycling class in my entire life. It was actually the first "studio" class/group fitness class I had ever been to as well. I was a total newbie… and so out of my comfort zone. Up until then I was "challenging" myself at the gym or with runs outside (which looking back was really not challenging at all — it was the definition of comfortable).
I'll never forget the night before my first class. (I laugh about it now). I was nervous about what to wear, I set like four alarms to wake up (the class was at 11:00 AM… cue eye roll) and I was so nervous about being judged by other people in the class and the instructor. I wasn't that healthy, that fit, or that happy with my body so my anxiety was off the charts.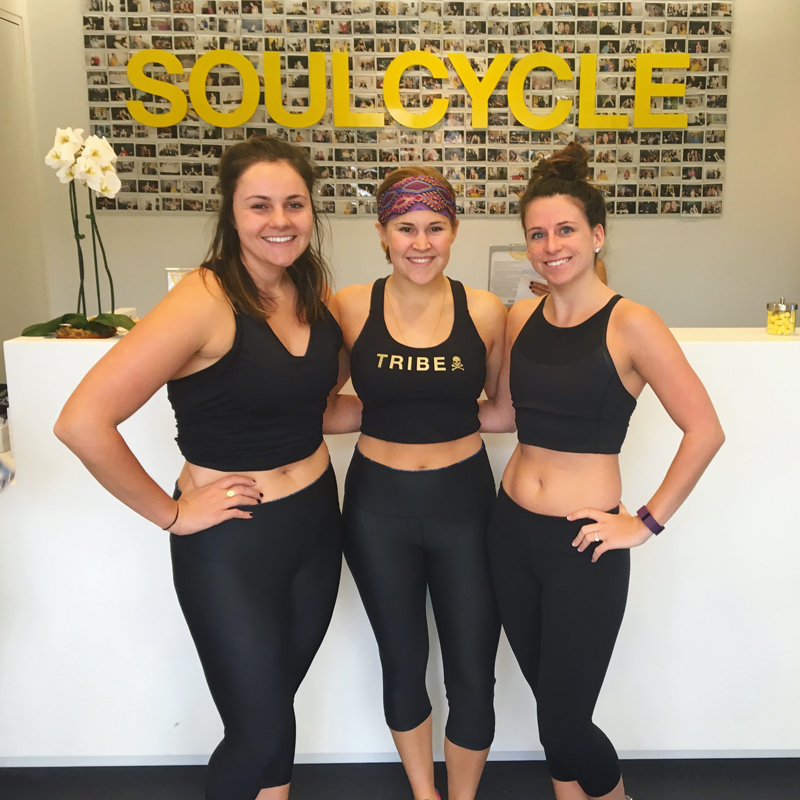 That morning, I woke up, got to the studio probably 30 minutes early (hasn't changed much) and I walked into a studio filled with a bunch of smiling, friendly faces at
SoulCycle Greenwich
. They took me on a quick tour, told me about the class and got me situated on the bike before class. After speaking with them and seeing the girls I knew, I started feeling a lot more comfortable.
For this first class the instructor was
Jill
. I had no idea what I was doing — I kind of wish my first class was recorded because it was probably the most laughable thing ever. I was ridiculously hunched over the handle bars, my feet were not going with the beat at all and I did NOT know what to do with my hands. Jill was amazing — she was so inspiring. And even though I had no clue what I was doing, her motivating words helped me. I even happy-cried a little bit and I got through those 45 minutes. I don't remember what she said; I might have even blacked out, but I just remember being in complete awe and thinking, "I need to come back here."
Jill talked to us girls after class, and we told her about Tone It Up and my goal to become more fit and step outside my comfort zone. I asked her what I could improve on and she immediately said with a kind smile "keep your hips back, suck in your abs and keep your shoulders relaxed." Then she helped show me on the bike (and then a couple classes after that as well.)
I cannot even begin to describe the emotional high I felt after this class. I seriously felt like I could DO ANYTHING and take on the world — I was so happy! I have never felt so satisfied after a workout before, and I grew up playing almost every sport possible.
Right away I was obsessed with SoulCycle and not just because of how much I sweat during class, but because of the feeling of accomplishment, the feeling of having people all around you cheering, waving towels, working their butts off, and the instructor being so supportive and motivating. But most importantly the feeling of taking the time to better myself and do something for ME; I needed more of that in my life.
For most of my first year at SoulCycle, I only went to class once week, and then in the early fall of 2016, when it hit me that I was going to be getting married in a year, I started saving money to do SoulCycle multiple times a week.
I know some people think it's crazy to do SoulCycle multiple times a week, but to me it is worth every single penny. The classes never get easier, I am challenged mentally and physically each time I step into that studio. The instructors I have had the opportunity to meet are so amazing. In the beginning of my journey I specifically took Jill for every class but then when I started to work in NYC, I needed to switch up my schedule. Even though I missed Jill with all my heart, it was also good to challenge myself and switch it up! Also, when I started SoulCycle, it really pushed me to dedicate more of my time to fitness overall. I started trying other new workouts and classes, so SoulCycle itself is the main reason why I am physically and mentally more fit.
I made it my goal for 2016 to try a new instructor every month, and this was one of the best things I could have done for myself! I found that every class can be uniquely special, fun and difficult. Taking a new instructor each month really helped challenge me and keep me on my toes. I totally recommend it! Every instructor has an amazing personality, story and unique way of motivating you, and they are all SO FRIENDLY! I have taken multiple instructors in Connecticut, NYC and Boston, and they have all helped me get to where I am today: my healthiest mind and body yet.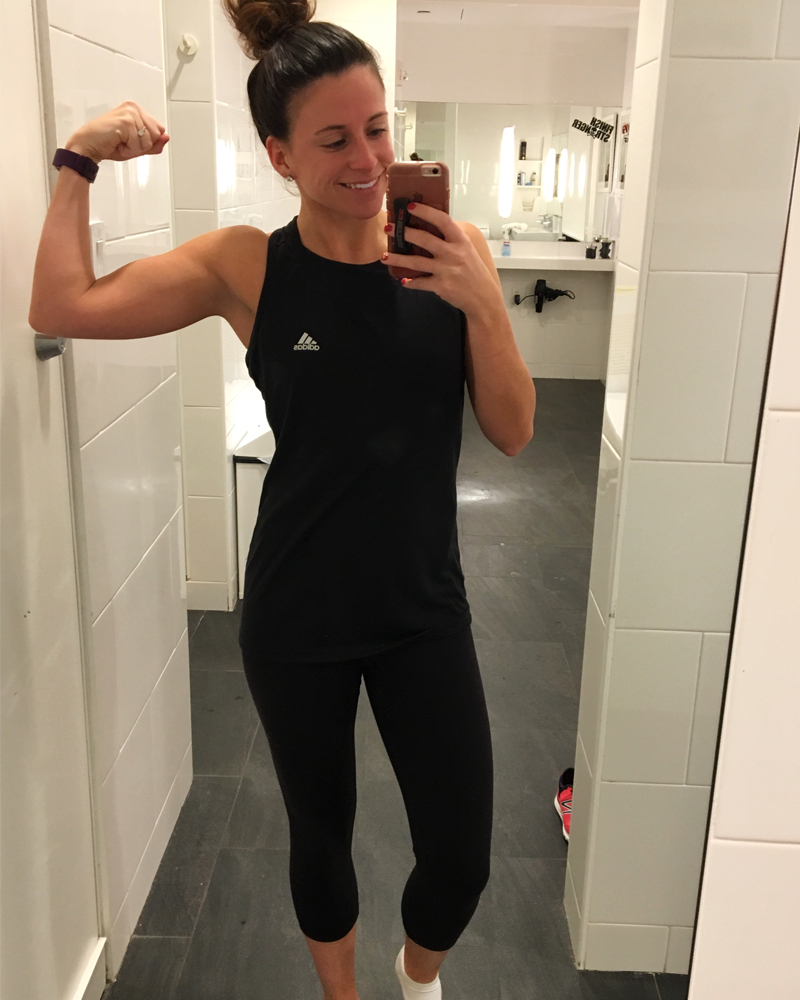 These beautiful people don't just tell you that you are strong, they help you prove to yourself that you are strong, that you can do better and that you need to set your intentions and stick to them. They remind you that you signed up for this class for a reason, and to keep riding even though your legs are burning and you're pouring out more sweat than you can possibly imagine. They pull energy out of you at 5:45 AM during a rooster ride that you never knew you had!
Besides the instructors being FIT AF they are all SO NICE it's insane. The amount of support I have received from each instructor is ridiculous. And if I am being completely honest, it is not something I expected. I didn't expect them to learn my name, ask me about my life or care about my goals… but they do, and they want to help you. Here are some of the instructors I ride with:
• Jill: She is always smiling, always positive and so welcoming — she is a super mom and for some reason her hair is ALWAYS perfect after class. She is most beautiful soul I have ever met and I am so glad I started my SOUL journey with her!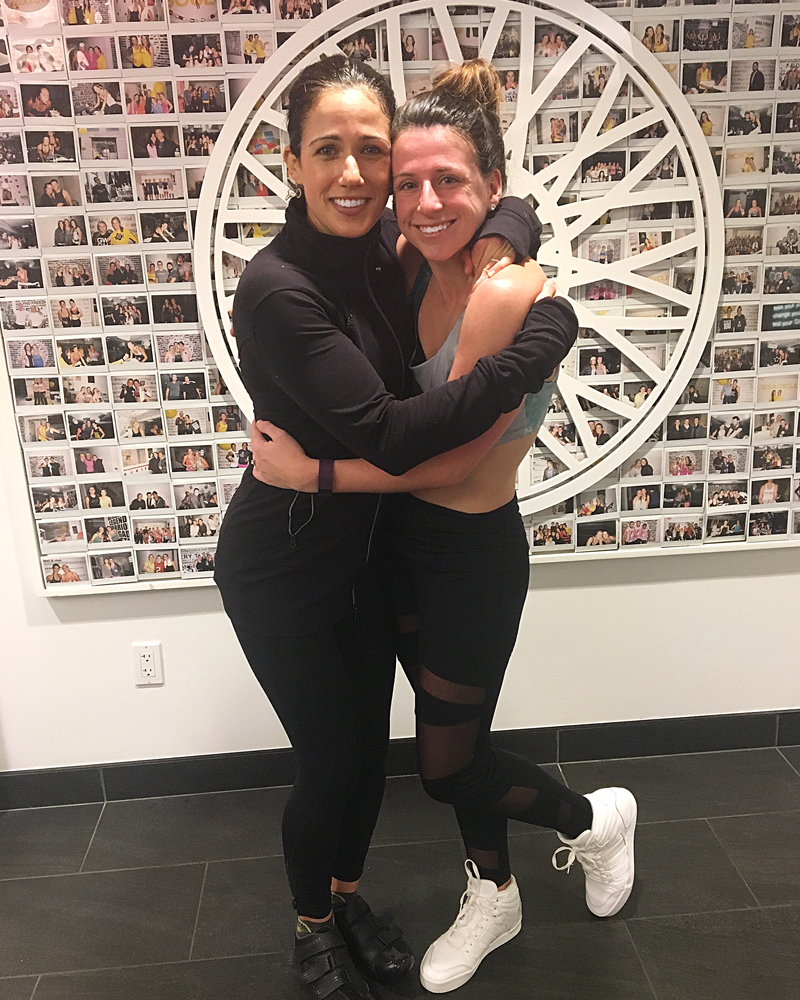 '
•
Conor
: His is the hardest class I have taken and I was hooked after my first class. His high intensity interval classes (like his playlists) are straight FIRE, and they NEVER get easier, like never and I love it. He is inspiring on and off the bike, and I am took his 90 minute ride in NOHO on February 18th for my 100th class and my first SOULCHALLENGE.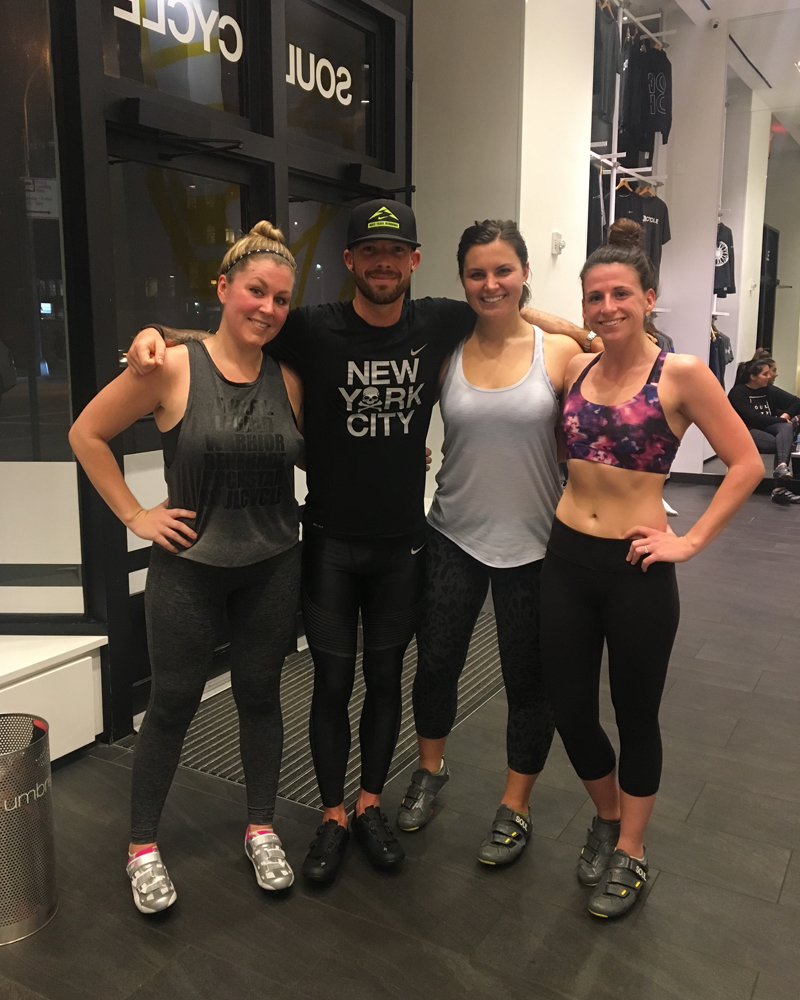 •
Akin
: He is everything you want in a coach and more; his choreography is out of this world, his classes are super advanced, and he wants to help every single person in his classes reach their goals. Akin is so humble, motivating, always has a smile on his face, and pushes you beyond what you thought you could do.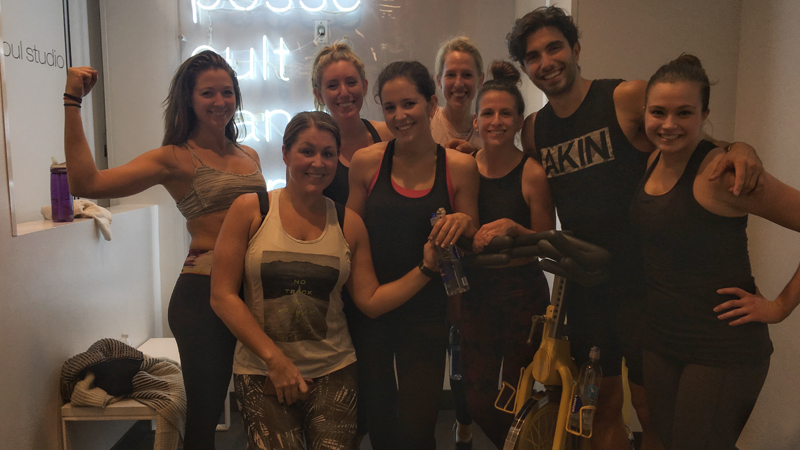 •
Elle
: She is the definition of a bada*s, and I am simply in awe of her every time she is on that podium. She is so supportive during class but also won't let you get away with anything. She also has the hardest arm routines EVER, she always cracks me up during class, I always leave her classes with a HUGE smile on my face.!
•
Maddy
: She has the BEST energy. Maddy is all about fun and sparkle spreading but her class will kick your butt.
Even though I started riding a year and a half ago, I have most recently learned that the main reason why I love SoulCycle is not just because of the way it makes me feel, how I can sweat out all my problems and stress, or the fun music and grapefruit candles (YAS), it is because of the people I meet.
I have always been a very outgoing person (probably annoyingly so), but saying "hi" is still always a little nerve-wracking. But the people who work at SoulCycle and who attend classes make it easier because you have something in common. You share a common goal of not only working out, but doing something healthy for your mind and body.
I know sometimes it is intimidating to say "hi" especially to people who look like they have been doing SoulCycle for 10 years, but I promise, everyone is friendly and supportive! Once I started to put myself out there a bit more, and introduce myself to as many people as possible, I continue to meet beautiful people who just want to see everyone succeed! They have pushed me to try new workout classes and I am on a whole new level of challenging myself! I LOVE IT.
My co-workers and I (#SOULTRAIN) also became fast friends, thanks to SoulCycle. We keep each other motivated and accountable when it comes to working out and eating healthy. We all have a goal to be able to do a pistol squat and a superman pushup by the end of 2017 (in addition to getting through Akin's class with all his choreography).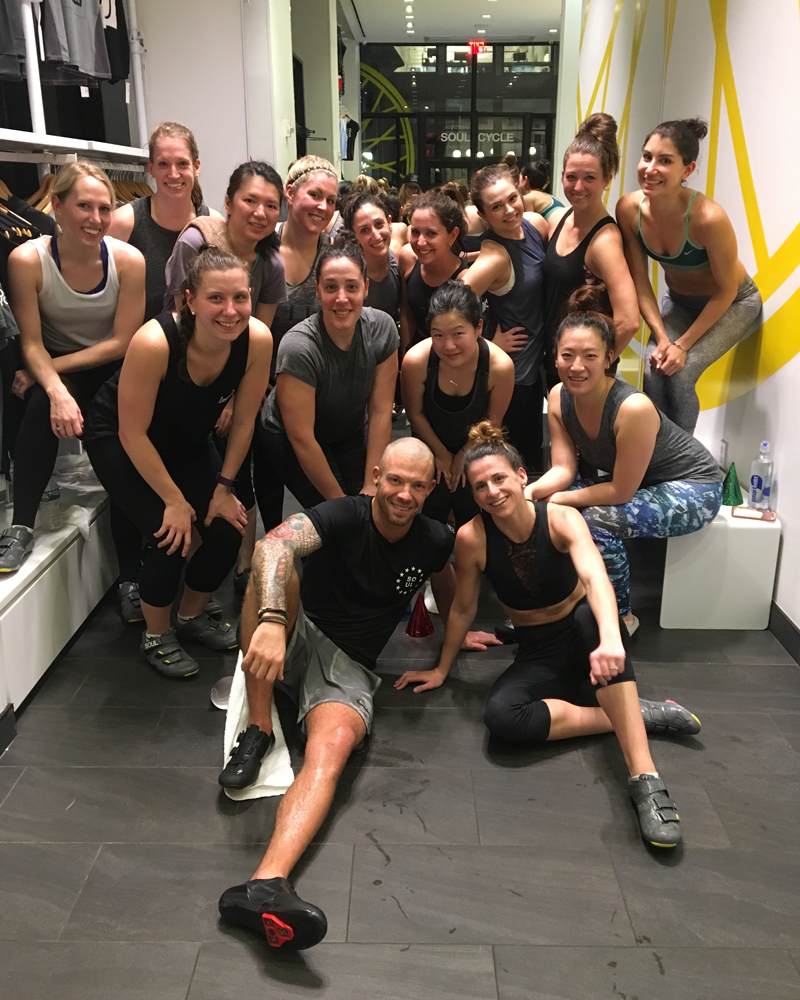 I have also taken a lot of classes with my Tone It Up CT and NYC friends! We originally have become friends thanks to Tone It Up, but we try to meet up as often as possible to work out and SoulCycle is always a go-to for us! We will get brunch after a class and treat ourselves to some avocado toast or a smoothie and catch up on each other's lives and talk about how amazing the class we just took was. We have become closer friends because of our mini meet-ups at SoulCycle.
Every time I walk into a SoulCycle studio it doesn't matter what type of day I had, the atmosphere, the people and the class make my day 100% better. Honestly, I get up at 4:20 AM most mornings just to take these classes and start my day off right. It sounds crazy getting up that early, but it is worth it. I feel like I can just take on the day after a 5:45 AM or 7:00 AM class, and nothing can stand in my way of accomplishing my goals.
Do you have a Soul Story to share? Email SOULlife@soul-cycle.com! Want to ride at SOUL? Click HERE to grab a series and book a bike!